The Most Expensive Times to Visit All 50 States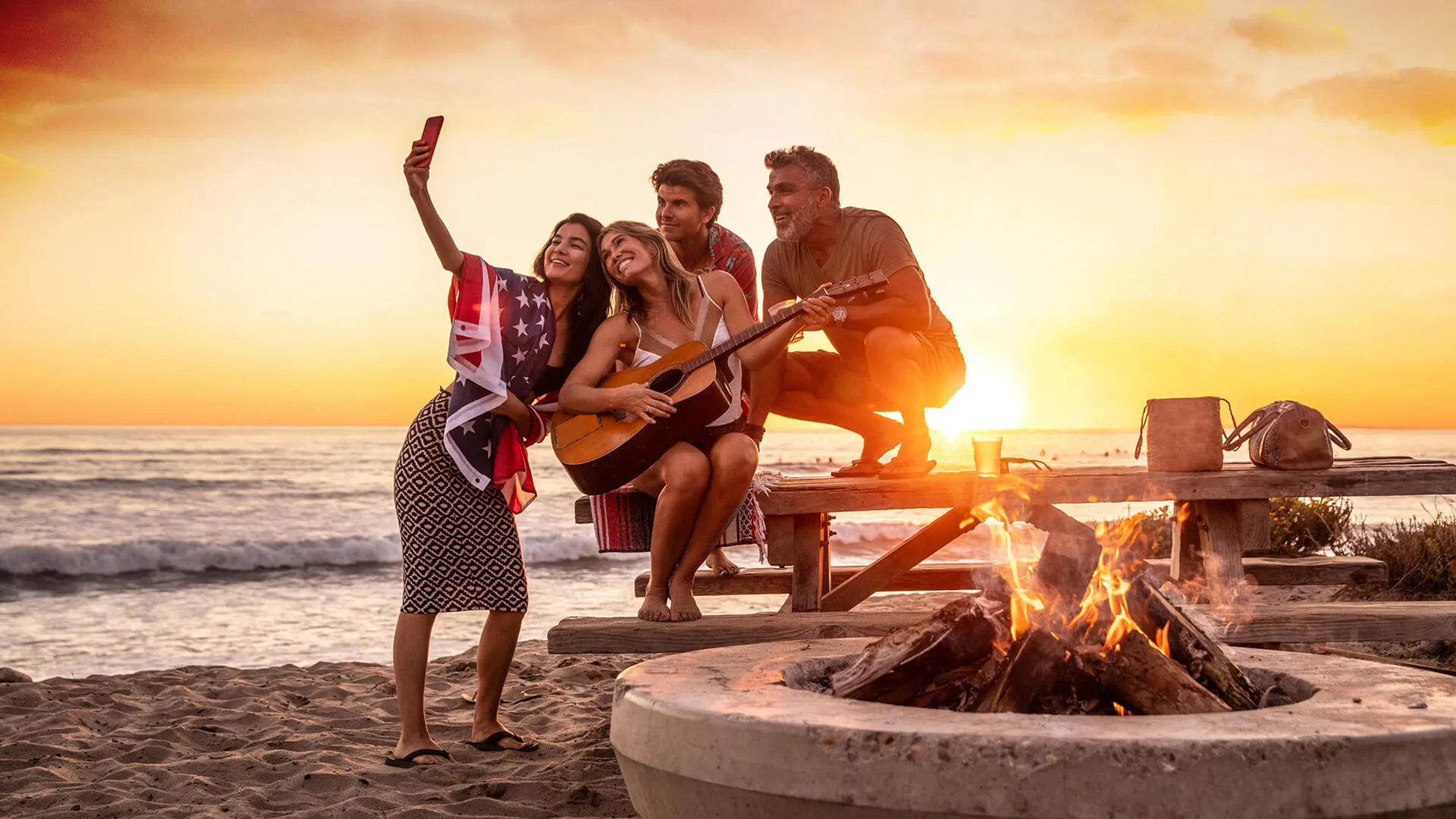 Planning an affordable vacation doesn't have to require a lot of money. To help you identify the most expensive times to visit all 50 states, GOBankingRates consulted Hipmunk for travel trends. If you're looking to save money while vacationing within the U.S., avoid traveling during these times.
Make Your Money Work for You
Most Expensive Time to Visit Alabama
When: September
Average Cost: $568
Alabama may be a "sweet" home to many, but if you choose to visit, September is the month that will cost you the most. Cut the cost of your airfare to the Yellowhammer State by choosing an airline with the cheapest flights. With average high temperatures in the mid-to-high 80s, early fall might be an excellent time to visit the state's beautiful beaches on the gulf, or stop by the Shades of Bluegrass Festival in Rogersville.
Most Expensive Time to Visit Alaska
When: July
Average Cost: $580
It comes with a price, but you can enjoy Alaska's beautiful attractions and its warmest weather in July. The average temperature is 71 degrees during the day and nearly 50 degrees at night. Long days lasting more than 18 hours give you plenty of time to attend seasonal festivals, go sightseeing and go wildlife watching all in the same day.
Most Expensive Time to Visit Arizona
When: November
Average Cost: $559
Peak travel season starts in November in Arizona, but it's not just winter visitors that bump November to prime-time pricing. Less-than-scorching temperatures bring a plethora of local festivals and nature exhibits that stimulate locals to travel within the state. November price surges aside, Phoenix is still one of the best vacation cities for your wallet.
The month brings some of the state's best weather for outdoor destination weddings, with less than a 10 percent chance of rain and outdoor temperatures averaging in the mid-60s statewide.
Most Expensive Time to Visit Arkansas
When: June
Average Cost: $576
June is one of the most idyllic — and expensive — months for travel in the Natural State, when spring tornado season is ending and before the summer humidity kicks in. The festival-filled month draws tourists with events like the Wynne Farm Fest — a food festival worth the ticket price, the Bradley County Pink Tomato Festival and a mid-month Stars and Stripes Festival in Tyronza. You'll also find day camps for nature-loving kids at several state parks.
Make Your Money Work for You
Most Expensive Time to Visit California
When: July
Average Cost: $332
If sitting on the beach, watching fireworks and gazing at the sunset over the Pacific Ocean is your idea of a perfect July vacation, you're not alone. The state is the No. 1 tourism destination in the country, according to Statistic Brain Research Institute.
However, July is one of the most expensive months to travel to California, thanks to temps in the mid-80s that make it ideal for enjoying the beach, mountains and theme parks. Don't miss the annual Comic-Con festival in San Diego that's one of the largest in the world.
Most Expensive Time to Visit Colorado
When: December
Average Cost: $343
With some of the most exclusive ski destinations in the country, it's no wonder that Colorado in the wintertime will cost you a bundle. Ski resort areas like Telluride, Beaver Creek, Aspen Snowmass, Vail and Steamboat Springs see some of the busiest days of the year during the last week of December, often reaching capacity at more 20,000 skiers.
Most Expensive Time to Visit Connecticut
When: December
Average Cost: $464
Summer is traditionally a popular time to head to New England — accompanied by the most expensive hotel and attraction rates — but December is when you'll find the most expensive flights to the region.
If your heart is set on a traditional New England Christmas, you'll find some of the lowest prices of the year once you arrive. Just keep in mind that many attractions close over the holidays, although shopping centers typically extend winter hours.
Most Expensive Time to Visit Delaware
When: December
Average Cost: $373
Immerse yourself in a colonial Christmas when you visit Delaware during its most expensive month, December. A plethora of home tours, open houses, plays and other seasonal events kick off Dec. 1 and run through the month. During Yuletide at Winterthur in Wilmington, tour Henry Francis du Pont's former home and its sparkling holiday displays, including the famous majestic dried-flower tree and a royally inspired tree display.
Make Your Money Work for You
The Most Expensive Time to Visit Florida
When: December
Average Cost: $341
The price tag to trade your snow shovel for a sand pail in Florida is at a premium in December, when hurricane season ends and the peak visitor season kicks off. Prices are highest in the central and southern parts of the state, where winter days linger in the 70s. To make up for the high cost of airfare, you can still stay on budget by finding cheap and free options in Florida.
Most Expensive Time to Visit Georgia
When: December
Average Cost: $305
Georgia lights up with billions of lights over the holiday season, illuminating everything from the Okefenokee Swamp to Stone Mountain. Head to the Georgia coast to enjoy days in the 60s and nights filled with holiday events like ice skating at Jekyll Island Skating Village.
Head to the Bavaria-inspired town of Helen in the Blue Ridge Mountains for a white Christmas. Enjoy European goodies like kuchen and stollen at the holiday market, bid on beautifully decorated wreaths and trees at the Festival of Trees, or stroll back in time to celebrate in Victorian style on Friday and Saturday nights.
Most Expensive Time to Visit Hawaii
When: December
Average Cost: $826
If all you want for the holidays is warm Hawaiian breezes, it will come with a hefty price tag — especially if you indulge in some not-so-great deals. Hawaii topped the Hipmunk survey as the most expensive high season travel price of all 50 states. This tropical getaway also hosts the Aloha Bowl football game in Honolulu on Christmas Eve.
Most Expensive Time to Visit Idaho
When: December
Average Cost: $526
Idaho has no shortage of winter holiday events, with towns transformed into glimmering wonderlands. December is the worst time to visit Idaho if you're looking to save money, but it's prime time to visit if you want to hit the slopes. The state's dozen ski areas include Sun Valley, the country's original destination ski resort, where you might rub elbows with celebs like Arnold Schwarzenegger, Ashton Kutcher and Demi Moore.
Make Your Money Work for You
Most Expensive Time to Visit Illinois
When: December
Average Cost: $279
Chicago rolls out the holiday spirit in style, from skating along the ice ribbon in Maggie Daley Park to dining beneath a 45-foot tree in the Walnut Room, a restaurant on the seventh floor of Macy's. December is the most expensive time to visit here, but you'll have the opportunity to see seasonal events like the Christkindlmarket. This open-air Christmas festival is the largest in the city and was inspired by a crafts market that began in Nuremberg, Germany, in 1545.
Most Expensive Time to Visit Indiana
When: July
Average Cost: $433
July is the worst time to travel to Indiana if you're on a budget. But it's also a popular time for families to spend 85-degree days at the sandy beaches of Lake Michigan or hike the trails of Hoosier National Forest. Visit Abraham Lincoln's boyhood home in Spencer County or get into the Christmas spirit early when you visit themed museums, stores and confectioneries in the town of Santa Claus.
Most Expensive Time to Visit Iowa
When: June
Average Cost: $448
Although Iowa's peak travel time coincides with its legendary state fair in August — replete with butter sculptures and food on a stick — June is the most expensive time to arrive by plane. Trekkies descend on Riverside — the future birthplace of Captain James T. Kirk of the Starship Enterprise — for a Star Trek festival.
Don't miss the strawberry festivals in Farmington and Strawberry Point, where you can enjoy all manner of berry treats. If you're into weird roadside attractions, be sure to stop by Brandon to see the world's largest frying pan.
Most Expensive Time to Visit Kansas
When: December
Average Cost: $279
Take a trip to Kansas' capital city, Topeka, during the state's most expensive time to travel to make the trip worthwhile. Drive through the 2-mile Winter Wonderland holiday lights display at Lake Shawnee Campground. A $10 suggested donation benefits programs to help people affected by intellectual and developmental disabilities in the Topeka area.
Other don't-miss holiday happenings in December include the Festival of Trees at the Kansas Expocentre and a variety of Yuletide bazaars and holiday markets.
Make Your Money Work for You
Most Expensive Time to Visit Kentucky
When: May
Average Cost: $559
Flight costs are at a premium for May's Kentucky Derby and Kentucky Oaks horse races, but that's only the beginning of vacation costs during the state's most expensive time to travel.
Hotel prices in Louisville soar to 10 times their normal rate — more than $1,200 — during Derby weekend. Two-day ticket packages, with exclusives like food and cocktail bars and jockey meet-and-greets, run from $1,000 to more than $7,500. If you really want to splurge, add a mint julep in a gold-plated cup with a silver sipping straw for $2,500.
Most Expensive Time to Visit Louisiana
When: December
Average Cost: $385
Flight costs might be more pricey in December than other times of year when you're headed to Louisiana, but it's worth it when you celebrate a Cajun country Christmas. Lively festivals feature zydeco music, Cajun Santa Claus Papa Noel and regional fare like boudin and gumbo. Head to Noel Acadien au Village to experience a re-created 19th-century Cajun hamlet, or check out antebellum mansions decked with Victorian flair.
Most Expensive Time to Visit Maine
When: August
Average Cost: $536
August is the height of tourist season in Maine, which peaks from July through Labor Day. Days in the low 80s and nights in the mid-50s make for an opportune time to camp at Acadia National Park or enjoy an evening lobster bake on the beach. The month is also prime time for festivals: Catch the Maine Lobster Festival, Maine Highland Games and Scottish Festival, and Great Falls Balloon Festival in August.
Most Expensive Time to Visit Maryland
When: November
Average Cost: $335
Spectacular foliage lasting until mid-month and mild weather make Maryland a travel hot spot during November. While other states are winding down for winter, autumn action in Maryland ramps up with a smorgasbord of 5k and 10k runs across the state. You'll also find events like the Maryland Irish Festival and the Oyster Jam and Brew Festival.
Make Your Money Work for You
Most Expensive Time to Visit Massachusetts
When: July
Average Cost: $334
July brings one of the top Independence Day celebrations in the nation to Boston. Start the day with a flag-raising ceremony at Granary Burial Ground, where the graves of original patriots are adorned with wreaths. Listen to the Declaration of Independence being read from the balcony of the Old State House, just like it was in 1776.
The Boston POPS presents a yearly patriotic concert, and fireworks fly over Boston Harbor. July's mid-80-degree days also make the month prime getaway time for Martha's Vineyard and other beach locations in the state.
Most Expensive Time to Visit Michigan
When: January
Average Cost: $356
January might be the most expensive time to fly to Michigan, but it's the best time to book your travel plans to enjoy snowy activities in the state. Since 2014, January has been officially known as "Discover Michigan Snow Sports Month," thanks to a proclamation by Gov. Rick Snyder.
Newbies can get a beginner lesson, beginner-area lift pass or cross-country skiing pass for $20 to $35. Check out other snowy adventures like a wilderness sleigh ride dinner or skiable feast at the Treetops Resort in Gaylord, or take lantern-lit snowshoe treks at Ludington State Park.
Most Expensive Time to Visit Minnesota
When: December
Average Cost: $322
Minnesota's unique flair for the holidays lights up the nights at events like Holidazzle in Minneapolis, which runs every weekend in December. Outdoor movies, fireworks displays, ice skating and illuminated art installations are just some of the fun to be had there. Head to Bemidji for a snowmobile adventure in Paul Bunyan country, or check out dog sledding excursions in Ely.
Most Expensive Time to Visit Mississippi
When: January
Average Cost: $534
If you're planning to unwind after the holiday season on a Mississippi beach, you might not get the peace and quiet you'd expect. The state shifts gears from holiday season on the 12th day of Christmas, celebrated with a parade from the Biloxi Visitors Center, to the Carnival season at the Mardi Gras Museum in Biloxi. Check out colorful Mardi Gras parades around the state throughout the month.
Most Expensive Time to Visit Missouri
When: November
Average Cost: $396
Thanksgiving airfares can be pricey, and visitors to Branson and other Ozark destinations in Missouri find no exceptions — although November isn't by any means Missouri's peak tourist season. The city kicks off the Christmas season early during the first weekend of November and continues through year's end.
See Silver Dollar City lit up with 5 million lights and decked with 1,000 trees. Revisit Edwardian times at the Titanic Museum, or search for sugarplum fairy sweets aboard the Showboat Branson Belle.
Most Expensive Time to Visit Montana
When: December
Average Cost: $606
A trip to Yellowstone National Park in winter can be magical, but the entire state turns into a winter wonderland worthy of its most-expensive-time-of-year price tag in December.
Start at the Kids'N'Snow event in West Yellowstone, where kids can go dogsledding, play ski games or try their skills at other snow sports. About 80 percent of participants travel from outside the community for the event. While you're there, check out Rodeo Run dogsled races. Or go on the West Yellowstone Christmas Stroll, with a glittering light parade and visit from Old St. Nick.
Most Expensive Time to Visit Nebraska
When: December
Average Cost: $496
Nebraska glitters with holiday spirit, making it worth the cost to visit during the most expensive time to travel to the state. Omaha features more than 40 blocks of Christmas lights downtown, along with a festival serving up outdoor concerts and ice skating. Minden, Nebraska's Christmas City, and Nebraska City go all-out with holiday decor. There, you can enjoy holiday pageants and light tours to get in the holiday spirit.
Most Expensive Time to Visit Nevada
When: December
Average Cost: $310
December is an action-packed month that draws more than 3.5 million visitors to the city of Las Vegas alone. The month kicks off with the National Finals Rodeo, which draws 171,000 people from around the globe to watch the action-packed contests taking place over 10 days.
The mid-month Las Vegas Bowl features college football teams from the Pac-12 and the Mountain West. On New Year's Eve, America's Party draws 320,000 people to watch live entertainment and a choreographed fireworks show. But to save money on your Vegas vacation in December, look for fun and free activities.
Most Expensive Time to Visit New Hampshire
When: January
Average Cost: $434
Home to the largest mountains in the Northeast, the White Mountains, New Hampshire is a go-to spot for winter skiing. Although holiday skiing is popular, January is Learn to Ski and Snowboard Month. Nordic centers and resorts offer $39 lift tickets, $19 trail passes and affordable lessons and rentals.
If flat land is more your style, sign up for a Winter Trails Day event during the month. Take a free cross-country lesson at Great Glen Trails Outdoor Center in Gorham, or head to Jackson Cross-Country in Jackson every Tuesday for complimentary snowshoe rentals and trail passes.
Most Expensive Time to Visit New Jersey
When: December
Average Cost: $354
New Jersey is a short drive away from the Big Apple's blingy holiday festivities, but the Garden State has plenty of its own. From Polar Express train rides in Whippany to lights festivals and trimmed tree shows, there's enough to justify visiting there during the most expensive time. And you can always try your luck in Atlantic City's casinos.
Most Expensive Time to Visit New Mexico
When: December
Average Cost: $557
If strings of chili pepper lights and a stomach full of fresh handmade tamales make you long for a southwestern Christmas, treat yourself to a trip to New Mexico during the priciest month to travel. You might find it's worth the cost to linger in Santa Fe, where farolitos — paper bag lanterns — illuminate graceful adobe buildings.
The crisp night air is ideal for watching pinon logs burning in a kiva fireplace and tasting local delights like green chile stew chased by warm, honey-drizzled sopaipillas. No wonder Santa Fe makes the list of the best cities for winter travel.
Most Expensive Time to Visit New York
When: December
Average Cost: $333
Spending the winter holidays in New York City is nothing less than magical, but it's one of the least affordable places to spend your holiday vacation. Strap on skates and glide around the rink at Rockefeller Center, marvel at the Rockettes' high kicks at the Radio City Christmas Spectacular or visit the filming locations of some of your favorite Christmas movies.
The month wraps up with the legendary New Year's Eve ball drop in Times Square. Although many holiday events are free, hotels and restaurants are crowded and expensive during the holidays, so budget accordingly.
Most Expensive Time to Visit North Carolina
When: December
Average Cost: $391
Charlotte's Speedway Christmas, one of America's largest holiday light shows, is just one reason traveling to North Carolina during the most expensive month is worth the cost. But don't put the pedal to the metal in the 4-mile drive-through display. You'll want to get a good look at all 800 displays crafted with more than 3 million lights. Afterward, pull up to the 16,000 square-foot Speedway TV to watch a favorite holiday movie or visit the live animals at the petting zoo.
Most Expensive Time to Visit North Dakota
When: February
Average Cost: $555
North Dakota's chilly winter days, averaging about 25 degrees, might not seem like the prime time to visit the state. But a scant 9 percent chance of precipitation offers the perfect time for winter festivities.
Head outdoors for festivals like ShiverFest in Devils Lake or Cabin Fever Days in Jamestown, where activities like sleigh rides, ice fishing and ice golfing take your mind off the cold. Or take part in one of the biggest multicultural events in the region, the Feast of Nations, where you can fill up on a five-course meal featuring foods from around the world.
Most Expensive Time to Visit Ohio
When: December
Average Cost: $391
It might cost you more to travel to Ohio in December, but you can experience an unforgettable lights festival. The Ohio Chinese Lantern Festival illuminates Natural Resources Park in Columbus with light sculptures crafted from artists hailing from China's lantern-making capital, Zigong, Sichuan.
Most Expensive Time to Visit Oklahoma
When: December
Average Cost: $468
Oklahoma might not have celebrity-studded ski slopes, but it offers plenty of winter activities that make a trip during its most expensive month worthwhile.
In Oklahoma City, you can zip down the largest manmade snow slope in the U.S., glide around an ice rink at WinterFest or join 70,000 other revelers waiting for the ball to drop on New Year's Eve. Head to Tulsa to see penguins and snow leopards at the zoo, or scream your way down waterslides at Clinton's Water-Zoo Indoor Water Park.
Most Expensive Time to Visit Oregon
When: December
Average Cost: $361
Savor a coastal Christmas in the Pacific Northwest during Oregon's most expensive time to visit. Azalea Park in Brookings-Harbor features over a half-million lights, light sculptures and hot cider and cookies nightly throughout December. Or head out for daytime whale watching from Cape Arago to spot the behemoths as they migrate along the coast.
Most Expensive Time to Visit Pennsylvania
When: December
Average Cost: $373
Quaint Christmas villages snuggle among snow-covered hills during a Pennsylvania December, a sight not to be missed. Head to Lancaster County — known for picturesque covered bridges and Amish crafts — to discover the history of Christmas at the National Christmas Center. The 20,000-square-foot museum features collections of old toys and antique decor as well as life-size secular and religious figures depicting the holiday.
Most Expensive Time to Visit Rhode Island
When: July
Average Cost: $585
July falls in the heart of Rhode Island's beach season, running from May through September, and it's the worst time to travel if you're looking for cheap airfare. But there are many reasons to visit Rhode Island in July.
This is the month for the state's most notable music festivals, including the Newport Folk Festival and Newport Music Festival. Head to Providence for Waterfire, where up to 80 bonfires on the river and live entertainment take place on some Friday or Saturday evenings. Or celebrate in Bristol at the nation's longest-running Fourth of July celebration.
Most Expensive Time to Visit South Carolina
When: December
Average Cost: $424
Ditch the snow for a Myrtle Beach vacation in December, the state's most expensive time to travel. It's a little too chilly to take a dip in the ocean, but 60-degree days are still fine for walks along the shoreline. Remember to bring your suit, and visit one of the many hotels with indoor waterparks.
Most Expensive Time to Visit South Dakota
When: June
Average Cost: $499
If seeing Mount Rushmore, featuring the 60-foot granite-carved faces of U.S. presidents, is on next summer's vacation must-dos, expect to pay a premium if you visit in June. The month brings some of the most pleasant temperatures of the year, with days in the mid-80s. June kicks off peak tourist season with festivals like RibFest in Sioux Falls and Rhubarb Days in Leola, plus powwows, carnivals and artisan fairs.
Most Expensive Time to Visit Tennessee
When: November
Average Cost: $398
November's Country Music Awards in Nashville put a premium demand on flights and hotels during what would otherwise be off-season in the state. But airfare isn't the only big expense during awards month. Expect to pay an average of $400 per night for a hotel room near the show; seats near the stage at the ceremony cost nearly $2,500.
Most Expensive Time to Visit Texas
When: December
Average Cost: $350
Although Texas beaches let you soak up the sunshine in 70-degree weather during much of December, head to San Antonio to get into the holiday spirit. The famous Riverwalk lights up with more than 120,000 lights as carolers pass by in boats. Look for Fiesta de las Luminarias, featuring 2,000 candles glowing in brown paper bags on weekend nights, and shop for hand-crafted gifts in the El Mercado area.
Most Expensive Time to Visit Utah
When: December
Average Cost: $422
From warm southern deserts to snowy mountains, Utah in December offers weather visitors look for, whether they're headed to snow country or away from it. Strap on some skis at Deer Valley, or lace up your hiking boots at national parks like Zion, Canyonlands and Arches.
Get your holiday cheer at the 35 acres of lights at Temple Square in Salt Lake City. Or listen to the Mormon Tabernacle Choir at their three-day Christmas concert.
Most Expensive Time to Visit Vermont
When: December
Average Cost: $563
December is a skier's paradise in Vermont, with more than 50 ski facilities offering more than 7,000 acres of snowy terrain. There's sledding, ice skating, sleigh riding and spas for non-skiers, as well as dogsled races to watch and moose tracks to follow. You'll find nostalgic and old-fashioned Christmas cheer in little towns like Grafton, Woodstock and Chester.
Most Expensive Time to Visit Virginia
When: December
Average Cost: $459
December is a prime month for whale watching along the Virginia Coast, and some boat tour companies guarantee that you'll see the huge creatures when you take an excursion. Seals, dolphins, pelicans and migrating wildfowl add to the excitement. Then, head to shore and check out colonial Christmas experiences in Williamsburg, Jamestown and Yorktown.
Most Expensive Time to Visit Washington
When: July
Average Cost: $349
Western Washington's famous drizzle takes a break during July, the least rainy — and most expensive — month of the year. Big events during the month include the Seattle International Beerfest, and beer fans can find bargains if they know where to look.
Don't expect to have trails and natural areas to yourself during this busy month. Visitors to Mount Rainier National Park and Olympic National Park combined top 800,000, superseded only by more than 1 million visits in August.
Most Expensive Time to Visit West Virginia
When: December
Average Cost: $660
Kick-off ski season in December with West Virginia Ski Free Day at Snowshoe Mountain Resort. On this day, free lift tickets are available to all state residents, and non-residents can test-drive gear all weekend long for free.
Throughout the month, you can enjoy Winter Brew Fest and other holiday celebrations at the resort. Catch a Polar Express train ride in Elkins, and glimpse many cities in glimmering holiday decor throughout the state.
Most Expensive Time to Visit Wisconsin
When: December
Average Cost: $475
Head to the birthplace of snowmobiling and explore more than 25,000 miles of groomed trails. The season opens Dec. 1, and you can ride from town to town on the extensive system.
Make a stop in Eagle River, hailed as the Snowmobile Capital of the World. Trail No. 13 takes you past the Ice Castle Creation, crafted by area firefighters from 3,000 blocks of ice.
Most Expensive Time to Visit Wyoming
When: June
Average Cost: $762
Home to Grand Teton National Park and Yellowstone National Park, Wyoming is an outdoor paradise during June with warm, dry days in the upper 70s. Expect crowded conditions in the parks and in nearby cities as well.
The Plains Indian Museum Powwow in Cody draws locals and tourists alike to take part in Plains Indian traditions like dancing, singing, feasting and competitive events. Other festivals during the month include various beer, food and music festivals.
More From GOBankingRates
Methodology: To find the most expensive month to fly, Hipmunk analyzed average round-trip airfare data between Oct. 1, 2016, and Sept. 30, 2017, where the flight departed and returned within the U.S., then filtered the results by the flight's departure month and the flight's arrival state. Pricing is accurate as of October 2018 and is subject to change – prices should be viewed as representational averages after the date of publishing. 
About the Author