Tipping Guidelines for Cruise Ship Travel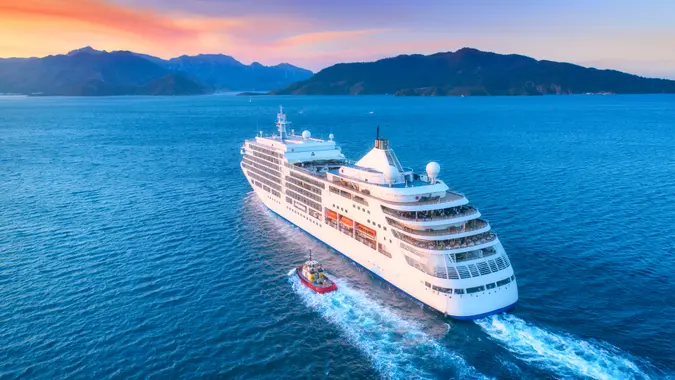 After two years of warnings about sailing on cruise ships due to the pandemic — including an initial "no-sail" order issued way back in March 2020 — the CDC finally dropped its risk advisory on March 30, 2022.
This news opened the door to fleets of ships finally returning to the world's oceans with a full complement of passengers. While some cruises can offer incomparable values to travelers, if you're new to the industry, you should be aware that tipping the onboard workers is usually part of the process — and it's not always included in the quoted price.
See: Here's How Much Cash You Need Stashed If a National Emergency Happens
Find Out: How Long $500K Will Last in Retirement in Each State
Whether you're a first-timer or a cruise veteran, here's a look at current tipping guidelines for cruise ship travel, including what they're for and how they work.
Why Do I Need To Tip on a Cruise Ship?
Just like restaurants generally pay servers a substandard wage, relying on diners to tip to make up for the lost income, cruise ships also underpay much of their service staff and expect their customers to make up the additional cost. When you see a charge for gratuities on your cruise ship bill, this is not some misnamed additional fee that pads the pockets of the cruise line. You're actually helping to subsidize the onboard workers who do everything from serving you drinks and cooking your food to making your bed every morning. 
Make Your Money Work for You
POLL: Have You Skipped Any of These Essential Expenses Due to Rising Prices?
How Much Are You Expected To Tip on a Cruise Ship?
The amount of an onboard gratuity varies slightly from ship to ship. It also typically depends on your choice of accommodation.
Guests in inside, oceanview or balcony cabins typically pay around $15 to $17 per day in gratuities or about $112 for a seven-day cruise. Those staying in suites or other top-tier cabins may see that figure hit $20 per day.
According to The Points Guy, guests staying in top suites on Oceania Cruise Lines currently pay the top daily gratuity among major cruise lines at $23 per guest, although passengers on UnCruise Adventures are encouraged to fork over $35 per day.
Bear in mind that these gratuity figures are per person, not per cabin. If you have four adults in one cabin, or even two adults and two older children, you're likely looking at about $450 in total gratuities for a weeklong cruise.
Make Your Money Work for You
How Did Gratuities Become 'Automatic'?
The so-called "automatic" gratuities that most cruise lines charge actually serve a purpose. In the past, guests were encouraged to tip wait staff, cabin stewards and the like in cash in various envelopes on the last day of the cruise. As many passengers don't carry much cash, this ended up being burdensome, and many workers ended up being shortchanged. This system also overlooked many of the behind-the-scenes workers who don't interact face-to-face with guests on a daily basis. 
Is Tipping Included on Some Cruise Lines?
On some cruise lines, particularly the higher-end options, daily gratuities are already factored into the total price of your cruise. Major cruise lines that fold this cost into the total fare include:
Azamara
Celebrity Cruises
Celestyal Cruises
Lindblad Expeditions
Paul Gauguin Cruises
Regent Seven Seas Cruises
Scenic Luxury Cruises & Tours
Seabourn
SeaDream Yacht Club
Silversea Cruises
Virgin Voyages
Make Your Money Work for You
Note that for some of these lines you can opt to pay crew gratuities separately. There also still may be onboard gratuities tacked on to certain services, such as alcohol or spa purchases.
On some of the more mass-market ships, like Princess, you can opt in to a package that includes a variety of amenities, from specialty dining and unlimited drinks to daily gratuities. While these types of packages will add hundreds of dollars to your cruise fare, they're generally discounted to what you would pay if you chose a la carte services instead. 
Disney Cruise Line doesn't automatically charge crew gratuities, but it does strongly suggest that passengers pay $13.50 per day per person. Auto-gratuities are also attached to spa and alcohol purchases.
Other lines, including Star Clippers and UnCruise Adventures, similarly encourage passengers to provide crew tips without automatically charging gratuities.
Is Tipping Really Mandatory?
Although they may seem like they are, the "automatic" gratuities charged by cruise lines are not officially "mandatory." If you like, you can go to a designated ship representative at any time and ask them to be removed from your bill. However, you should expect some pushback, as you'll be denying the hard-working onboard staff some of their pay. 
The bottom line is that offering gratuities to cruise ship workers is the same thing as tipping a delivery driver to bring you your food or a valet to go fetch your car. At the end of the day, they are service providers working hard to ensure you have the best vacation possible, so the daily gratuity is very appropriate in most cases.
More From GOBankingRates
Make Your Money Work for You