Top Money-Saving Tips for Planning Travel in 2022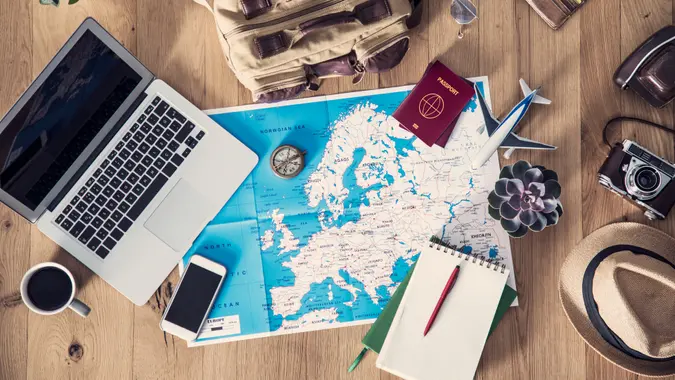 seb_ra / Getty Images/iStockphoto
It's six months until summer, which makes it a perfect time to start planning summer travels. But with COVID-19 emerging again in big numbers across the globe, you might be hesitant to dream big about a summer vacation, or a getaway at any time of the year, out of fear of losing money.
But you don't have to put off making plans for 2022 travel. Instead, by planning smartly, you can both save money on your travels and guard against losses you could incur if continuing COVID-19 outbreaks force a change in your itinerary. Read on to learn more.
Make Your Plans Now
Because of the ongoing pandemic, you might think it would make more sense to make travel plans closer to your date of departure to allow you greater flexibility. Gabby Beckford, a travel expert who operates the website Packslight.com, said that isn't the right strategy.
"Even in 2021, with the pandemic still going on and restrictions in place, I saw flight prices shoot up, tours get booked out and accommodations get more expensive in the peak summer months, especially in Europe," she said. "Even with the omicron variant causing some turmoil at the moment, people will travel during the summer. So if you want some fun in the sun, book three or more months in advance, especially this year."
Make Your Money Work for You
Don't Prepay When You Don't Have To
As you make plans, give yourself as much wiggle room as possible.
Hotels and rental car companies often will offer discounts on your rates if you prepay at the time of booking, but experts say to resist. For a hotel savings of $10 to $30 a night at average properties, the risk isn't worth it if you need to change your plans. You'll be charged at the time of reservation, and most companies have strict non-cancellation policies that range from the forfeiture of one night's stay to the entire itinerary. Should you need to cancel because of COVID-19, or any other reason, you probably won't get your money back.
"2022 is actually a good time to book travel because there are many travel promotions, flexible schedules and fully refundable options," said Christine Le, a travel writer at Luxury under Budget. "Make sure you book hotels that are cancellable and fully refundable close to the travel."
Purchase Trip Insurance
If you must prepay for your vacation package, cruise, etc., buy trip insurance, experts say.
"If something prevents you from traveling, and everything you've booked is non-refundable, you're in trouble," said Nicolette Kay, the founder of Semi-Budget Travel. "Trip insurance covers so many what-ifs these days that, at a fraction of what your entire trip costs, it's worth it."
Make Your Money Work for You
For the truly frequent traveler, you can take insurance a step further by buying an umbrella travel policy, said travel expert Edyta Satchell, the founder and CEO of Satchelle Global. She said such insurance will cover all the travel you do in a year.
"I just bought mine for $777 for two adults and one child for the entire year that will cover us for all our trips in the next 12 months," she said. "As a comparison, a tour operator wanted us to buy insurance for $99 per person for a seven-day vacation package with the same coverage. You will save so much money."
Book Rental Cars in Advance, Too
Travelers in 2021 found sky-high rates for rental cars, largely because car companies sold off much of their inventory in 2020. Advice for 2022? Book early — and then keep checking for price changes.
"Book a non-prepaid car rental as early as possible. Prices are often better, and you can always rebook if you find a better rate or cancel for free if plans change," said Mark Mannell, CEO of CarRentalSavers.com. "This is especially important if you need a larger vehicle or are traveling during peak times. I booked a car rental for October 2022 already and it was about $200 less than last year for similar dates and vehicle type."
So agreed Jonathan Weinberg, the founder and CEO of AutoSlash.com.
"With rental rates at historic highs, a car rental went from being an afterthought in the before times to being a budget-buster post-Covid," Weinberg said. "We're already seeing rates averaging around $100 per day over the holidays, and we don't expect much relief during the peak spring/summer travel season due to high demand and limited supply of new vehicles due to the semiconductor shortage in the auto industry."
Make Your Money Work for You
His company, AutoSlash, will track your reservation and inform you if a lower rate is found.
"Renters who track their rental reservations for lower rates will typically save an average of 30% over renters who book and never re-check their rates," he said. "In short, booking a pay-later rate is a win-win since you can retain complete flexibility while also being able to take advantage of any better deals that come along."
Look For Unexpected Savings
Big cities often are out of reach financially for many travelers, but 2022 could be the year to capitalize, said Rob DelliBovi, luxury travel advisor and concierge and founder of RDB Hospitality.
"In 2022, business and convention travel will still not be fully back, so urban destinations will be cheaper than ever, as they'll be slower than before the pandemic," he said. "It's a great time to visit cities like NYC, Chicago, San Francisco, at much lower price points than we're used to.
"Expect these cities to bounce back in a serious way in 2023 and 2024, so don't miss these opportunities in 2022. Hotel rates are going to be lower, especially during the week — typically when business and convention travelers would take over the city. People that travel to big cities on weekdays will see discounts and promotions all over the place."
More From GOBankingRates
Make Your Money Work for You