I'm a Travel Agent: 7 Luxury Trips You Can Take on a Middle-Class Budget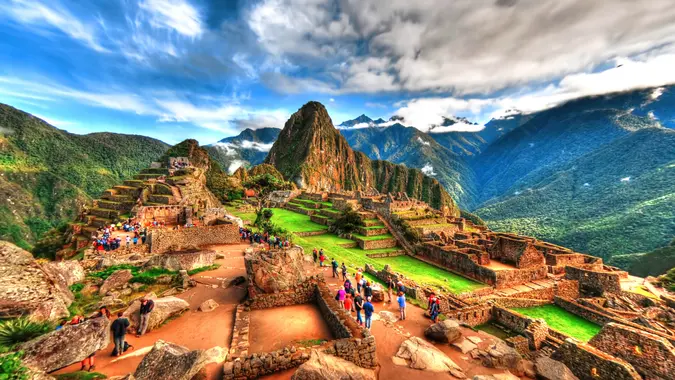 ©Shutterstock.com
You have a taste for luxury travel, but you're working with a middle-class budget. While you might think this means you'll need to settle for a local road trip or a short flight to a domestic locale, it doesn't.
Hans Mast, a travel agent and travel expert at Golden Rule Travel, said traveling during off-peak times, opting for affordable accommodations and embracing local culture can allow you to enjoy a luxury trip on a limited budget.
Ready to start packing your bags? Here's a look at seven lavish trips he said you can take without breaking the bank.
Costa Rica's Pacific Coast
Think again if you assume a trip to Costa Rica's Pacific Coast is only for the wealthy.
"Instead of luxe resorts, go for boutique hotels," he said. "Explore local eateries instead of high-end restaurants."
Additionally, when sightseeing, he said you can save money by opting to use public transportation instead of private transfers.
Whether you opt to visit the North Guanacaste, South Guanacaste, Nicoya Peninsula, Central Pacific, South Pacific or the Osa Peninsula areas, this will allow you to save money, while immersing yourself in the local culture.
Greek Island Hopping
If visiting the Greek Islands — i.e., Antipaxoi, Corfu, Ithaca, Kefalonia, Kythera, Lefkada, Paxi and Zakynthos — is your dream. You'll be pleased to know Mast said this trip can be enjoyed on a middle-class budget.
Make Your Money Work for You
"Travel in the shoulder season — spring or fall — when prices drop," he said.
As for the island hopping parts of the trip, he said there are also ways to save on transportation.
"Use local ferries instead of private charters," he said.
Instead of spending a hefty amount on a hotel or resort, he recommended bunking with the locals.
"Stay in family-run guesthouses or Airbnb for a more authentic experience," he said.
Machu Picchu, Peru
Visiting Machu Picchu isn't just reserved for the rich. Mast said smart planning can allow you to enjoy this adventure on an average budget.
"Book the Inca Trail independently or choose alternative trekking routes," he said.
Instead of seeking out pricy hotels near Machu Picchu, he recommended staying in Aguas Calientes, a small town south of the world-famous historical attraction.
"Plan your visit during the shoulder season to avoid crowds," he said.
Safari in South Africa
A dream vacation, most people probably assume they could never afford an African safari. However, Mast said that isn't the case.
"Opt for self-drive safaris instead of guided tours," he said.
This type of safari is possible in most African countries, allowing you to explore at your own pace, while saving money. Do note that it can be advisable to take a course driving the type of vehicle you'll operate on safari before embarking on your trip.
There's no shortage of glamorous safari lodges to stay at, but there are also plenty of affordable options.
"Stay in budget-friendly lodges or camps outside the national parks," he said.
Make Your Money Work for You
Additionally, he said planning your trip during the shoulder season — typically around November to May — will allow you to enjoy lower prices and fewer tourists.
Bangkok
If you time it right, you can enjoy a first-class trip to Bangkok on a tight budget.
"Stay in high-end hotels during off-peak seasons when prices drop," Mast said.
If you don't mind a little — or potentially a lot of — rain, visiting between July and September will allow you to save money. Do note, this is also monsoon season, so you'll need to be flexible with your plans.
A city known for its cuisine, Mast said you don't need to spend a lot on food to delight your taste buds.
"Enjoy world-class street food at a fraction of restaurant prices," he said.
You can also skip pricey attractions by simply immersing yourself in the local culture.
"Explore the city's temples and markets for free or at a low cost," he said.
Iceland's Natural Wonders
A European country known for its Northern Lights, a trip to Iceland can be expensive — but not if you do it the right way.
Instead of stretching your budget to stay in a pricey Reykjavik hotel, Mast had another idea.
"Rent a camper van for a more affordable accommodation option," he said.
This will also serve double duty as a way to get around when sightseeing. Plus, he said you'll be able to cook your meals, instead of dining out.
Make Your Money Work for You
He said visiting during the shoulder season — May and September — will also help you cut costs.
Cultural Riches in Mexico City
Rich with culture, visiting Mexico's capital city can be a lot more affordable than you might realize.
"Stay in boutique hotels in trendy neighborhoods like Roma or Condesa," Mast said.
Known for their artsy, laid-back vibe, these chic neighborhoods are filled with restaurants, cafes and boutiques.
Instead of eating at pricey restaurants, he suggested taking a more informal approach.
"Enjoy street food and local markets for budget-friendly dining," he said.
Mexico City is filled with museums and cultural sites you won't want to miss, so he suggested planning your trip around free admission days. Many museums are also free to visit every day, so conduct plenty of research before your trip.
More From GOBankingRates