I'm a Travel Expert: These Are the Cheapest Days To Fly for Thanksgiving and Christmas 2023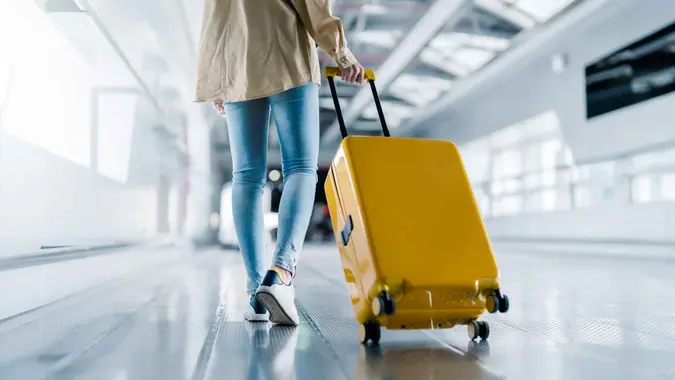 marchmeena29 / Getty Images/iStockphoto
Flying during the holidays can be hectic — and expensive. But if you book flights on the right days, you can save some cash.
GOBankingRates spoke with Christina Bennett, consumer travel expert at Priceline, to get her insights on the cheapest days to fly for Thanksgiving and Christmas this year.
Cheapest Days To Fly for Thanksgiving 2023
For Thanksgiving, your best bet is to fly on Thanksgiving Day. According to Priceline, this can help you save nearly 25% on domestic airline tickets. For return flights, traveling between Nov. 27 and Nov. 30 can help you save 28% on domestic airfares and 15% on international airfares.
"Being flexible on your holiday travel schedule can yield big savings and avoid some of the big crowds," Bennett said. "If your schedule allows, go early, stay later or even travel on the holiday itself."
Whatever you do, avoid the days that tend to be the most popular.
"One of the best ways to save is to avoid peak travel days — which tend to be the most expensive," Bennett said. "For Thanksgiving, that means the Wednesday before (Nov. 22) and Sunday after the holiday (Nov. 26)."
Cheapest Days To Fly for Christmas 2023
For Christmas, opting to fly on Christmas Eve (Dec. 24) can help you save 26% on domestic airfares, according to Priceline data. If you don't want to fly on Christmas Eve, traveling between Dec. 18 and Dec. 20 may help you save up to 15%.
Make Your Money Work for You
If you are traveling internationally, flying on Christmas Eve can help you save 19% on airfares, and departing on Dec. 19 can help you save 11%. For return flights, traveling between Dec. 26 and Dec. 29 can help you save 25%.
Just as with Thanksgiving, avoid traveling on the busiest days if you want to save money.
"For the December holidays, that means Friday, Dec. 22, and Sunday, Dec. 31," Bennett said.
More Tips for Saving on Holiday Travel
While it's too late to get some of the best pricing for holiday travel this year, plan to book earlier next year for big savings.
"The sooner the better," Bennett said. "Based on historic pricing, the best deals were probably in September and October."
However, it's not too late to find a good price, she said.
"Right now, average domestic Thanksgiving airfare is tracking around $395," Bennett said. "Use a site like Priceline to comparison shop across airlines, nearby airports and routes. While there will likely be some last-minute deals, I suggest booking as soon as possible to lock in the best fare and your preferred routing and schedule."
If you're booking last-minute, keep an eye out for seasonal sales, she said.
"We're approaching Black Friday, when brands offer some of their best discounts of the year," Bennett said.
Another way to save is to bundle your flight with a hotel or rental car reservation.
"By packaging your bookings together, you can potentially save hundreds of dollars as opposed to booking separately," Bennett said. "Priceline customers who book their flight and hotel together save an average of $240."
Make Your Money Work for You
More From GOBankingRates