Stimulus Update: Monday is the Last Day to Register for This Year's Child Tax Credit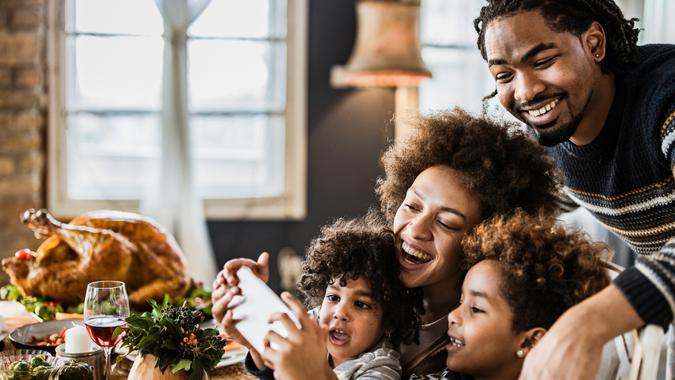 skynesher / Getty Images
Time is quickly running out for families who want to sign up for this year's advance Child Tax Credit payments, with Monday, Nov. 15 being the last day they'll be able to do so.
November's Money: Stimulus Update: When Child Tax Credit Payment for November 2021 Will Get to You
2022 Taxes: Child Tax Credit Recipients: How To Prepare Your Taxes for 2022 According to IRS Guidelines
As the IRS noted on its website, benefits are available to Americans who qualify even if they don't work, receive income, or file income taxes. Families who sign up by the Nov. 15 deadline should receive half of their total 2021 CTC benefit on Dec. 15, which means a payment of up to $1,800 for each child under 6 and up to $1,500 for each child aged 6 to 17.
Families who don't sign up by the deadline can still claim the entire CTC when they file their 2021 taxes next year, GOBankingRates reported earlier this week.
The IRS urges families who don't file tax returns and don't currently get the enhanced CTC benefit to explore the tools available at the IRS.gov website, which can help them determine eligibility for advance payments. Tools are also available to help families file a simplified tax return that lets them sign up for the CTC payments as well as Economic Impact payments and the Recovery Rebate Credit.
If you need to update your income, you can do so on the new Child Tax Credit Update Portal, available on the IRS website. You will need to make any changes by Nov. 29 to ensure they are reflected in the Dec. 15 payment, which will be the final advance payment of the year. A new Spanish-language version of the portal should be available by the end of this month.
The income update feature is designed to help families make sure they're getting the right amount of advance CTC payments for 2021 — something that should be especially useful to families who wants to raise or lower their monthly payments due to changes in their 2021 income.
Families that currently get monthly payments below the maximum might qualify for higher payments if they recently lost a job or otherwise earned less money. For those who already receive the maximum payment, a dip in income won't increase the payment amount. However, the payment amount might be lowered for families whose income is much higher this year vs. last year.
FAQ Update: Stimulus FAQ: IRS Updates 2021 Child Tax Credit Frequently Asked Questions
Basics: Stimulus Update: 91% of Low-Income Families Are Using the Child Tax Credit for Basic Necessities
Meanwhile, families also should be readying themselves to file for the benefit next year. In early 2022, the IRS will send out Letter 6419 documenting any advance payments issued to families during 2021 as well as the number of qualifying children used to calculate the advance payments. This letter can help families reconcile the advance CTC payments they received and claim any remaining portion of the benefit when completing their 2021 federal income tax returns.
More From GOBankingRates