Earned Income Tax Credit: Everything You Need To Know Before Filing This Year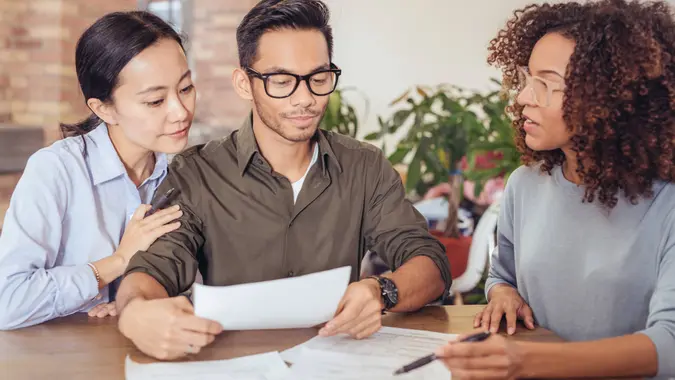 Weekend Images Inc. / Getty Images
The Earned Income Tax Credit (EITC) is one of the largest refundable tax credits offered by the federal government. Its recent expansion makes it even more valuable to low- and moderate-income American households. One of the most popular aspects of the program has always been its status as a refundable credit, meaning if it lowers your tax liability to zero, you get the balance of the credit as a refund.
See: 5 Tax Credits That Can Save Parents Big Money
Tax Refund 2022: You Could Miss Out on $6,728 by Not Claiming the Earned Income Tax Credit
But the changes that apply to tax year 2021 filers will make the EITC even more popular, with more taxpayers qualifying for it. Here's everything you need to know about changes to the EITC before filing your taxes this year.
Eligible Age Range Expanded
Previously, the EITC only applied to taxpayers with earned income between the ages of 25 and 65. An important change this year is that the credit is now available to both younger and older workers. Now, those as young as 19 can qualify for the EITC, as can qualified homeless or former foster youth as young as 18. Also, the upper age limit of 65 has been completely removed.
Expanded EITC for People Without Qualifying Children
Although the EITC is often thought of as a credit for working families, many workers without children can also qualify for the credit. While the maximum EITC for all qualifying taxpayers went up slightly for 2021, for those without qualifying children, the maximum EITC credit nearly tripled, from $538 to $1,502.
Taxes 2022: Find Out Everything You Need To Know About Filing, Refunds and More 
Increased Investment Income Limits
For tax year 2020, the amount of money that workers could earn from investment income and still be eligible for the EITC was $3,650. For tax year 2021, this limit receives a substantial boost to $10,000. For years going forward, this $10,000 limit will be indexed for inflation.
Ability To Use 2019 Earned Income for EITC Calculation Purposes
If your income was lower in 2021 than it was in 2019, the IRS allows you to use your 2019 earned income for purposes of determining your ETIC eligibility. This exception was created in response to the unemployment dislocation caused by the coronavirus pandemic. More information is available online 27c of the IRS instructions for Form 1040.
Changes to Phaseout and Credit Limits
In addition to the increased amount of the EITC for tax year 2021, the phaseout limits have also been expanded. For example, families with no children can now qualify on incomes between $21,430 and $27,380, above 2020's limits of $15,820 to $21,710. Here are the phaseout limits for families with children for tax year 2021, based on filing status:
One child: $42,158 to $48,108, up from $41,756 to $47,646
Two children: $47,915 to $53,865, up from $41,756 to $47,646
Three children: $51,464 to $57,414, up from $50,594 to $56,844
The amount of the credit has been raised as follows:
No qualifying children: $1,502, up from $538
One qualifying child: $3,618, up from $3,584
Two qualifying children: $5,980 up from $5,920
Three qualifying children: $6,728, up from $6,660
Effect of Third-Round Economic Impact Payments on EITC
For EITC purposes, you're not allowed to count the third round of Economic Impact Payments as earned income. However, you're also not required to report those payments as taxable income, so the EITC exclusion makes sense.
Read: 38% of Recipients Say the Child Tax Credit Is Reducing Their Refund
Selection of Filing Status for Some Taxpayers
If you're married but separated, you may be eligible to file as single for purposes of claiming the EITC. The spouse claiming the EITC must have had a qualifying child living with them for half the year and cannot file jointly with the other spouse. Other restrictions apply, such as having written proof of the separation and not living in the same principal residence for at least six months out of the year.
Children Don't Need Social Security Numbers for Family Eligibility
In years past, taxpayers were ineligible to qualify for the EITC if their children did not have Social Security numbers. Now, families can still claim the EITC even without identifying Social Security numbers for children. However, they can only claim the childless EITC. In other words, even with three children, a family could only qualify for a maximum EITC of $1,502 — which is still much better than the $0 available in prior years.
The Bottom Line
The EITC has always been a bit complicated to calculate, so much so that the IRS says as many as one in five taxpayers are eligible for the credit and don't claim it. This number may even go up due to the changes implemented for this tax year. If you think you may be eligible for the EITC, or if you don't fully understand the credit, it's best to speak with a professional tax advisor.
More From GOBankingRates