Jail, Jury Duty and 4 Other Things People Would Rather Do Than Their Taxes — and Tips To Make Filing Easier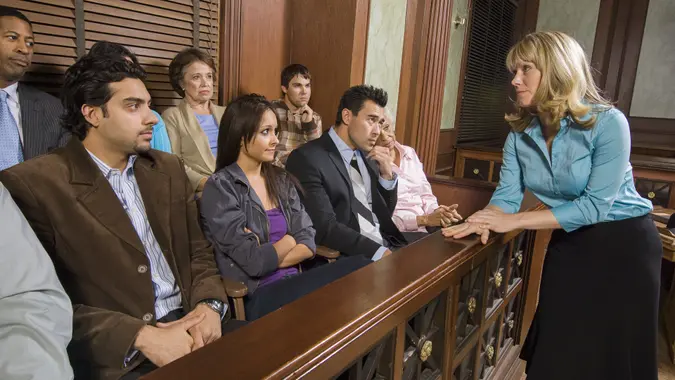 bikeriderlondon / Shutterstock.com
You may not enjoy filing your taxes, but do you dislike the process so much that you'd go to great lengths to get out of it?
Learn: 12 Types of Passive Income That Aren't Taxable
More: 3 Signs You're Serious About Raising Your Credit Score
In GOBankingRates' 2023 tax survey of 1,002 Americans, there were six activities overall that respondents said they would rather do than file their taxes. These include spending the weekend with their in-laws (25%), jury duty (14%), taking the ACT or SAT exam (13%), experiencing a canceled flight leading to a missed trip (11%), undergoing a root canal (11%) and spending the night in jail (8%).
What has led this many Americans to choose root canals and jury duty over filing their taxes? Let's look at why so many feel hate doing their taxes and what can be done to make the tax filing process easier.
What Makes Filing Taxes Scary?
If you've ever felt scared or nervous about filing your taxes, you might wonder what is causing you to feel this way. You could be filing a simple return and still experience some anxiety surrounding the process. 
Robert Persichitte is a CPA and CFA at Delagify Financial. Taxes, Persichitte said, combine boredom with fear. While it's not hard to understand the boredom aspect, there are two specific reasons why we're scared of taxes:
If you make a mistake, you could suffer a significant consequence. 
It's easy to make mistakes.
Most people have a story to share about a relative, friend or someone who knows someone who received a surprise bill from the IRS. If you forget something or do something wrong, you may face serious financial consequences.
And of course, it's fairly easy and common to make mistakes. Persichitte said most people don't learn in school how to prepare their taxes. Most Americans only think about it once a year, widening the gap between filing periods and making the experience of filing even a simple return troublesome.
Take Our Poll: How Much of a Tax Refund Do You Expect in 2023?
How To Make Filing Taxes Easier
You don't need to wish for some way to escape filing taxes every April. Here are a few helpful tips to take the fear, and boredom, out of the tax-filing process.
Hire an Accountant
If you don't understand what you're doing or feel confused about filing on your own, the best approach is to hire a professional accountant or CPA for assistance. 
Working with a professional also means paying an additional fee, but it's an investment. Giuseppa Maceri, CPA with Ageras, said a good accountant works with you during tax season and throughout the year. This ensures tax compliance and better allows taxpayers to manage proper cash flow, set up their accounting systems and learn about proper recordkeeping.
Be Honest
When filing your taxes, Persichitte said honesty is the best policy. While it may sound like fairly obvious advice, taxpayers should be totally truthful when filing their taxes. 
Do not cheat or lie on your taxes — the consequences are quite serious. If you get caught cheating, Persichitte said you may need to pay higher penalties. It's also possible to face jail time — an option some may say they would prefer instead of doing taxes, but nobody actually wants to go through this experience.
Maintain Good Records
Filing your taxes is less complicated when you have all your necessary documents handy.
Once you file your taxes, Maceri recommends filing your paperwork in a secure space. Then, use accounting software to maintain your financial records. If the software seems like something you may struggle to keep up with, you may use a spreadsheet to track your financial statements and receipts each month and establish data for your income tax return.
Make Taxes Part of Your Financial Literacy
Most Americans will file their taxes once a year and not think too much about it once the process is over. Persichitte recommends learning more about your taxes through the Volunteer Income Tax Assistance (VITA) program.
While VITA's main purpose is for volunteers to help low-income people who need help with their taxes, Persichitte said anyone can sign up for a class and learn how to prepare their taxes. Check in with your state of residence to find the nearest VITA location near you.
More From GOBankingRates