Tax Rebate: Massachusetts Governor Says Potential for Checks Won't Be Known Until Late January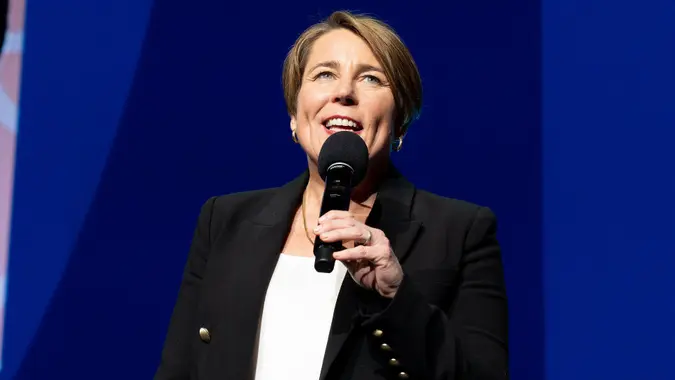 Katy Rogers / MediaPunch / Shutterstock.com
Newly elected Massachusetts Governor Maura Healey neither confirmed nor denied the possibility of issuing new state stimulus checks, but the subject was broached during her first leadership meeting with state legislators.
SNAP Update: Massachusetts Set To End Emergency SNAP Benefits Soon
Explore: 3 Ways Smart People Save Money When Filing Their Taxes
State Stimulus Checks 2023: What To Know About Payments Coming This Year
After meeting with Senate President Karen Spilka, House Speaker Ron Mariano and Lieutenant Governor Kim Driscoll on Jan. 9, Healey reiterated her belief in doing the utmost for residents and families struggling to keep up with the cost of living. "I certainly talked about that on the campaign trail, and it continues to be a priority," Healey stated to reporters. "And I'm certainly looking forward to working in collaboration — and obviously there's a lot to be done. We're now on day four, I guess, of this new adventure."
Healey, a Democrat and strong supporter of a state-administered universal child tax credit (CTC), proposed her $600 per child tax relief program that would ultimately benefit more than 700,000 families permanently, as promised during her campaign for governor.
According to MassLive Media, Healey is in favor of the tax cuts for low- and middle-income and senior citizens, deductions for renters and a revamp of estate law proffered by former Governor Charlie Baker.
Take Our Poll: Are You In Favor of More Inflation Relief in 2023?
As far as potential tax rebates or stimulus checks are concerned, the governor and her fellow state leaders expect to have a better idea of potential relief plans closer to the end of January, when the team receives a "key financial metric," per MassLive.
Taking questions after the meeting, Healey didn't rule out the chance that Bay Staters could benefit from a new stimulus check in 2023, but emphasized that an overall fiscal strategy for the state is needed first. "We've all articulated priorities around the relief we want to provide to residents, and to folks and entities across the state — we're just going to try to do so," Healey said.
"I can commit to you this, that the LG (lieutenant governor) and I will work to do so as thoughtfully and strategically as possible in terms of what we propose," she added. "I know that at the end of the day, it's going to come down to what we collectively see and what members see as the right way to go for things."
See: Check Your Mail — Tax Rebates and Stimulus Payments May Look Like Junk
After the meeting, Spilka was hopeful that the state legislator would tackle progressive tax relief "soon," while Mariano brushed aside any talk of residential relief plans in favor of his organizational priorities, remaining "ambivalent" about the subject, according to MassLive.
More From GOBankingRates