Forgot To Report Side Gig Income on Your Taxes? Here's How To Fix It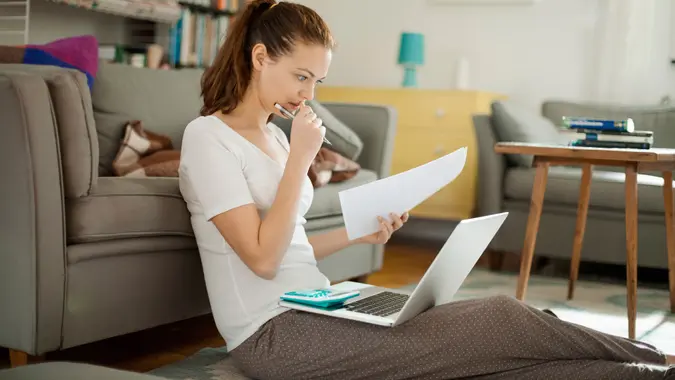 Geber86 / iStock.com
Having a side gig can be beneficial for numerous reasons, whether it's to provide supplemental income, to develop a passion or to save for rainy days. But when it comes to taxes, things can get a bit tricky.
As if taxes were not burdensome enough, those for gig workers and side hustlers can not only be complicated, but they can also cost you a lot more money if you make a mistake.
That's why experts recommend that if you forget to report a side gig income on your taxes, don't panic, but act fast as the Internal Revenue Service (IRS) might not look at it too kindly.
"First and foremost, it's important to understand that omitting side gig income, whether intentionally or not, is not a minor oversight in the eyes of the IRS," said Taylor Kovar, CFP, CEO at TheMoneyCouple.com and Kovar Wealth Management. "It's essential to fix this situation as soon as you become aware of it. The IRS values voluntary compliance and acting proactively can potentially minimize penalties and interest."
Here are some steps you can take if you make the mistake of forgetting to report some income.
File an Amended Return
The key is to send in an amended tax return as soon as you discover your mistake. "The penalty for missing income is charged monthly, so there's no time to dilly-dally," said Scott Lieberman, founder of Touchdown Money. "But only bother with this if you earned $400 or more in self-employment income over the course of the year. Otherwise, you can let it slide without any issues."
Indeed, the IRS says that "you must file a tax return if you have net earnings from self-employment of $400 or more from gig work, even if it's a side job, part-time or temporary. You must pay tax on income you earn from gig work."
Karla Dennis, founder and CEO of Karla Dennis and Associates explained that you can file an amended return using Form 1040-X, Amended U.S. Individual Income Tax Return.
"This is the best way to handle it because you are immediately acknowledging and correcting the problem," Dennis said.
Respond to IRS CP-2000 Notice
This is a notice the IRS sends taxpayers letting them know the income they reported on their return does not match what the IRS has in their database on the taxpayer, Dennis said.
"The notice gives the taxpayer an opportunity to remedy the situation by responding to the notice," she said. "You can also file an amended return in response to a CP2000 notice."
Keep All Your Records and, If in Doubt, Seek Advice From a Tax Professional
Even if you forgot to report the income, make sure you have detailed records of all side gig income and any associated expenses. This will be crucial if the IRS has questions or if you get audited, Kovar said.
This information gathering includes income statements, invoices, payment records and any expenses related to the side gig, said Varsha Subramanian, CPA, at FlyFin.tax.
"Understanding the full scope of the situation will help you rectify it more effectively," Subramanian said.
And if you're unsure about the process or how to calculate the additional tax, it might be a good idea to consult a tax professional.
"They can guide you through the process and ensure everything is done correctly," Kovar said.
"Use this experience as a learning opportunity. In the future, set up a system to track your income and expenses, and consider making estimated tax payments to avoid underpaying your taxes," he said.
What Are the Consequences and Penalties of Not Reporting Side Gig Income?
First of all, not reporting income increases the risk of an audit or being selected for examination by the IRS, Subramanian said.
"An audit involves a detailed review of your financial records, income sources and deductions to ensure compliance with tax laws. If the IRS believes you intentionally underreported income with fraudulent intent, they can impose a civil fraud penalty," Subramanian said. 
And, it's important to note that interests apply on unpaid taxes, with a rate determined every three months, said Dr. Lei Han, CPA, associate professor of accounting at Niagara University.
"The IRS can charge you a failure-to-pay penalty of 0.5% per month for the unpaid tax," Han said.
But if you forgot to report a serious amount of money, you could be guilty of a "substantial understatement," which means your penalty will be 20%, Lieberman said.
"To see whether you fall into this category, figure out how much in taxes you failed to pay because of your forgetfulness. If it's more than $5,000 (or more than 10% of what you should have paid, if that amount is greater than $5,000), then you'll be hit with the 20% penalty," he added.
More From GOBankingRates