Amazon has made online shopping so effortless that it's easy to find yourself spending more than you anticipated. That's why it's so important to save as much as you can when shopping on the site.
And we have just the trick to help you automatically save money when shopping on Amazon. 
It's called Capital One Shopping, and it's available as a totally free browser extension on your desktop. All you do is click a button to get it and you'll instantly be armed with the Sherlock Holmes of deal-finding tools. 
Millions of shoppers use Capital One Shopping, and it's no wonder why: Not only is the browser extension free to use, you don't need to be a Capital One customer to enjoy it. In the last year alone, shoppers saved a combined $160 million using the tool, with zero effort. 
Capital One Shopping Scours the Internet To Find Great Deals and Better Prices
When browsing Amazon, Capital One Shopping serves as an automatic price-comparison tool. If it finds a better price from another retailer, you'll be alerted in a cute little pop-up window. Capital One Shopping also searches the internet for coupon codes and instantly factors them in for maximum savings, as well as including shipping and tax in its final estimates. 
To get a feel for how Capital One Shopping can help us save money — and time — when shopping on Amazon, we scoped out a few popular products and were gobsmacked by just how much we stood to save by buying the same item from a different seller. Amazon, we love you, but you don't always have the best prices out there and Capital One Shopping knows it! 
Office Chic

Now that we're all working from home more, we need proper office gear such as a new desk. We found a sleek office desk for $368.07 on Amazon. Instantly Capital One Shopping popped up to let us know that we could get the same desk for $317.39 from another retailer. 
Fired Up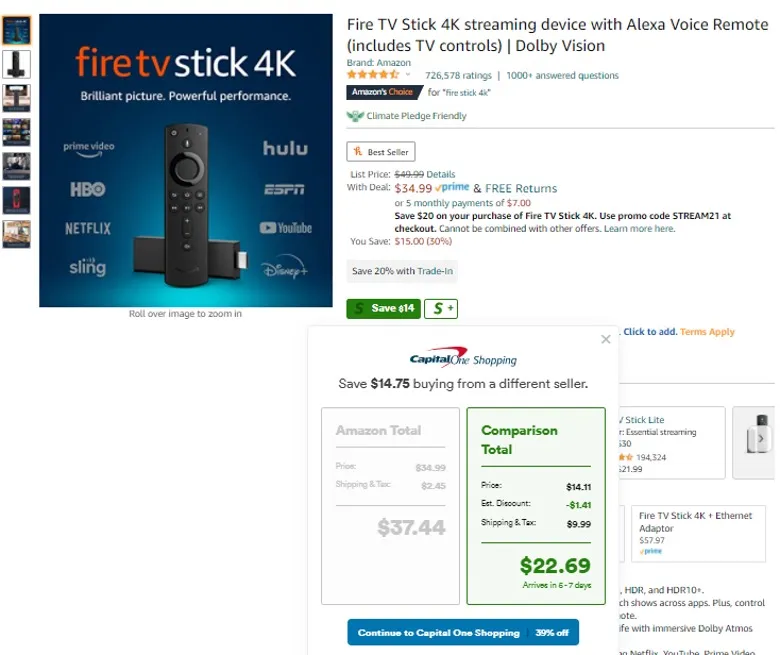 Even Amazon's own brand can be found cheaper from another seller on some occasions. Take the Fire TV Stick, for example. We found one for $37.44 on Amazon, but Capital One Shopping alerted us that it's only $22.69 at another retailer. A quick $14.75 saving on something that was originally $37.44.
Ninja Moves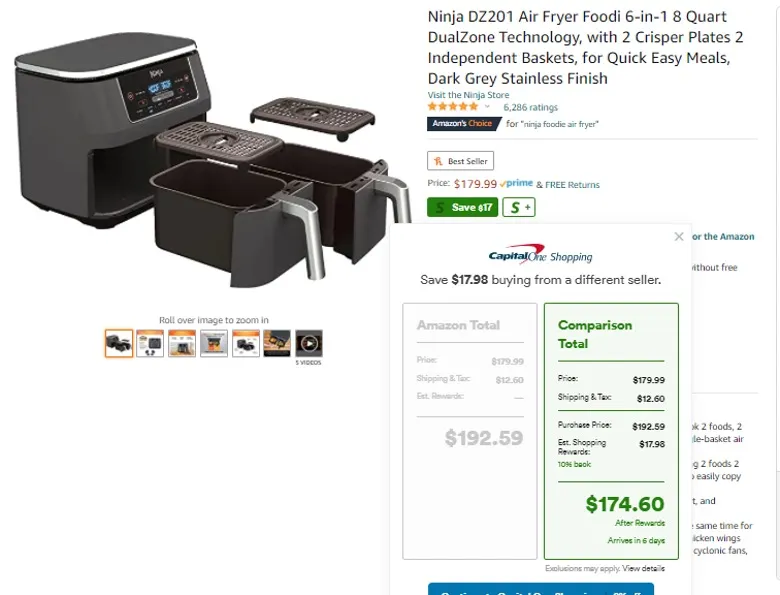 Cooking at home is easier with the Ninja Air Fryer, but it costs $192.59 on Amazon. Capital One Shopping pops up with instant savings, showing us that we can get the handy kitchen gadget for $174.60 by buying it from another seller.
Game On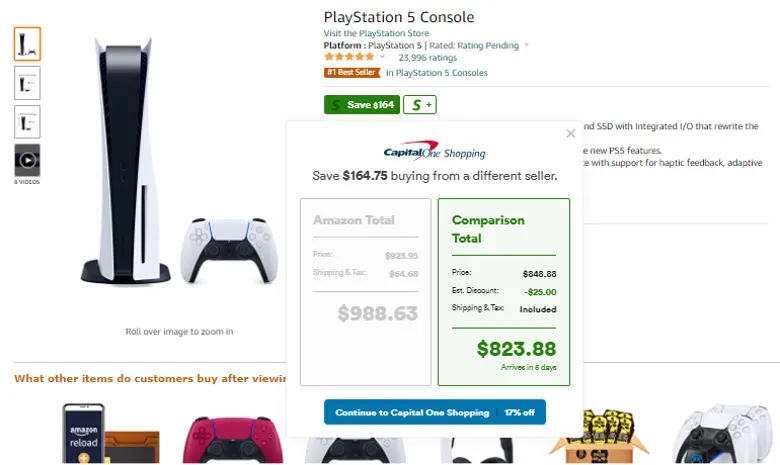 The hot new PlayStation 5 console was tough to come by for months, but we found one on Amazon for $988.63. Thanks to Capital One Shopping, we learned that we could scoop one up for $823.88 by buying it elsewhere. That savings could be put to use for a second controller and a new game.
Heavy Weight
To keep our home gym game going strong, we found a pair of Bowflex dumbbells on Amazon for $426.93. Capital One Shopping instantly informed us that the same dumbbells sell for $349.99 at a different retailer.
We Saw Jawdropping Savings With Capital One Shopping
Here's everything we found on Amazon that Capital One Shopping led us to buy for less from other retailers. The prices listed are the approximate totals after shipping and taxes.
| | | | |
| --- | --- | --- | --- |
| | Amazon | Capital One Shopping | Savings |
|     Office Desk | $368.07 | $317.39 | $50.68 |
|     Fire TV Stick 4K | $37.44 | $22.69 | $14.75 |
|     Ninja Air Fryer | $192.59 | $174.60 | $17.99 |
|     PlayStation 5 Console | $988.63 | $823.88 | $164.75 |
|     Bowflex Weights | $426.93 | $349.99 | $76.94 |
With the help of Capital One Shopping, we saved around $325 on these must-have home items. The whole process took under a minute, and was completely free to use. 
Capital One Shopping