Banking 2023: How Banking's Evolution Is Affecting Your Money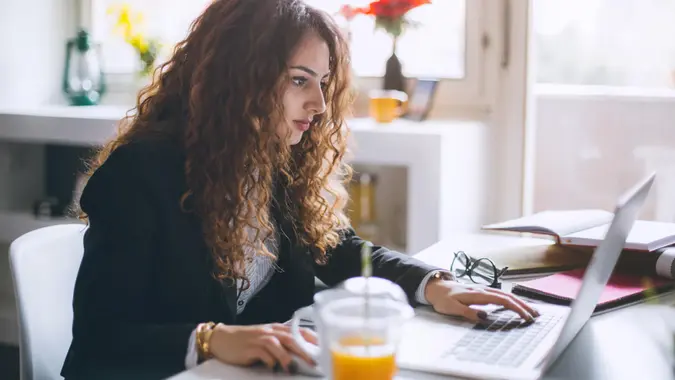 Pekic / iStock.com
Gone are the days when you have to visit a physical bank branch to deposit a check, apply for a loan or open a credit card. And with the rise of online banks and neobanks, your choices of where to bank have expanded dramatically. But what does this all mean for you and your bottom line?
Here's a look at how the evolution of the banking industry affects consumers.
Added Convenience and Flexibility
"The banking industry has undergone significant changes in recent years, with a shift towards digital banking and an increasing focus on user-friendly tools and customer experience," said Dennis Shirshikov, finance and economics expert and head of growth at Awning.com.
Consumers now have access to their accounts 24/7 and can perform financial transactions whenever they want from wherever they are.
"For many people, this has been a major convenience, as it allows them to manage their finances on the go and avoid the hassle of visiting a physical bank branch," Shirshikov said.
More Choices
Another change in the banking industry has been the increasing availability of financial products and services.
"In the past, banks offered a relatively limited selection of financial products, such as checking and savings accounts, loans and credit cards," Shirshikov said. "Today, banks and other financial institutions offer a much wider range of products, including investment products, insurance, and even online lending and wealth management services. This has given consumers more options and flexibility when it comes to managing their finances."
In addition to being able to easily access more financial products and services, the availability of more options allows consumers to "comparison shop" to find the best accounts for their needs.
Easier Access to Funds
Whether you want to take out a loan or send money to a friend, the rise of fintech firms has made giving and getting money much easier.
"Fintech firms have disrupted traditional banking models by offering innovative financial products and services that are often more convenient and cost-effective than those offered by traditional banks," Shirshikov said. "For example, fintech firms have introduced new payment methods, such as mobile payments and peer-to-peer lending platforms, which have made it easier for consumers to manage their finances and access credit."
New Risks
While there are numerous advantages to being able to do all of your banking at the click of a button, there are also some risks involved.
"The shift towards digital banking has introduced new risks, such as the possibility of cyber attacks or financial fraud," Shirshikov said. "It's important for consumers to stay informed and be proactive in managing their finances to ensure that they are taking advantage of the benefits of the evolving banking industry while also protecting themselves from potential risks."
People Without Internet or the Non-Tech-Savvy Could Be Left Behind
Another downside of the shift towards digital is that this could leave some people without access to banking.
"There's an ongoing shift to digitize the banking industry, a concept which will take on a whole new reality as governments begin transitioning to central bank digital currencies," said Richard Gardner, financial technology expert and CEO of Modulus. "This move will significantly affect consumers, particularly those who are aging and without technological access."
More From GOBankingRates