Are Banks the Best Places To Exchange Currency?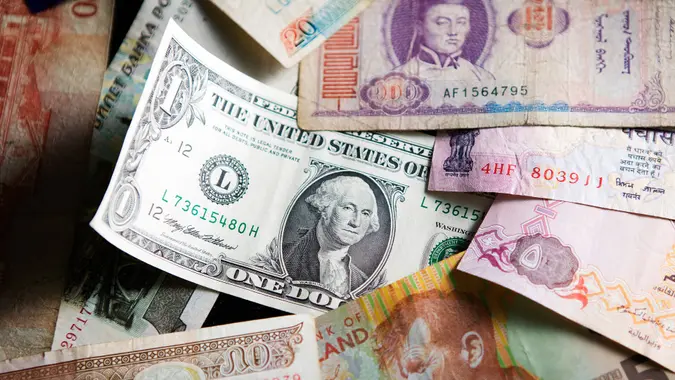 st_lux / Getty Images/iStockphoto
When it comes to exchanging currency, banks are generally cited as one of the best places to do so. But is it the very best option, or could you go somewhere else just as easily to swap money?
Let's take a look at some of the currency exchange options available to international travelers to determine if banks should be the top choice.
Why Exchange Currency at a Bank?
If you have never exchanged currency before, you can certainly head to a bank where you will receive these benefits.
Customer Service
Not sure what you need or if you have questions about the exchange process? Carter Seuthe, CEO of Credit Summit Debt Consolidation, said working with a bank's counter staff can provide guidance in navigating various currency options.  Their knowledgeable team can answer any questions you may have to ensure you get exactly what you need.
Some banks, especially online-only banks and neobanks, don't have physical branch locations. Can you still receive the same type of attentive service in a virtual setting? Seuthe said yes.
"Many banks have online tools which allow customers to access their accounts from anywhere and exchange currency easily at their convenience," said Seuthe. "This makes trading fast, reliable and hassle-free for those needing to quickly manage their international finance needs."
Take Our Poll: Are You in Favor of More Inflation Relief in 2023?
Competitive Rates
Those who decide to exchange currency in a bank, Seuthe said, will receive competitive rates. 
However, Shannon Raisor, customer advocate at Wise, recommends comparing rates at different banks to the mid-market exchange rate. This will help you better understand the additional fees you'll be paying and get the best deal.
Convenience and Security
Let's look at Bank of America as an example for foreign currency exchange. Their website walks account holders each step of the way through the foreign currency process. They offer a currency calculator to better calculate the amount of foreign currency you'll need and to check exchange rates for purchasing currencies ranging from those used in Great Britain, Japan, Mexico and more countries. 
Both convenience and security matter when you need to order foreign currency. You want to be sure you can order currency through a variety of avenues, such as visiting a bank branch in-person or placing the order through your online app. You also want to make sure your order is placed in a secure space, especially if you need to order a significant sum of foreign currency. The details for how you can place an order and the types of currencies may vary depending on the bank, but the convenience and security should always be in place.
Other Options for Exchanging Currency
If you need to exchange currency but don't belong to a bank, what options are available to you? 
You can use airport kiosks, tourist locations and hotels for currency exchange purposes. As a general rule of thumb, Raisor said the more convenient the place, the worse the exchange rate will be. A better option might be to consider a multi-currency account.
"This account lets you spend, send, receive and hold multiple currencies, manage payments in foreign currencies and avoid pesky hidden fees and high exchange rates while paying like a local," said Raisor. As a bonus, Raisor said these accounts often include apps. These apps are easy to use and allow you to instantly convert USD to foreign currency on your smartphone and spend it abroad with a debit card.
Another alternative is using an online currency exchange company. Seuthe said these companies often offer competitive rates with low fees. 
This being said, Seuthe recommends carefully shopping around first. "Make sure to compare rates and always be aware of potential security risks."
If you still need cash while abroad, Raisor said to consider a local ATM as long as you're aware of the fees your bank may charge to withdraw foreign currency abroad.
"Be sure to always remember to pay in the local currency — for instance, if you're a U.S. resident traveling abroad, don't choose the U.S. Dollars option on the card machine. That's called dynamic currency conversion and merchants make a bit more by giving you poor exchange rates. You're better off letting your bank convert it," said Raisor.
More From GOBankingRates