4 Best Banks for International Travelers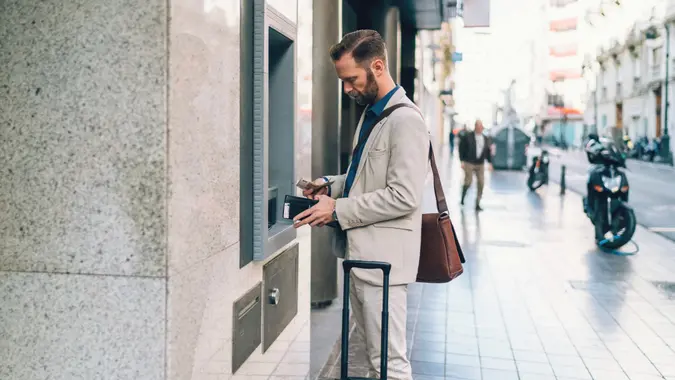 martin-dm / Getty Images
Whether the world is your office or your playground, the last place you want to be is out of the country when you realize that your bank is unreliable, inaccessible or unfamiliar to customers overseas.
See the List: GOBankingRates' Best Banks of 2023
Find: GOBankingRates' Best Neobanks 2023
More: GOBankingRates' Best Online Banks 2023
If country-hopping has a place among your plans for 2023, now is the time to switch to a bank with accounts designed with frequent travelers in mind. 
What Makes a Bank a Good Match for Travelers?
Look for a bank that has an international network of ATMs, one that refunds ATM fees, or both. The best banks for travelers don't charge foreign transaction fees for purchases made on debit cards abroad and they place a special emphasis on security, fraud prevention and alerts.
Pick a bank with a reputation for good customer service — variables like language barriers and time zones make emergencies even more challenging when you're out of the country. 
Also, don't assume you'll have to pay for these perks. Many of the best banks for travelers charge no fees and have no account minimums. In fact, some pay a competitive yield. 
Finally, since financial regulations vary so much from place to place, most U.S. banks don't operate many branches in other countries. That means you'll want to choose a bank with a robust and reliable app that can let you perform most of the tasks you might otherwise do in person.
Charles Schwab
The Schwab Bank Investor Checking account is worth a look even if you don't travel. Not only are there no fees or account minimums, but Charles Schwab pays its checking customers a 0.45% yield.
For those who do leave the country, the account is linked to the Schwab Bank Visa Platinum debit card and all its many international perks. There are no foreign transaction fees and millions of merchants accept it in more than 200 countries and territories.
The card gives you beefed-up security abroad with extra features like travel notifications, two-way fraud text alerts, account and transaction alerts and card lock/unlock.
Take Our Poll: How Big of a Sign-Up Bonus Would It Take for You To Change Banks?
Finally, you get unlimited monthly rebates for ATM cash withdrawal fees no matter where in the world you pick up the charges. If you need assistance while you're on the road, Schwab won J.D. Power awards four years straight for customer service on its checking accounts.
Capital One 
The 360 Checking Account makes Capital One a top contender for travelers looking for a bank that caters to their needs. Forbes cites the average foreign transaction fee as between 1%-5% of the price per purchase made overseas. Capital One joins Schwab in charging zero. According to Motley Fool, it's one of the only major banks that does not charge a foreign transaction fee on any of its credit or debit offerings.
Capital One lets you lock and unlock your Mastercard debit card from the mobile app and delivers real-time spending alerts. There are no fees to open, maintain and use a 360 Checking account and Capital One doesn't require any minimums. Also, the bank does not charge any fees for using ATMs in other countries, but it ranks below Schwab because it does not refund fees that ATM owners often charge.
Betterment 
Known chiefly for its robo-advisor services, Betterment also offers a checking account with a lot to offer international travelers. You should consider Betterment only if you're comfortable with a mobile-forward banking experience with no physical locations. 
Not only does the bank charge no fees of its own — including overdraft fees — but it reimburses 100% of any foreign transaction fees and ATM fees you incur anywhere in the world. In addition, you can change your PIN or lock your card from the mobile app and your money is FDIC insured just as it would be with a traditional bank.
While it doesn't pay a yield like a Schwab account, it has the unique advantage of earning cashback rewards at Costco, Adidas and thousands of other brands just like a credit card.
HSBC
HSBC is an outlier because its premier-only checking accounts require high account minimums — $75,000 in total deposits or investments. Alternatively, you can keep an account in good standing with at least $5,000 in recurring monthly direct deposits. If not, you'll incur a $50 monthly fee. That's $600 a year for a debit card — you could do better with several high-end travel rewards credit cards.
However, if you do keep high balances or receive large regular deposits, HSBC Premier Checking has a lot to offer travelers beyond just its lack of foreign transaction fees. Premier status earns you priority service and emergency financial support at HSBC locations worldwide. If they lose their wallets, customers can access up to $10,000 in emergency cash in U.S. or local currency. Finally, you can use HSBC ATMs across the globe for free and receive international wire transfers at no cost.
More From GOBankingRates