How Much of Your Money is FDIC Insured?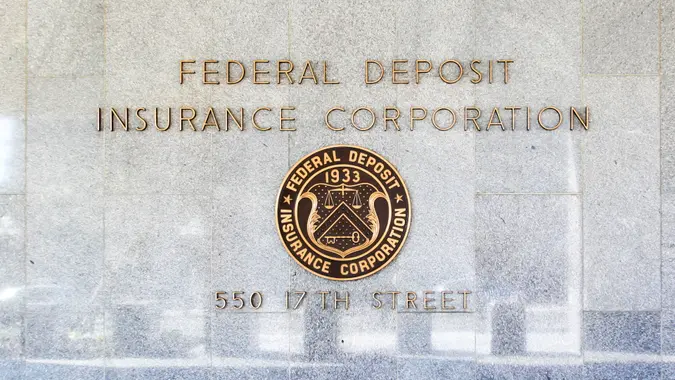 Last week's collapse of Silicon Valley Bank rattled the financial markets, leading to speculation that other bank failures could follow — something that last happened during the financial crisis of 2008. While U.S. bank authorities scramble to contain the damage, customers with deposits at SVB have a more immediate worry: when their money will be available.
The good news is, SVB is a federally insured bank, meaning deposits of up to $250,000 per depositor are protected by the Federal Deposit Insurance Corporation.  The bad news is, many SVB customers have more than $250,000 with the bank, meaning they could take a big financial hit.
For now, what's known is that Santa Clara, California-based Silicon Valley Bank has been closed by the California Department of Financial Protection and Innovation, which appointed the FDIC as a receiver.
In a March 12 press release, the FDIC said it has created the Deposit Insurance National Bank of Santa Clara (DINB) to protect insured depositors. At the time of closing, the FDIC as receiver immediately transferred to the DINB all insured deposits of Silicon Valley Bank.
"All insured depositors will have full access to their insured deposits no later than Monday morning, March 13, 2023," the FDIC release said. "The FDIC will pay uninsured depositors an advance dividend within the next week. Uninsured depositors will receive a receivership certificate for the remaining amount of their uninsured funds. As the FDIC sells the assets of Silicon Valley Bank, future dividend payments may be made to uninsured depositors."
Silicon Valley Bank is the first FDIC-insured institution to fail this year, according to the press release. The last FDIC-insured institution to close was Almena State Bank, Almena, Kansas, in October 2020.
As Experian noted in a 2022 blog, a bank failure happens when a bank can't pay back its customers or others it owes money to. The FDIC is an independent U.S. government that was created following thousands of bank failures that took place during the Great Depression. The organization was created to restore confidence and stability in the economic system.
Nearly all banks in the U.S. are FDIC-insured. This means even if a bank fails, your money is protected — up to a point. The FDIC insures each bank account up to $250,000 per depositor per account. If you use a credit union instead of a bank, you'll receive similar insurance coverage through the National Credit Union Association (NCUA).
According to the SVB website, these accounts and items are covered by the FDIC:
Checking accounts
Negotiable Order of Withdrawal (NOW) accounts
Savings accounts
Money market deposit accounts (MMDAs)
Time deposits such as certificates of deposit (CDs)
Cashier's checks, money orders, and other official items issued by a bank
But there's also a whole lot the FDIC doesn't protect, including the following:
Stock investments
Bond investments
Mutual funds
Life insurance policies
Annuities
Municipal securities
Safe deposit boxes or their contents
U.S. Treasury bills, bonds or notes
SVB depositors who have more than $250,000 with the bank could still recover some or most of the funds not covered by the FDIC, Forbes reported. Historically, depositors with amounts over $250,000 have received the majority of their funds back. However, it takes longer to recover these funds, and it remains uncertain how regulators will proceed in the case of Silicon Valley Bank depositors.
The $250,000 insurance limit can also be increased in cases where multiple named individuals are listed as account owners and across different account types at the same bank, Forbes noted, which leads to greater amounts of aggregate insurance.
More From GOBankingRates