5 Reasons Why Where You Bank Matters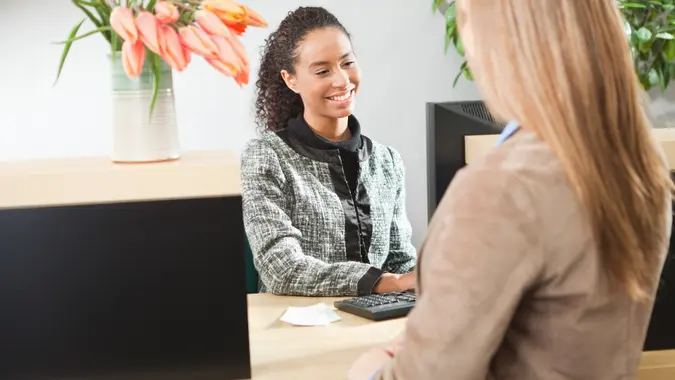 YinYang / Getty Images
Most Americans have a bank, but have you ever considered whether you're getting the most out of where you put your money?
See the List: GOBankingRates' Best Banks of 2023
Experts: Here's How Much You Should Have in Your Checking Account
"All financial institutions are not created equally, so where you choose to do your banking matters," said Marin Kraushaar, PR director for Georgia's Own Credit Union. "Financial institutions are not one-size-fits-all and finding the right one can end up saving you — or making you — a significant amount of money."
So whether you're deciding where to bank in the future or reevaluating your current institution, where you choose to bank matters. Here's why.
Interest Rates and Fees
Where you bank can have a big impact on your savings and wealth. When you deposit money in a bank account, it's important to earn as much interest as possible so that your balance can grow, according to Kendall Meade, a CFP at SoFi. However, she said you also want to make sure that this money will still be accessible to you. 
"Look for an account that offers a high APY, but watch out for minimum account values and restrictions on accessibility to your money," Meade said. "There can be many fees that a bank may charge that can add up."
These include overdraft fees, account minimum fees, monthly fees, ATM fees and more. Even if you're earning a competitive rate on your deposits, fees can wipe out any interest earnings. So choosing a bank with great rates and low fees is crucial.
Loans
Most people need to take out a loan at some point in their lives, whether it's to finance a car purchase, buy a home or reach some other financial goal. Where you borrow that money can make the difference between an affordable loan or a major debt burden.
Take Our Poll: How Big of a Sign-Up Bonus Would It Take for You To Change Banks?
Carma Peters, president and CEO of Michigan Legacy Credit Union, said that it's important to have a relationship with a bank or credit union that is focused on optimal customer service, as the staff are trained to understand which loan makes the most sense for a particular customer.
"Sometimes that means a loan type you were not considering is actually better suited to meet your financial needs," she said.
Relationship Pricing
Speaking of your banking relationship, some financial institutions offer relationship pricing when it comes to their products.
"The more money you have invested in a particular lender — for example, auto and home loans, plus a credit card — the more likely you are to benefit from a discounted interest rate," Peters said. "Similarly, your lender might offer a discounted interest rate on lending products if you have direct deposit for your paycheck or automated payment transfers to make a timely payment on a loan or credit card."
Location 
It's also important to choose a bank based on proximity. For example, consumer and money-saving expert Andrea Woroch said that if you need to access cash, it's important that you can find an ATM nearby. "Otherwise, you may have to pay cash withdrawal fees imposed by both the ATM you're taking money out of and your bank."
Also consider what type of in-person services you need. Some people rarely need to visit a branch and enjoy the perks of banking with an online institution. Others prefer to have face-to-face interactions with a bank representative, which means they need to choose a bank with plenty of branch locations in their area.
Your Specific Needs 
People have different priorities and financial goals; where you choose to bank can impact how you reach them.
Kraushaar said it's important to consider what you need on a day-to-day basis from your financial institution. For example, if you do most of your banking on the go, make sure they have a reliable and intuitive app, mobile deposit and transfer services,  etc. If you own a small business, your bank should have specialized bank accounts and lending options as well as staff who understand the unique financial challenges that small businesses face.
"Of course, your needs will change from time to time, so it's important to periodically reassess where and with whom you entrust your money," Kraushaar said.
More From GOBankingRates