The Future of Banking in 2023: Will Online Banking Eliminate Brick & Mortars?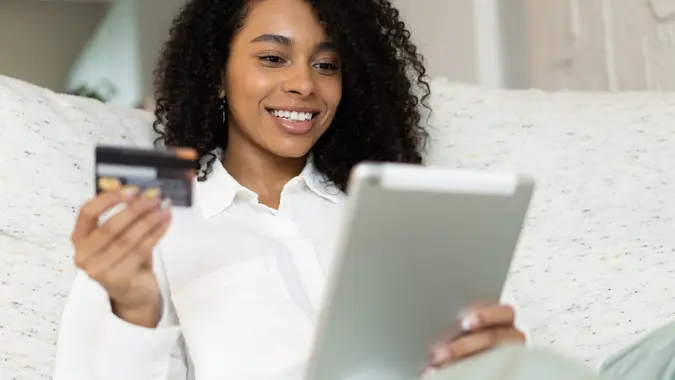 opolja / iStock.com
According to a recent survey from GOBankingRates, more than one in four people — 27% — do their banking entirely online. That includes 31% of 25- to 34-year-olds.
While it may not be surprising that nearly one-third of the youngest adults have abandoned brick-and-mortar branches altogether, it's likely most people wouldn't guess that 35- to 44-year-olds were even more likely to do the same, but it's true. A full 36% of respondents from that demographic now do all of their banking online. So, what does it mean for the future of banking when a quarter of America — including a full third of those middle-aged or younger — has put the traditional branch behind them? GOBankingRates asked the experts to peer into the future of the banking industry.
Empowering Tech Will Own the Future
As the chief product officer for Chase, Rohan Amin has a better window into the future of banking than just about anyone. He leads the company's product, design, customer experience, data and analytics teams and heads up the digital division, including Chase Online and the Chase mobile app for the bank's nearly 59 million digitally active customers.
In his mind, the future belongs to tech that makes people better money managers.
"Consumers and small business owners expect their banks to go beyond traditional account offerings and provide reliable tools and resources to help them understand and improve their financial health," Amin said. "This includes giving them a lightning-fast overview of where their money is and how it's being used, available at their fingertips. Actions such as depositing checks, sending money, investing, exploring refinancing options for their mortgage and managing car payments are all things consumers want to do from their phones.
"Consumer demand for digital features that make managing their financial life easier are driving innovation from fintech startups with a few thousand users to banks like Chase that serve more than 60 million households."
But today's banking apps can do most of what Amin just described — so what does the future hold?
"Consumers and small business owners will demand more personalization, leading to hyper-personalized features that deliver tailored experiences based on real-time dynamic signals about every customer's individual needs and profile," Amin said.
The Future Will Be Pretty
Tomorrow's digital designers will expand on a concept that today's already know: Aesthetics matter.
"Beautiful, functional and intentional design has become increasingly important to consumers as they embrace digital platforms to manage even more aspects of their personal and professional lives, from streaming entertainment and shopping to setting up small businesses and managing budgets," Amin said. "Today, it is critical that companies design experiences that help customers solve their problems and make the most of their lives with clarity and confidence, especially in a market crowded with alternatives.
"Just as technology has helped improve the customer experience across all industries, including banking, the race for better design is helping make digital banking easier to use and more engaging."
People Don't Want To Remove Humans From the Equation
Academic discussions about the future of banking tend to focus on whether apps will replace branches, but this does not seem to be a choice that actual people want to make in real life.
"Technology will continue to bridge the gap between physical and digital experiences," Amin said. "What we've seen throughout the pandemic is that, while our customers have been engaging more digitally with us than ever before, they have continued to rely on personal connections with their bankers and advisors.
"But many consumers and small business owners also want to do things on their own, which is why self-serve options will continue to evolve, giving customers the ability to confidently achieve their goals by using their mobile app, if they don't want to speak to a customer service specialist.
"When they do want to speak to an employee," he added, "those customer service specialists will also be benefitting from more technology to help them further improve the customer experience over the phone. Artificial intelligence, machine learning and voice biometrics will play an even greater role in helping specialists quickly authenticate a customer and address their questions faster and more efficiently."
Banks That Move Money in Real Time Will Emerge the Winners
The clearing delays, pending transactions and waiting periods that continue to frustrate so many banking customers today almost certainly will not exist by the end of the decade. That's because the banks that can't figure out how to get rid of them will be gotten rid of themselves.
"When it comes to getting paid, speed and accuracy are of the utmost importance," Amin said. "People working in the gig economy, for example, may want to get paid at the end of their shift, and employers are able to meet such needs by sending the funds through a real-time payment network directly into their bank account."
Amin highlighted his own company's request for payment (RFP) service.
"It's not just companies that benefit from this service," Amin said. "Consumers will also be able to receive their bills in the form of RFPs directly in their bank's app or website and authorize their bank to pay them instantly, including on weekends or holidays."
So, Are Branches Going Extinct? 
Most bank customers don't ever have to set foot in a branch if they don't want to, but the concept of banks as physical spaces with vaults and desks and people isn't going anywhere — although it has been changing for quite a while.
"Major banks were always slimming down their physical retail locations to focus on ATMs and mobile banking," said Brian Penny, former operations manager and business analyst at Bank of America. "The pandemic only accelerated the situation."
A hybrid model that has been emerging for years continues to evolve.
"Similar to retail, we will likely see a continued shift to a digital-first experience with brick-and-mortar banking focused on more complex financial services and relationship management," said Henry Barclay, co-founder of gig-economy financial management platform Pallo. "Apple, for example, generates a large majority of its revenues in digital format but leverages its physical stores to connect with customers and allow them to go in, see, touch and understand the products by speaking with representatives.
"This shift is already occurring in banking, with most teller responsibilities being conducted by ATMs and smartphones, and will likely continue to be accelerated with more intelligent digital experiences supporting the banks' management of their customer relationships."
Branches aren't going anywhere — at least not yet — and neither is the concept of banking as we know it.
"No matter how many Stripes and Blocks and PayPals and Bitcoins are invented, the banking system isn't going anywhere," Penny said. "It was proven in 2008 to be too big to fail."
More From GOBankingRates