What Is a Community Bank and Why Consider One?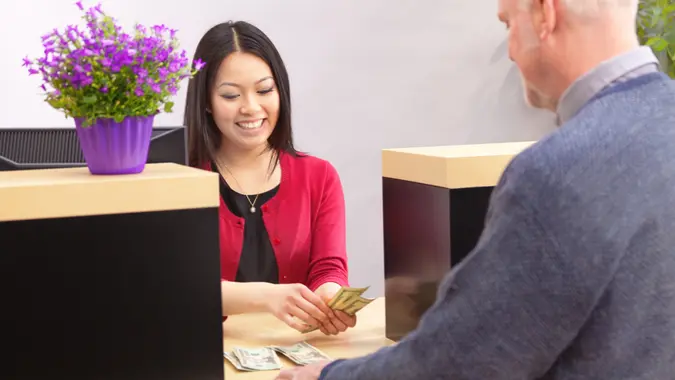 YinYang / Getty Images
There are several benefits customers receive when they bank at financial institutions. What is less discussed, however, are unbanked Americans. According to Michael Pugh, president and CEO of Carver Federal Savings Bank, 5.4% of all U.S. households are unbanked. 
See the List: GOBankingRates' Best Banks of 2023
Experts: Here's How Much You Should Have in Your Checking Account
Banks that are willing to evaluate new customers as applicants, especially those who may not exhibit traditional creditworthiness on paper, can help change this narrative. One type of bank working to shift the unbanked into banking customers is a community bank. Pugh joins GOBankingRates to share more about community banks and their benefits. Here's why it's worth considering banking with a community bank.
What's a Community Bank?
A community bank takes a holistic approach to banking, Pugh said. Rather than focus solely on credit scores and quantitative data, a community bank looks at the value an individual or small business will bring to its surrounding community with the right access to capital. This helps better inform lending decisions. 
Pugh said it also allows community banks to offer a personalized experience to banking customers. The staff at a community bank gets to know the people they serve, often spanning multiple generations.
Take Our Poll: What Are Your Financial Priorities in 2023?
What Kinds of Services Do Community Banks Offer?
Many of the services offered by community banks are like those provided by large financial institutions. These include depository accounts, mortgages, personal loans and small-business loans. 
The differentiating factor, Pugh said, is a community bank's ability to accommodate sole proprietors and small businesses that require smaller loan amounts, more flexible terms and more personalized criteria and consideration. 
What Other Benefits Do Community Banks Offer Customers?
Community is key in community banks. "Customers who bank with a community bank have the benefit of working with financial partners who know them, the community where they live and have a vested interest in helping this community flourish," Pugh said. "A community bank branch is a place where everybody knows your name."
In times of crisis, such as the COVID-19 pandemic, Pugh said these personal relationships become critical in assisting customers and helping preserve local economies. Some community banks also provide customers with financial literacy classes so they may better learn how to budget and grow their savings over time.
Why Consider a Community Bank?
If you are unbanked, Pugh said community banks offer the opportunity to be introduced to the banking system. A banking professional who knows you and is invested in your success will be there to guide you every step of the way. 
Those who were previously unbanked will come into the banking system with a low or nonexistent credit score. At a larger financial institution, this would automatically deny them access to loans and other services. At community banks, Pugh said bad or no credit isn't an indication of a bad investment. Rather, it is someone who has not had the opportunity to interact with the financial and credit system in positive ways.
In GOBankingRates' 2023 best banks survey polling 1,000 Americans, 80% of overall respondents are satisfied with the services offered by their current bank or financial institution. This is likely to be true of new banking customers at community banks. Once a previously unbanked customer establishes a relationship with their community bank, chances are high that they continue banking with the institution and get into good financial health.
More From GOBankingRates