What Retirees Should Look For in a Bank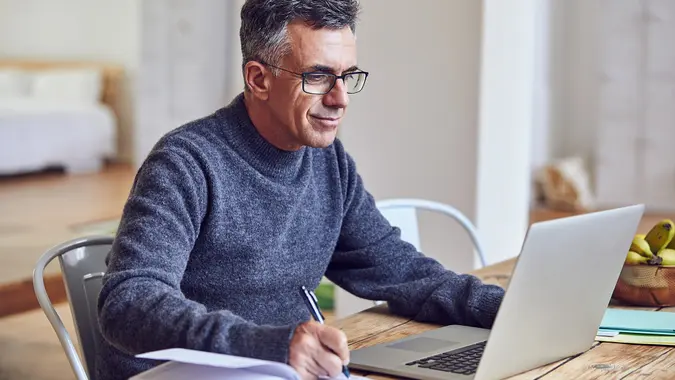 kupicoo / iStock.com
Retirement presents a set of benefits and challenges that can be different from those faced during your working years. While you might have more time available for family, hobbies and travel, you may also have less wiggle room for hidden expenses and time-consuming tasks.
So when it comes to choosing a bank, there are some features that should be prioritized in retirement. Read on to learn what retirees should look for in a bank.
Low Fees
"I work closely with clients who are retirees on a fixed income," said Ari Parker, a Medicare expert and author of "It's Not That Complicated." "Most retirees are looking for banks that require them to pay less in fees."
According to Parker, retirees on a budget should look for banks with flexible terms such as low minimum deposit requirements for checking and savings accounts, and no monthly fees for accounts. They should also offer additional free services, such as free ATM withdrawals. "These small fees add up, so it's worth shopping around," Parker noted.
User-Friendly Online Banking
Retirees frequently have special requirements because they are no longer working or not working full-time, according to Ravi Kumar, head of CIT Bank. "One example is an emphasis on the convenience that comes with online banking," he said. "Sometimes, that's because retirees travel a great deal and enjoy the ease of being able to access their accounts from anywhere."
In fact, 100% of consumers aged 66-75 surveyed by Lightico said they completed an online financial interaction in the last three to six months. The convenience of services such as electronic deposits and electronic bill payment can be a real advantage for retirees on the go.
Physical Branches
Even though most Americans prefer to do their banking digitally, it's important for many retirees to have the choice of visiting a brick-and-mortar branch as well. "Banks with a physical location allow a retiree to connect with a customer service professional that can help them navigate changes that need to occur with their account," said Annette Harris, founder of Harris Financial Coaching. 
For older people who may be wary of communicating via email or chat, or face challenges when navigating technology, a lack of branch access can cause stress and frustration. Physical branches provide the option to communicate with someone in person when necessary, which can feel safer when handling sensitive financial matters.
High-Yield Deposit Accounts
Since retirees are dependent on their retirement savings as income, it's important for them to keep a portion of funds in easily accessible, cash-like investments.
"For these folks, high-yield accounts, money market accounts and no-penalty certificates of deposit can be especially helpful in making their money work hard until they need or want it," Kumar said. "Seniors and retirees also frequently emphasize the need for safety and security, so keeping money in an FDIC-insured bank provides peace of mind."
Reputable Customer Service 
A reputable customer service team is an essential quality for anyone looking to join a new bank, but it's especially important for those in retirement, said Mina Tadrus, CEO of Tadrus Capital.
Having a good relationship with your bank ensures that you get the most out of your accounts. Plus, seniors are particularly susceptible to fraud and scams, so it pays to have a solid customer service team looking out for your best interests.
More From GOBankingRates