What Small Business Owners Should Look For in a Bank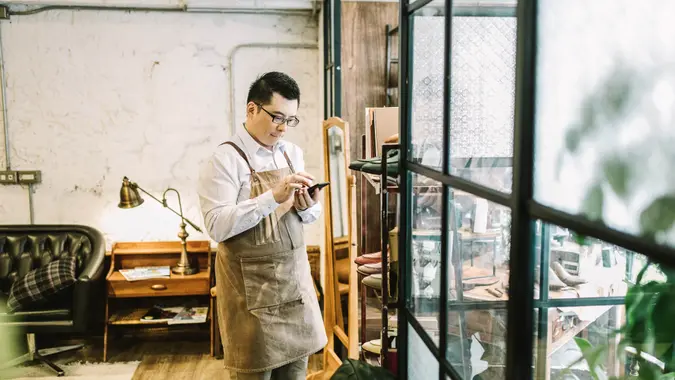 visualspace / Getty Images
Whether you own a one-person e-commerce store or a local shop with a few dozen employees, your small business needs a bank. After all, a business bank account can help you organize your company's finances, take advantage of rewards and keep your work and personal finances separate for legal reasons.
Explore: GOBankingRates' Best Banks of 2023
Retirement at Any Age: Get Retirement Tips That Fit Every Stage of Life
The Future of Finances: Gen Z & How They Relate to Money
But how do you choose the right bank for your business? Here are the most important features to look for, according to financial experts and small business owners.
Mobile App and Online Banking
When choosing a bank for her small business, Elina Furman — founder of baby massager company Kahlmi — looked for online features that made day-to-day banking easier.
"I recommend looking for a bank with a mobile app so you can make deposits and transfers easily," she said.
Many banks nowadays offer apps that allow you to check on your account balances, pay your credit cards, transfer funds and much more.
Low Fees, Especially for Transfers
Furman also made sure her bank had low account fees and, more specifically, zero fees for ACH services. This allows her to pay her vendors without incurring large monthly transfer costs.
Gian Perrone, vice president of engineering at Nav, agreed. He said, "Avoid banks that charge fees for normal activities, like accessing ATMs and moving money into your account. A bank account should be a valuable tool for helping your business grow, not something that incurs additional expenses for activities that are fundamental to your business."
Banks are required to list fees, and many do so online, so be sure to read through them before opening an account.
Take Our Poll: How Big of a Sign-Up Bonus Would It Take for You To Change Banks?
Account Minimums
Check if your bank has any account minimum requirements. They may charge a monthly service fee that you can waive by keeping a certain amount of money in your account. For some small or online banks, this requirement can be as low as zero to a few hundred dollars while the minimum for larger banks may be in the thousands.
"Small businesses need flexibility," said small business owner Christina Giaquinto of Modular Closets. "[Having no account minimum] allows you to ebb and flow with the constant change in your business."
Wide Range of Bank Products and Additional Tools
When considering a bank for your business, see what products they offer. This includes essentials such as checking and savings accounts, investment accounts, loans, and credit and debit cards for you and your employees. Some banks also offer services like payroll, online payment processing, invoicing, and expense tracking.
"If a bank doesn't offer the products and services you need, it may not be able to support your business as it grows and develops," said Barry Gray, a small business owner and founder of The Tools Square.
Multiple, Convenient Branches
Think about what features matter most for your business. For example, is in-person banking important to you? If so, keep in mind that even though credit unions often have lower fees and loan rates, they tend to have fewer locations than bigger banks.
If you travel often for your business and need to access your bank in person, you may want to consider a larger bank with many locations across the country.
Responsive Customer Service
Few things are as frustrating as dealing with a business banking problem and not being able to get the help you need. So make sure the bank you choose has great customer service, said Andrew Latham, CFP® and managing editor of SuperMoney.com.
"You will likely have questions or need assistance at some point, so it's essential to find a bank with friendly and helpful staff who are available to assist you," he added.
Also check if they offer phone support outside of normal business hours. You never know if you'll run into an issue in the evening or on the weekend.
Specialized Services
Depending on what kind of business you own, you may need specialized banking services. For example, does your business regularly send and receive money internationally? Do you need merchant services? If so, make sure the bank can accommodate these without charging exorbitant fees.
Also check if the bank can integrate with your backend systems, said Giaquinto. "If you use QuickBooks or Zelle, does the bank work well with that software? This is important, especially as your business expands."
Rewards Programs
Many banks offer rewards programs that give you cash back or other benefits, but not all rewards programs are created equal. So take a close look at the details.
"Rewards programs can generate thousands of dollars in cash back and perks simply for paying your business expenses through their business accounts, so it's worth shopping around for the best fit for your business," said Latham.
More From GOBankingRates