4 Reasons We Actually Need Banks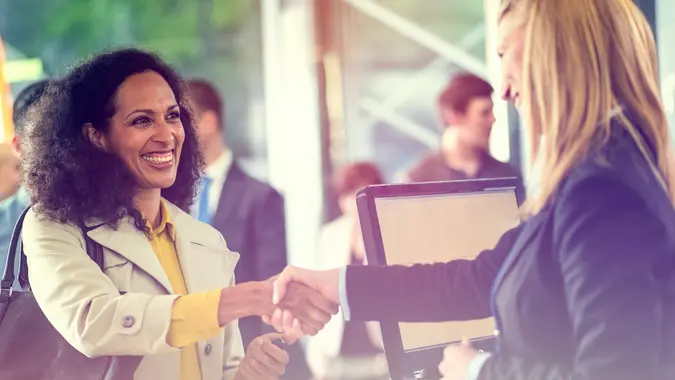 simonkr / Getty Images
How often do we stop and think about "why" we bank? Why do we bank with financial institutions? What purpose do they play in our lives? Banking is a vital aspect in the financial livelihood of everyone, from individuals to small-business owners. 
We can learn a lot about financial literacy through our relationship with banks and pass this knowledge down to the next generation as well as spread it throughout our respective communities and to underserved populations. Here's what makes banking an important part of your life.
Banking Keeps Money Secure
When we think about our financial wellness, we consider the parts that make up the bigger picture and allow us to feel peace of mind. Some key aspects include staying out of debt, tracking and balancing expenses using a budget and saving money. 
Those with savings generally keep these funds in a bank account. Having a bank account keeps money secure and allows customers to easily complete financial transactions, said Bryan Toft, chief revenue officer at Sunrise Banks.
Security matters when it comes to overall financial wellness. Toft said customers who work with an FDIC-insured bank are ensured knowing their finances are safe at this institution. Those who stash cash at home or other outside places face more risks than those who keep funds in a bank. Insurance also acts as a safeguard. If your bank were to go out of business and you were a customer with an FDIC-insured bank, Toft said you would not lose your money (up to $250,000 per depositor, per FDIC-insured bank).
Banks Provide Capital, a Stepping Stone To Building Wealth
There are many types of milestones many wish to achieve in their lives, such as purchasing a home, taking out a loan to fund a small business and entering a comfortable retirement. Jeffery Kendall, chairman and CEO of Nymbus, said banks provide a critical stepping stone for entrepreneurial and personal wealth creation.
For entrepreneurs, Kendall said banks provide capital, which impacts the long-term growth of most small businesses. These funds used by small-business owners create jobs and build wealth in local communities.
"The same goes for consumers – having fair and equitable access to credit is essential for running our lives," Kendall said. 
Trusted Banks Establish Inclusion for Unbanked Customers
Many individuals who actively bank often don't think twice about it. In a GOBankingRates survey polling 1,000 respondents, 80% of overall respondents said they are satisfied with the products and services offered by their banks and/or credit unions. 
In spite of this high percentage, Toft said billions of people worldwide remain unbanked. This can be due to any number of reasons such as expensive account fees and general distrust of financial institutions. 
Why would there be distrust? For generations, our society excluded certain groups of people from the financial system, said Michael Pugh, president and CEO of Carver Federal Savings Bank, one of the largest African- and Caribbean-American-managed banks in the United States. Some of these reasons include the person's wealth, status and color of their skin. This type of exclusion, Pugh said, led to a continued lack of trust in financial institutions among certain segments of the population. 
A lack of trust and exclusion has the power to hinder countless people from achieving financial freedom. "Being removed from these systems has left many without the tools, or the wherewithal, to adequately develop, maintain and grow the financial bedrock which will propel themselves and their families for generations," Pugh said.
Currently, Pugh said 5.4% of all U.S. households are unbanked. Banks that are willing to take risks on new concepts can help change this narrative. Pugh cites community banks in particular as being more willing to evaluate new customers as applicants. This is especially true of customers who don't show traditional creditworthiness factors on paper but have proven their ability to make payments in other ways such as timely rent and utility payments. Community banks can recognize the contributions someone can make to their community with proper financial assistance. 
In taking a risk, banks receive the reward of being recognized as trustworthy. "A trusted financial institution can help you get to 'yes' on the financial products you need to invest in your business and your future," Pugh said.
Relationship Banking Is Powerful
Security, trust and the opportunity to build wealth are all important aspects of a customer's relationship with their bank. 
Depending on where you choose to bank, Gabe Krajicek, CEO of Kasasa, said people can learn about financial literacy through a wide range of educational tools and resources. The more customers learn about finance, the better they will be at making informed decisions about their money and building wealth. 
Krajicek echoes Pugh's words about the importance community banks play in offering relationship banking with trust as the foundation. 
"Community banks and credit unions are a vital part of the communities they serve and always have their customers' best interest at heart," Krajicek said. "They understand when their account holders are successful, their financial institution is successful, and their local community will thrive. It's a virtuous cycle."
More From GOBankingRates