Why You Should Look at Multiple Banks for Personal Loans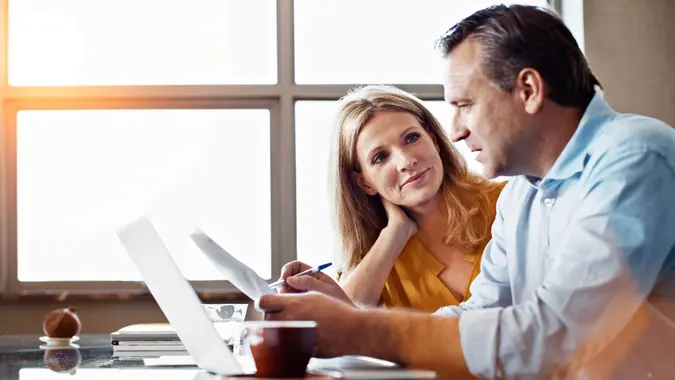 kupicoo / Getty Images
If you are in need of a personal loan, you might be tempted to go with the first loan you can find. You might need money quickly and feel as though you simply don't have the time to shop around. While that is understandable, there are several benefits to checking multiple banks that you aren't going to want to miss.
Lower fees and interest rates are among the things you may be able to find by shopping around, but they aren't the only advantages. I spoke with the experts who highlighted the biggest advantages you will gain by shopping around.
Best Banks: Find Out Which Banks Are the Top 100 Banks Leading the US in 2022
Read More: Gen Z and Millennials Favor National and Online Banks, Survey Shows — What Does That Mean for the Future of Credit Unions?
Interest Rates
Lower interest rates will always be one of the most important things to look for in a loan. While certain factors will influence the rates offered to you — especially your credit score — you can still find a better rate by shopping around. Plus, some banks will let you "window shop" with no impact on your credit history.
"Exploring loan rates from multiple banks lets you compare rates and fees, which can help you ultimately get the best deal possible," said Brett Sohns, co-founder at LifeGoal Investments. "Many lenders will allow you to apply for prequalification by submitting some basic details so you can look at potential rates and terms, a lot of times without a hard query on your credit report."
See: 5 Banks That Will Grow Your Wealth the Fastest
Fees
After interest rates, the thing everyone thinks about with personal loans is the fees. In general, interest is where you'll pay the most, but some banks tack on a lot of fees that can really add up. "Some banks may have service fees, account fees, or early repayment fees that others may waive entirely, saving you money," said Jason Priebe, CFP® of Priebe Wealth.
If you are in a pinch, you may not notice these fees until they start to impact your wallet. But when you shop around, you can get a full list of each lender's fees and how they will affect you.
Worth Checking Out: Bank Accounts That Will Help Supplement and Grow Your Social Security
Terms
Terms and conditions are another aspect of personal loans that is easy to ignore in the initial phase, but that can end up having a big impact in the long run. Hence, it's important to pay attention to the terms when shopping around.
Priebe said the questions to ask here are how the bank handles late payments and what happens when you want to refinance. After all, late payments do happen, whether it's due to an event like COVID-19 or some other extenuating circumstances. And if you want to refinance down the road, it's important to work with a lender who will be flexible.
Learn: Most Americans Waste $100 a Year on Bank Fees: How To Avoid This Costly Mistake
Technology
Technology has become an increasingly important part of our lives. These days, we want convenience, such as being able to make payments via a smartphone app. But not all banks have the latest and greatest tech, and that could cause headaches down the road.
"A larger bank may have more technical capabilities than some smaller banks when it comes to online banking, going paperless or auto pay," Priebe said. "You don't want to find yourself having to call your bank every month and wait on hold for 45 minutes just to make a payment."
Of course, this is a great point. Before the modern conveniences of today, people may have physically gone into the bank to make a payment. Today, we expect to be able to pay online, whether it's using a laptop, smartphone or by setting up autopay. Even if you don't have to wait on hold before making an over-the-phone payment, it's not the most convenient way to pay.
Find Out: What Does It Mean To Be Unbanked?
Accessibility
Accessibility, in this case, refers to being able to get the help you need when you need it. This ties into the previous point about long wait times, but what if you need help with something other than making a payment?
"How easy is it to get ahold of someone to ask questions? Can you go into the branch if there's a problem?" Priebe said. "Do you feel comfortable with the bank so that you can ask any questions about your loan without feeling foolish?"
Loans can have a big impact on your finances and on your life, so it's important that the help is there when you need it. If not, you will be wishing you went with someone else. "When you're making some of the largest purchases in your life (i.e. Houses, businesses, etc.) these things can really make or break your experience," Priebe said.
More From GOBankingRates