Yellen Tells CEOs To Prepare For More Bank Mergers in 2023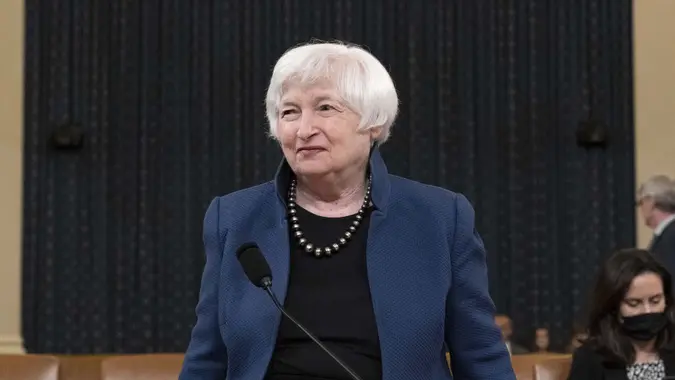 Jose Luis Magana/AP/Shutterstock / Jose Luis Magana/AP/Shutterstock
Treasury Secretary Janet Yellen said there might potentially be more bank mergers this year, due to higher interest rates and the recent regional bank turmoil, which is making it more expensive for them to keep depositors, according to The Wall Street Journal. 
Speaking in Paris, Yellen reiterated her view that banks are paying more on savings accounts due to higher rates, which is putting a dent in their profitability, and could trigger more bank failures, according to The Wall Street Journal.
Yellen added that weaker second-quarter earnings could put pressure on stock prices, also potentially triggering more bank mergers.
"I don't think it's a huge threat to the sector, but there will probably be banks that end up wanting to merge," Yellen said in an interview in Paris, according to The Wall Street Journal.
There were three bank failures so far this year, which prompted fears of contagion in the banking system. In March, the quick collapse of Silicon Valley Bank and Signature Bank prompted regulators to take measures to avoid more damage, stem the outflow of depositors and reassure jittery consumers. And on May 1st, JPMorgan Chase acquired most of the assets and "assumed the deposits and certain other liabilities" of First Republic Bank, following the bank's seizure by the Federal Deposit Insurance Corporation (FDIC) and ensuing "highly competitive bidding process.
In terms of what more bank failures mean to consumers, one direct consequence is that credit is much tighter.
"With inflation falling and the Federal Reserve projecting two additional 25 basis point rate hikes this year, credit will likely get a lot tighter," said William J. Luther, director of the American Institute for Economic Research's Sound Money Project. Luther explained that higher rates would pressure banks to pay their depositors more despite not earning any more on the bonds and loans they already hold.
"If large depositors expect this pressure to result in large losses, they will reduce their deposit holdings at the bank. That could cause the bank to fail, prompting its merger with other banks," he added. "At this point, Yellen is merely sounding the alarm so that banks take the necessary precautions for the months ahead. Most banks are reasonably well-positioned at the moment. But excessive rate hikes–which the Fed seems intent on delivering–could change that."
In Paris, Yellen said more consolidation in the banking industry could be healthy, noting, however: "We certainly don't want overconcentration and we're pro-competition, but that doesn't mean no" mergers, according to The Wall Street Journal. "We have more banks, relatively speaking, in the United States than almost any country of which I'm aware."
Following her remarks, Senator Elizabeth Warren (D-Mass.) wrote a letter addressed to the Secretary and Acting Comptroller of the Currency, Michael Hsu, in which she noted that additional bank mergers would be detrimental to consumers, adding they were taking "exactly the wrong approach."
"This consolidation hurts consumers. Consolidation causes "higher prices and more fees, lower deposit rates, less access to credit, bank branch closures, and job cuts," she wrote in the June 27 letter.
"Allowing additional bank consolidation would be a dereliction of your responsibilities, hurting American consumers and small businesses, betraying President Biden's commitment to promoting competition in the economy, and threatening the stability of the financial system and the economy," Warren added.
More From GOBankingRates