More Than 80% of Americans Are Now Banking Online: Will Physical Branches Go Extinct?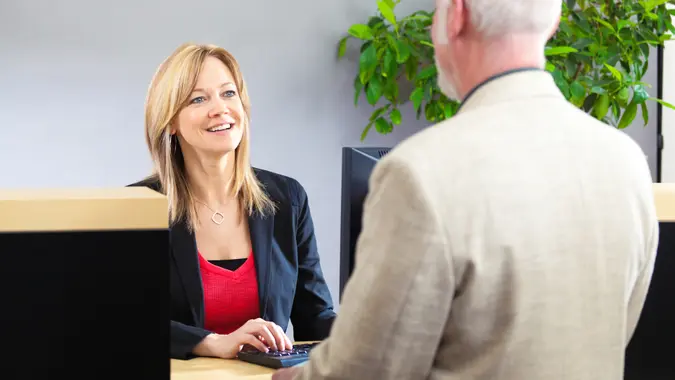 YinYang / Getty Images/iStockphoto
According to a new GOBankingRates survey of more than 1,000 adults, eight in 10 people now prefer to do their banking online. That's a lopsided ratio, but it still leaves the industry with one in five customers who still choose in-person visits as their preferred banking method.
"Physical branches provide a sense of security and trust for customers," said Fluent in Finance founder Andrew Lokenauth, an investing and banking professional who held senior positions at Goldman Sachs, AIG, and other major institutions. "They can walk into the branch and speak with a teller face-to-face, which can be reassuring for important financial transactions. Additionally, many customers prefer the in-person experience and the opportunity to build relationships with branch employees."
But with foot traffic dwindling more each year, how much longer can it make sense for banks to maintain brick-and-mortar locations? The answer is that branches will be here for years — decades, probably — but they'll evolve into something new on their way into history.
The Last Few Cycles Rewarded Investments in Digital, Not Physical
Only the biggest global financial giants can afford to keep pumping money into their branches while also building the digital infrastructure that will support banking in the coming Web3 era.
For the many credit unions and smaller banks that will have to starve one to feed the other, recent history says that the smart money is on digital improvements at the expense of brick-and-mortar.
"Just as banks and credit unions that didn't have an aggressive digital strategy over the past decade are still trying to catch up, institutions that pull back on digital investments during next year's economic uncertainty will face the same challenge in years to come," said Chris Fraenza, senior VP of sales and partnerships at SavvyMoney, which serves nearly 1,000 banks and credit unions. "On the other hand, institutions that invested in their digital branches during the Great Recession are now lightyears ahead of those that didn't — and those that continue to invest in the digital side will be industry frontrunners."
Chip Griffith, senior VP of retail sales and operations at OneAZ Credit Union, doesn't think the industry necessarily has to choose one over the other.
"Our branch associates are building relationships by meeting with members virtually and taking calls to support our member care center while still serving those who choose to do their banking in person," he said.
Great — but for how long?
At the Current Pace, the Last Branches Will Turn Off the Lights in 2053
Matthew Coan, owner of the personal finance website Casavvy, thinks physical banks will go extinct when the branch-dependent population becomes too small to justify the overhead needed to keep them happy.
"It is very expensive to lease property, build a physical building and staff it," said Coan. "Therefore, if fewer and fewer customers need a physical bank location, then banks will view them as a needless cost and do away with them."
The GOBankingRates study showed that Americans ages 55 and up are much more likely to prefer banking in person than their younger and even middle-aged counterparts. Older adults are also much more likely to visit their local branch regularly, use checks and participate in other traditional banking mechanisms over apps.
The banking industry is essentially waiting the older demographics out so it can migrate to a fully digital format. Presuming an 85-year lifespan, it won't have to wait much past 2053 when today's 55-year-olds — that last significant branch-dependent population — approach the end of their lives 30 years from now.
"There will always be a customer base that prefers a physical bank location," said Coan. "But does the cost of potentially losing those customers outweigh the cost of maintaining a physical bank location? The recent trend in diminishing physical banks suggests no."
The Hybrid Branch Format Is Already Rising
An emerging blended format could help ease the transition during the 30-year phasing out of the traditional branch.
"Before the ultimate end of physical bank branches, you will start to see more of a hybrid model within bank buildings," said Coan. "This means more virtual tellers through interactive screens and ATMs."
The hybrid format — which combines self-serve digital banking with face-to-face interaction at on-site locations — will satiate the traditionalists who like going to the bank while buying the industry time to restructure.
"It will cut down on the overhead of physical banks while they assess if the actual building is still worth having," Coan said.
Just as modern grocery stores let customers choose between self-checkout and a traditional cashier, hybrid banks will give customers the option of smart ATMs or self-serve kiosks and the human tellers of old.
The concept predates 2020, but the pandemic sped up the rollout. In May 2021, Business Insider reported that U.S. Bank was experimenting with a hybrid branch format to offer full-service banking while limiting face-to-face interaction.
Thus, the in-between branch of tomorrow is already here.
More From GOBankingRates