5 Banking Transactions You Can Do Quickly Online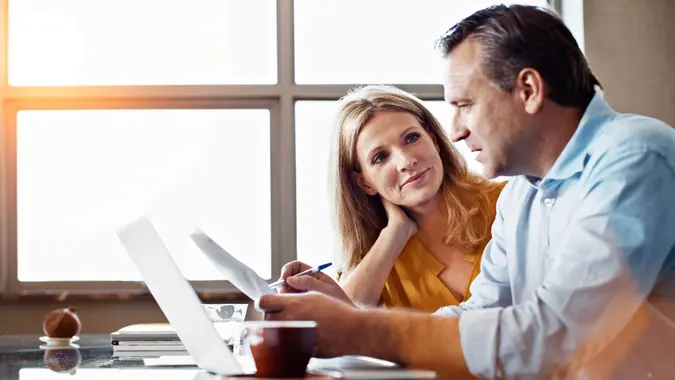 kupicoo / Getty Images
Everyone of a certain age can remember scurrying to the local bank to write a check to themselves before 3 p.m. on a Friday to avoid getting stuck without cash after the branch closed for the weekend.
Today, it's a challenge to come up with a handful of scenarios that even require cash in the first place.
Explore: GOBankingRates' Best Credit Cards for 2023
Retirement at Any Age: Get Retirement Tips That Fit Every Stage of Life
The Future of Finances: Gen Z & How They Relate to Money
The arrival of ever-changing banking technologies continues to make it easier for average people to manage their money. Today, only a handful of tasks require an in-person visit to a branch or even an ATM. You can handle most transactions in just a few minutes on your bank's website or mobile app.
Here are the most common banking tasks you can do quickly online.
Set Up New Accounts
Step one in any banking transaction is setting up an account in the first place — and there's no need to visit a branch or even talk to anyone on the phone to become a customer.
Every bank has its own specific process, but the steps are generally the same:
Log onto the bank's website securely through a non-public, password-protected wifi connection.
Collect information like your Social Security number, driver's license number and a blank check and/or your current bank's routing and account numbers, which you might need to make an initial deposit.
Choose the type of account you want.
Fill out and submit an application.
Agree to let the bank collect pertinent information, acknowledge disclosures and accept the terms.
Upon approval, request checks and debit cards, download the bank's app and enjoy banking online.
Transfer Funds
Once you set up the original account, adding new accounts — like checking, savings, money market, etc. — will be even quicker and easier. Moving money between them is fast and simple, too. You can do it in just a few seconds with a laptop or phone.
Just log in and select "transfer," "make a transfer," "transfer funds" or whatever language your bank uses. From there, it's as simple as choosing the "to" and "from" accounts and indicating whether it's a one-time transfer or a recurring event (recurring transfers are an excellent way to automate savings).
Either way, choose the date to execute the transfer and complete the process. In most cases, internal transfers are instantaneous or close to it.
Take Our Poll: If Elon Musk Offered You a Job Paying You More Than You Make Today, Would You Work for Him?
Report a Lost or Stolen Card
The realization that you're missing a card triggers a panicked instinct to reach out to a person who can help. But in many cases, it's faster, easier and more direct to skip the person altogether and report lost or stolen cards through your bank's website or mobile app instead.
You won't waste any time searching for a customer service number or being put on hold, redirected and peppered with security questions during a time of high anxiety. If you don't want to waste time navigating the app or website, just Google something like "report lost stolen card Bank of XYZ" for a direct link.
According to the FTC, you should follow up in writing no matter how you report a lost credit, debit or ATM card, but the most important thing in all cases is to act fast.
Deposit Checks
At one point in the not-too-distant past, the ability to deposit checks at an ATM changed the game by sparing you the hassle of standing in line inside a branch. But now, even that is a painfully obsolete process that can instead be handled in seconds without ever leaving the couch.
Every major bank's app lets you deposit checks by simply:
Choosing the target account
Snapping an image of the front and back of the signed check
Verifying the amount
Authorizing the deposit
Even for the most tech-shy smartphone owners, there's really nothing to it. If you can take pictures, you can turn paper checks into account funds without leaving the house.
Send and Request Money
A wire transfer — moving money electronically between your bank account and someone else's — requires both sets of account and routing numbers and can take days to execute. Services like Zelle, however, reduce the transfer time to just a few minutes and require nothing more than the sender and recipient's email address or phone number.
Zelle is built right into the websites and apps of more than 1,700 financial institutions, most likely including yours. That lets you send money to trusted friends and family members without downloading a third-party app like Venmo. Not only is it free as well, but the p2p payment service is already embedded where you do your banking.
More From GOBankingRates