How To Use Cash App by Square: Your Quick Guide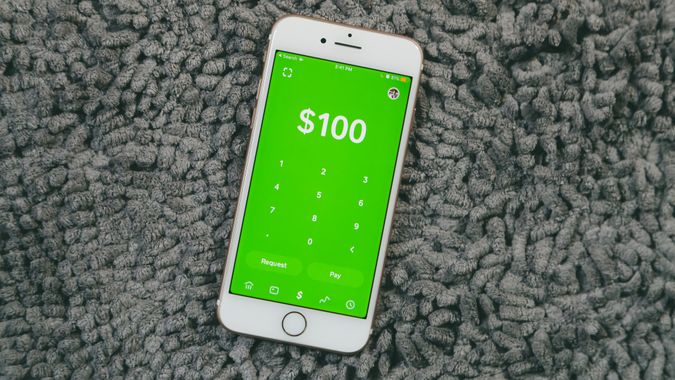 Chase Brock / GOBankingRates
Cash App is a peer-to-peer money transfer app that lets people send and receive money to individuals and businesses. Examples of peer-to-peer money transfer apps include PayPal and Venmo. Cash App is a product of Square, a financial services company designed to help both small businesses and individuals.
What Is Cash App?
Cash App offers several useful features that make it an alternative to a traditional checking account. Users can receive direct deposits of paychecks, make payments, and purchase items online and in stores.
Cash App also offers a Cash Card, which is a free, customizable debit card that is connected to users' Cash App balance.
Additional features include:
ATM withdrawals
Merchant discounts
How Do You Use Cash App?
You can use Cash App for many types of transactions. It's a convenient option when you need to split a check with a friend or to pay or receive money for services or purchases. Here's how to use Cash App.
How To Send Money
On Cash App, you can send money to someone in six simple steps:
Open the app.
Enter the amount you want to send.
Tap "Pay."
Enter the receiver's contact information.
Complete the payment memo.
Tap "Pay" again to finalize the transaction.
How To Receive Money
When someone sends you money, you receive a notification in your activity feed. To review the payment, select the activity tab. Then tap on the payment you want to see.
You can cash out and send the money to your linked bank account or spend it with your linked debit card. Follow these steps to cash out:
Tap the "Balance" tab in the app.
Press "Cash Out."
Enter the amount of cash you want.
Select a deposit speed.
Confirm your identity via a PIN or touch ID.
There are two speed options. Standard deposits take one to three business days to process. Instant deposits are credited to your debit card immediately. Note that standard deposits are free but there is a fee for instant deposits.
How To Use Cash App at a Store
You can use the Cash App Visa debit card online and in person just like any other debit card. It looks like a regular card you'd receive from a bank. If you've used a debit card before, you already know how to use the Cash App card.
You can order the Cash Card debit card through the app. The card should arrive through the mail within 10 business days.
How To Use Cash App Without the Card
You also can add your Cash Card to Google Pay and Apple Pay. Here's how:
Tap the "Cash Card" tab in the app.
Tap the credit card image.
Choose "Add to Google Pay" or "Add to Apple Pay."
Follow the rest of the steps to complete the process.
After you've set up the account, you can use Google Pay or Apple Pay when shopping at merchants that accept those payment methods.
Benefits of Using Cash App
Here is an overview of some of the benefits of using Cash App:
Easy to send money to friends and family
No monthly maintenance fees
Cash bonuses for referring friends
Investing options with stock prices starting at $1
Drawbacks of Using Cash App
Cash App also has some drawbacks that you should consider before signing up:
Limits on ATM withdrawals and amount of money you may send and receive
Potential for scams
Things to Remember When Using Cash App
It's important to keep a few details in mind when using the Cash App. This will help to protect your money.
Fees
There is no monthly maintenance fee. There are no fees charged for the following features:
Card purchase
Receiving money
Adding cash from a bank
You will pay a 1% to 1.5% fee for instant cash out, with a minimum of 25 cents. There is also a 3% fee for sending cash from a credit card.
Spending and Withdrawal Limits
There is a limit on the amount of money you can withdraw at an ATM. These limits include ATM and cashback transactions at a point of sale.
$310 per transaction
$1,000 during a 24-hour period
$1,000 during a 7-day period
FDIC Insurance
The money you have in a Cash App account is not protected by the Federal Deposit Insurance Corp. If you prefer using an account that does offer FDIC protection, check out a bank or credit union.
Cancellations and Refunds
When you send money in Cash App, the payments are sent immediately. It may not be possible to recover that money if you realize you made a mistake and want to cancel the transaction.
If you are able to cancel a transaction, you will see an option to do so in the app. An alternative is to ask the recipient to refund the transaction in the app. The recipient can do so by selecting the payment in the app and clicking the refund button.
Scams
Since the money in your Cash App account does not have FDIC protection, it's important to avoid scams. Payments within the app are instant and cannot be refunded, so you will lose money should you send it to scammers.
The best way to protect yourself from a scammer is to avoid sending money to anyone you don't know. Learn to recognize the warning signs of a scam and report scammers and phishing attempts immediately.
Here are a few tips to keep your account and money safe from a Cash App scam:
Double-check the name and contact information of recipients before you send money.
Do not give your name, sign-in code, bank account information, debit card or Social Security number to anyone.
Do not send money to anyone claiming to work for or represent Cash App.

Do not send money to someone who is promising goods or services in the future and not immediately.
Can You Use Cash App as a Bank Account?

Cash App is convenient and can be used as an alternative to a bank if you only need basic banking services. You can use it to receive money — including direct deposits–, pay for items online or in a store, and make purchases using the Cash Card.

That doesn't mean it can completely replace a bank. A traditional bank offers additional services, such as certificates of deposit and mortgage loans, and your money likely is FDIC insured.
Should You Download Cash App?
Cash App is a solid choice for peer-to-peer payments or an alternative to using your personal credit or debit card for making online purchases. Its fees are comparable to similar services. The investing and bitcoin purchase option is convenient.
However, if you're looking for an alternative to a bank account, you might want to look elsewhere. Deposits are not FDIC insured, and it is complicated to reach a customer service representative.
Our in-house research team and on-site financial experts work together to create content that's accurate, impartial, and up to date. We fact-check every single statistic, quote and fact using trusted primary resources to make sure the information we provide is correct. You can learn more about GOBankingRates' processes and standards in our editorial policy.