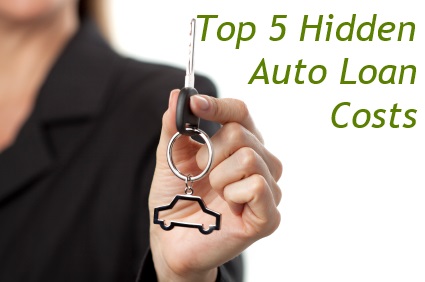 Unless you won the recent $590 million Powerball jackpot, you will likely need an auto loan before you drive away in your new car. You may ask yourself, "What are all the fees when buying a car?" Understanding hidden fees when you take out an auto loan for your next car will help you identify them, and either avoid or minimize them.
Despite minimal federal regulations customers can be proactive in avoiding car dealer fees. President of California's Consumers for Auto Reliability and Safety (CARS) Rosemary Shahan recommends skipping dealer-based auto loans. She believes passing on dealers' offers and dealer-only financing because there is a greater chance shopping around will get you a better deal and help you avoid many dealer-based fees when buying a car.
Don't Let These Car Buying Fees Surprise You
The following is a list of the top five hidden costs and car buying fees consumers may encounter when obtaining an auto loan.
1. Increased Auto Loan Rate
One of the lesser-known fees when buying a car is getting stuck with higher auto loan rates. According to Consumer Reports, car dealers sometimes tack their own fee on top of auto loans through a higher interest rate. Dealers may markup an auto loan rate from the initial rate up to 2.5 percent higher than the original rate for which the borrower qualifies.
2. The "GAP" Insurance Trap
You may be offered GAP insurance (Guaranteed Auto Protection) along with your car purchase. According to FoxBusiness.com, GAP insurance pays the difference between what your insurance will pay and how much is left on your auto loan if your car gets "totaled" or becomes unsalvageable. GAP insurance can be purchased from the car dealer, but also from a third-party finance company or a general or GAP-exclusive auto insurance company. It's smart to shop around and before purchasing GAP insurance because when GAP insurance is bundled in with the auto loan, it will add to interest payments, as Liz Weston of MSN Money points out.
Gregory B. Meyer, Community Relations Manager of Meriwest Credit Union in San Jose, California, cautions against turning to your dealer as the first option for GAP  insurance. "Dealers often try to sell GAP insurance when it is not appropriate. If the dealer offers you GAP insurance, do some research to see if it is actually needed!"
Meyer has seen firsthand that dealers are often a more expensive choice. "Credit, GAP, and Extended Warranties are all available from your local credit union for less than you would pay at a dealer. To get this discount, you must finance with your credit union."
3. Money Tied-Up in Car Payments
"By having a car loan payment every month," along with car registration fees and car taxes, "that is money that cannot be used for other things like investing for retirement, saving for a vacation, and other financial goals," Coleman says. Whether it is a first car for someone living in the city with access to public transportation or a second or third card for people living in the suburbs or the country, this hidden fee of tied-up money can add up fast.
4. Overpriced Extended Vehicle Warranty
Meyer also points out that dealer-obtained extended vehicle warranties can cost significantly more than credit unions. "Can you imagine that car dealers make a profit every time they sell one of these warranties? This is a big money maker for them."
He points out just how much they make and their motives for up-selling this option: "If you finance your car with your local credit union they can often sell you the same vehicle warranty for 40% less than what the dealer wants to charge you. Credit unions are not in it for the money."
5. Negative-Equity Financing
So-called "negative-equity financing" can add an enormous cost to an auto loan. "People with negative equity should pay special attention to vehicle trade-in offers. That's because although the ad claims that they will have no further responsibility for any amount of their old loan, the ad may be untrue," warns the Federal Trade Commission (FTC).
When a used car is traded in, some dealers promise to pay off the customer's auto loan, even if the loan balance is greater than the car's equity. However, some dealers add the difference from the old loan that was not covered by the car's equity and roll it into the new car loan — raising monthly payments and interested paid.
While these are some fees that may be "hidden" in an auto loan, by doing your homework you'll reduce your chances of being surprised by some unintended fees when buying a car and taking our your next car loan.