Credit Score Needed for the Chase Freedom Unlimited Card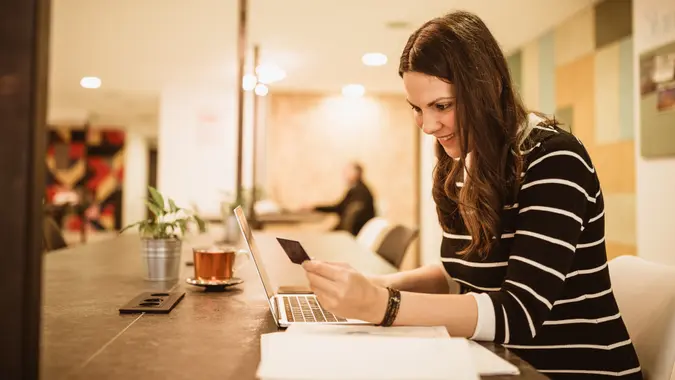 NoSystem images / Getty Images
The Chase Freedom Unlimited card is a straightforward cash-back rewards card ideal for people who prefer not to keep up with the rotating rewards categories of some credit cards.
Those searching for a new rewards card might wonder about Chase Freedom Unlimited's credit score and other eligibility requirements. The following can help new card members determine their likelihood of qualifying for .
What Is the Credit Score Needed for the Card?
Chase typically approves the Freedom Unlimited card for applicants with good to excellent credit, which is a minimum credit score of 670. Most credit card issuers also consider other factors in determining an applicant's creditworthiness, so a credit score of 670 or higher does not guarantee approval.
Is the Chase Freedom Unlimited Hard To Get?
The Chase Freedom Unlimited card is not hard for those with a good to excellent credit score and a credit report displaying a history of good credit habits, such as on-time payments, low credit utilization and a healthy income-to-debt ratio. Card issuers consider these factors, and a few others, to determine an applicant's creditworthiness.
Of course, approval is never guaranteed, and some applicants with good credit are denied. But those who meet the above criteria have a much better chance of qualifying for Freedom Unlimited than those with a low credit score, history of late payments or other credit report negatives.
Chase Freedom Unlimited Perks
This annual fee-free card rewards cardmembers with 1.5% cash back on all purchases, except for the eligible restaurant and drugstore purchases that earn 3%. Cardmembers also earn 5% on travel purchases booked through Chase Ultimate Rewards.
The card's attractive sign-up bonus is perhaps one of the best perks for new card members. It offers a 0% introductory annual percentage rate for the first 15 months — after the intro period, the APR is — and the opportunity to earn up to $800 bonus cash back. The first $200 of the bonus is earned by spending at least $500 on purchases in the first three months, and the rest is offered as 5% cash back on grocery purchases up to $12,000 in the first year, excluding purchases from Walmart and Target.
Credit Score Requirements for Other Chase Cards
Some interested in getting a Chase credit card wonder if certain cards are easier to get than others or if Chase offers cards for those with less-than-good credit. Another common question is the credit limit that may come with a particular card.
Here is more information about general credit score requirements and credit limits for Chase credit cards to help you consider whether you might be approved for the card you want.
Is the or Freedom Unlimited Card Easier To Get?
The Freedom Unlimited is no easier to get than the Chase Freedom Flex. Applicants typically need good to excellent credit for either card. Chase requests the same information to evaluate applicants for either card. Only those applicants applying for a premium Chase card, such as the Chase Sapphire Reserve, may need to meet stricter requirements, since this card is typically limited to those with excellent credit.
Can an Applicant Get a Chase Credit Card With a 640 Credit Score?
It is possible to be approved for a Chase card with a score lower than the typical requirement of 670. However, those with a fair credit score likely have some negative marks on their credit report contributing to their lowered credit score and therefore may not qualify. But 640 is only 30 points below the good credit score range, so it's possible to raise for anyone who takes the time and steps to improve their score.
What Is the Maximum Credit Limit With the Chase Freedom Unlimited?
Chase publishes minimum credit limits in some of its cards' pricing and terms, but it does not publish credit limit maximums. Cardmembers' credit limits are based on many of the same factors used to determine card eligibility — credit score, credit history and income — and will vary by cardmember. It's also possible to get an increase in your credit limit after you've had the card for a while and used it responsibly.
Final Take
Anyone searching for a new credit card should check their credit score to determine which cards they are most likely to qualify for. Those who don't meet Chase Freedom Unlimited credit score requirement of 670 or above can find other card options for which they may be eligible. However, a better option for someone with fair or poor credit might be to hold off on applying for a new card until their credit score has improved, or applying for a secured credit card.
Regardless of credit score, anyone looking for a new credit card should carefully compare card features and terms to ensure they choose a card with a good APR, reasonable fees and rewards and perks that meet their needs and match their shopping habits.
Rates are subject to change; unless otherwise noted, rates are updated periodically. All other information on accounts is accurate as of Oct. 24, 2022.
Editorial Note: This content is not provided by any entity covered in this article. Any opinions, analyses, reviews, ratings or recommendations expressed in this article are those of the author alone and have not been reviewed, approved or otherwise endorsed by any entity named in this article.
The information related to the Chase Freedom Unlimited, Chase Freedom Flex and Chase Sapphire Reserve cards was collected by GOBankingRates and has not been reviewed or provided by the issuer of these cards. Product details may vary. Please see the issuer's website for current information. GOBankingRates does not receive commission for this product.
Our in-house research team and on-site financial experts work together to create content that's accurate, impartial, and up to date. We fact-check every single statistic, quote and fact using trusted primary resources to make sure the information we provide is correct. You can learn more about GOBankingRates' processes and standards in our editorial policy.