Credit Card Fees To Watch Out For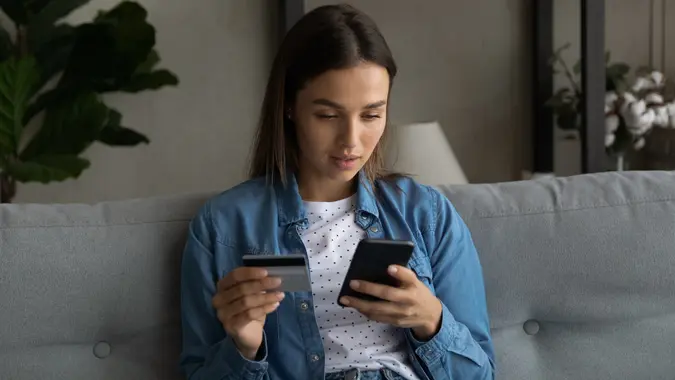 fizkes / iStock.com
When considering a new credit card, we often focus on the purchase APR, which is usually the biggest fee consumers must pay. The purchase APR is hardly the only fee that comes with credit cards, however. There are many other fees cardholders might have to pay, and these fees can add up quickly.
Explore: See: 
Here, we'll look at some of the credit card fees you should look out for. Even if your new credit card has a low purchase APR, these fees could make it a less appealing card than you realize at first.
Foreign Transaction Fees
If you frequently travel to other countries, you should watch out for foreign transaction fees. "Certain cards incur fees of roughly 3% for each purchase made outside of one's issuing country," says Liam Hunt, writer and analyst at GoldIRAGuide.com.
That means a fee of $30 for every $1,000 you spend. There could also be a currency conversion fee as it may cost the card issuer to convert money from foreign currency.
Deferred Interest
Many credit cards have 0% APR for 15 months, or longer in some cases. While that can make it tempting to go out and spend, these introductory offers sometimes are not interest-free in reality. Instead, they might just defer interest until after the introductory period.
"If you don't pay the total balance, you will have to pay interest on the whole amount as if it had been a normal purchase," says Andrew Latham, managing editor at SuperMoney.com.
"To illustrate, a deferred interest card with a regular purchase APR of 27% will charge you no interest on a $10,000 purchase if you pay it within the 12-month introductory period," Latham says. "However, if you have a balance pending at the end, you may be charged a deferred interest 'fee' of $2,700. The terms vary depending on the card, so make sure you read the fine print before applying for a deferred-interest card."
Late Payment Fees
Paying your credit card off will let you avoid incurring too much interest, but you might still end up with a fee if you pay after the due date.
"Late payment fees are also lesser-known fees that can impose serious costs on cardholders, as they typically range between $30 and $40 for each payment made after the due date of one's credit card bill," Hunt says. "Costs reach the upper end of this scale for repeated violations made within six billing periods."
Returned Payment Fees
Returned payment fees happen when you pay your credit card bill but don't have enough money in your bank account to cover the payment. If a payment is returned, you'll be hit with a fee of up to $40 for each occurrence. Only use your credit card when you have enough cash to cover the purchase to avoid returned payment fees.
Balance Transfer Fees
Although balance transfers can save you money by avoiding high purchase APRs, you can't avoid fees entirely. Credit cards charge a fee for balancing transfers, usually 5% of the amount transferred.
However, some balance transfer cards charge a lower fee of 3% during the introductory period. In addition, balance transfer cards often have a minimum balance transfer fee of $5 or $10.
Cash Advance Fees
Credit cards often let you get cash by borrowing against a separate cash advance limit. While this can be a convenient way to get cash fast, it can also be expensive.
There may be a 3% to 5% cash advance fee each time you take out cash this way. Plus, cash advances often have a higher APR than your card's purchase APR. The result is that cash advances can be a very expensive way to get cash.
Annual Fees
While many credit cards have no annual fee, premium and travel credit cards often have annual fees starting at $95. For high-end credit cards, you might pay an annual fee as high as $695. If you want to cut back on fees, consider one with no annual fee, such as a cashback credit card.
Over Limit Fees
You may be charged a fee if you exceed your credit card's limit, known as an over-the-limit fee. Normally, you can't exceed your credit card's limit, and the purchase would be denied if you try to do so.
However, due to the CARD Act of 2009, you can opt-in to over-the-limit charges. You can have over-the-limit charges on your card for a fee of up to $35 per transaction. Of course, $35 would be quite expensive for a single transaction, so it's best to avoid these charges if possible.
More From GOBankingRates