5 Things To Know About the Milestone Credit Card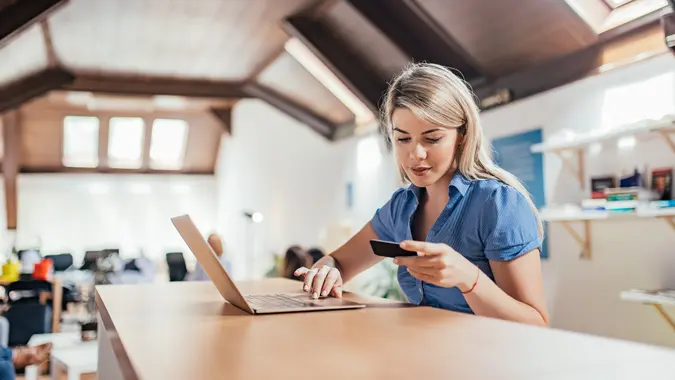 nortonrsx / Getty Images/iStockphoto
Choosing the right credit card when rebuilding credit can be difficult and overwhelming. With a plethora of options to choose from, you might not know where to start. However, some companies create cards specifically for people in this situation. The Milestone Mastercard is one of those cards.
However, the card might not be the best option if you want to repair your credit due to its high fees, low limits and more. This article will discuss what you need to know about the Milestone credit card. 
1. The Milestone Mastercard Is an Unsecured Credit Card
An unsecured credit card is a credit card that doesn't require money upfront. A lot of times when you're trying to rebuild credit, you'll need to pay the credit card company money ahead of your payments to prove that you can afford the card. Milestone doesn't require that. Instead, Milestone takes you as a borrower at face value that you're going to pay the card back. 
On the flip side of that, Milestone offers lower limits on its cards than some secured cards. You won't be awarded a ton of credit if you're just getting started on your credit recovery journey. 
2. The Milestone Card Has a $300-Plus Limit, Depending on Your Creditworthiness
Everyone is in a different place in their credit journey. Milestone recognizes this. While it advertises $300 limits, I was approved for a $1,000 limit. The better your credit score is, the higher limit you're looking at receiving.
Keep in mind that this isn't a recommendation to spend more money because your limit might be higher. You want to keep your utilization below 30%, according to experts. And only spend what you can pay back. 
3. Different Annual Fees Depending on Creditworthiness 
Not every Milestone Mastercard is created equally. In fact, depending on your credit score, you could be approved for a smaller annual fee.
The card offers several tiers, including those that come with annual fees of $35; $59; and $75 the first year and $99 thereafter. You won't know which tier you'll be approved for until you fill out the preapproval form.
The reason most credit repair cards have a high annual fee is that the banks issuing them are taking a risk by offering you credit. However, unlike other cards with annual fees, you aren't getting any perks, so you'll wind up paying a lot for little benefit to you. 
If you're approved for this card, you might not want to follow through with accepting it because of its high annual fee. Even though it's a good credit builder card, there are better cards on the market right now.
4. Milestone Offers Pre-Qualification and Reports to All 3 Major Credit Bureaus
Not every credit card in your wallet automatically reports to all three of the major credit bureaus, and that could mean you're not getting the best credit scores. Milestone does, and that's a huge boost to your credit reports since you don't always know which bureau lenders are going to choose from when assessing your creditworthiness. By reporting to all three, Milestone is ensuring that you're growing your credit history appropriately. 
And preapproval means that you can get approved for the card without a hard pull being done on your credit. Hard pulls negatively affect your credit score, and it would be a shame if you didn't qualify and you have a ding on your credit. Preapproving you prevents this from happening. 
5. What You Need To Know About Applying for a Milestone Card 
If you're looking at applying for this card, you'll need to know a few things. First, you must be at least 18 with a valid Social Security number, a physical address and a U.S. IP address.
Next, you can't have had a previous card become delinquent and be charged off. If that's the case, this card isn't for you, and you'll have to look for another credit card.
You'll also have to meet all the additional credit qualification criteria, including a review of your income and your debt, and identity verification requirements.
The Takeaway 
If you're looking to rebuild your credit, the Milestone Mastercard may not be the best option out there. While it does have some perks, like reporting to all three of the major credit bureaus, its high fees diminish that value — especially when better cards are on the market. 
Do some research to help you find a card that's right for you.  
FAQ
What bank offers the Milestone credit card?

The Milestone credit card is issued by The Bank of Missouri in partnership with Genesis FS Card Services.

Can I use my Milestone credit card anywhere?

The Milestone credit card is a Mastercard product, which means you can use this card wherever Mastercard is accepted.
Information is accurate as of June 2, 2023.
Editorial Note: This content is not provided by any entity covered in this article. Any opinions, analyses, reviews, ratings or recommendations expressed in this article are those of the author alone and have not been reviewed, approved or otherwise endorsed by any entity named in this article.