What Is the Highest Credit Limit for Citi®?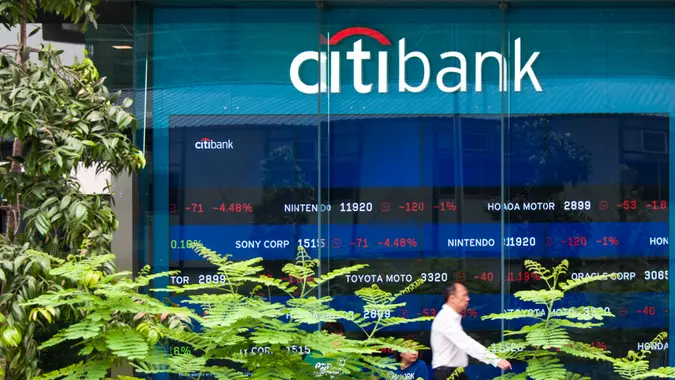 killerbayer / Getty Images
When looking for a high-limit credit card, it can be difficult to narrow down cards with the highest limits. While card issuers are transparent with APRs, many do not publish credit limit maximums. 
If you're wondering about the highest credit limit for Citi® credit cards, read on to find out what information the card issuer does and does not disclose regarding credit limits and how to request a credit limit increase if you do have a Citi credit card.
What Is the Maximum Credit Limit for Citi?
Citi does not disclose maximum credit limits for its card offerings, but third-party sources report maximums of $50,000. According to Citi's card disclosures, your credit limit is based on your income and your current debt obligations.
What Is the Minimum Credit Limit for Citi?
Citi does disclose minimum credit limits, which vary by card. It's safe to assume that maximum credit limits may vary by card, as well.
The following table shows the minimum credit limits for three different Citi credit cards.
Does Citi Offer High Credit Limits?
Like many card issuers, Citi will typically offer a high credit limit to those with an excellent credit score and steady income. 
But what is considered to be a high limit? That number depends on who you ask. 
According to data from Experian, the average credit limit varies significantly by generation. In 2022, the average credit limit for millennials was $24,668. So, a $30,000 credit limit would be considered high for people within that demographic.
However, in that same year, the average baby boomer had a credit limit of $40,318. A credit limit of $30,000 would be considered low for that generation.
How Often Does Citi Increase Your Credit Limit?
Citi doesn't specify how often it will consider a credit limit increase. Other card issuers may review your account annually or at other intervals before deciding to increase your limit, so it's likely that Citi's timeline is similar. Updating your income with your card issuer whenever you get a raise and maintaining a healthy credit score will improve your chances of receiving automatic increases.
Requesting a Higher Credit Limit
You can also request a credit limit increase from Citi. You'll find an option to submit a request online by logging on to your Citi account.
What Credit Card Has a $100,000 Limit?
Upgraded Points lists the Chase Sapphire Preferred and Chase Sapphire Reserve cards as potentially offering credit limits of $100,000 or more
However, since most credit card issuers don't disclose maximum credit limits, you won't find a list of cards with a $100,000 limit. Not to mention, a card with such a high limit is more likely to be a reflection of the cardholder than the card itself.
Final Take
With good to excellent credit, a history of healthy credit habits and a stable income, you can qualify for a high limit on a wide variety of credit cards. To narrow your search, look for cards with a high minimum credit limit — the higher you start, the higher it is likely you'll be able to go.
Before applying for a Citi credit card with the highest limit, evaluate how a high limit will impact your credit score. The more you borrow, the deeper you can fall into debt if payments pile up. Be sure to consider a card's APR, rewards and fees to determine if it's the best fit for your spending habits.
Information is accurate as of April 13, 2023, and is subject to change.
Editorial Note: This content is not provided by any entity covered in this article. Any opinions, analyses, reviews, ratings or recommendations expressed in this article are those of the author alone and have not been reviewed, approved or otherwise endorsed by any entity named in this article.
The information related to the Chase Sapphire Preferred and Chase Sapphire Reserve cards was collected by GOBankingRates and has not been reviewed or provided by the issuer of these cards. Product details may vary. Please see the issuer's website for current information. GOBankingRates does not receive commission for this product.
Our in-house research team and on-site financial experts work together to create content that's accurate, impartial, and up to date. We fact-check every single statistic, quote and fact using trusted primary resources to make sure the information we provide is correct. You can learn more about GOBankingRates' processes and standards in our editorial policy.