20 Valuable Benefits of the Citi Premier Card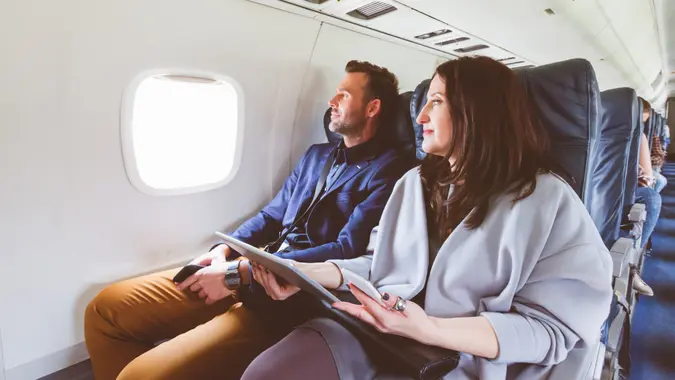 izusek / Getty Images
The is a great travel rewards credit card with tons of benefits, including a generous welcome offer. Unlike some top-tier rewards cards, you may be able to qualify with a good — rather than excellent — credit score. Although, to enjoy the lowest interest rates, a FICO score above 740 will serve you best.
Benefits of the Citi Premier Card
Let's explore some of the top benefits of the Citi Premier Card, which rewards members with Citi ThankYou Points.
1. Generous Welcome Offer
The Citi Premier Card has one of the best welcome offers of rewards credit cards on the market today. Earn 60,000 bonus ThankYou points when you spend $4,000 in purchases within the first three months of opening your account. You can trade in these points for $600 worth of travel or gift cards. This bonus offer more than pays for the annual fee. In fact, this welcome offer is enough to cover your annual fee for eight years.
2. Points for Restaurants
Your Citi Premier card should be one of the first cards you grab when you go out to eat. Rack up 3x ThankYou points, with no limit on how many points you can earn, when you dine in or grab take-out from your favorite restaurants.
3. Points for Supermarkets
You'll also get 3x ThankYou points for purchases made at supermarkets, with no limits to how much you can earn. Keep in mind that purchases through online supermarkets, general merchandise or discount stores, wholesale clubs and other places that may sell groceries but are not classified as "supermarkets" based on Mastercard merchant codes do not qualify for bonus points.
4. Points for Gas Stations
With gas prices what they are right now, everyone could afford to earn a little extra cash when they fill up. Citi Premier gives you 3x ThankYou points for gas station purchases, excluding gas purchased at wholesale clubs or convenience stores.
5. Points for Air Travel and Hotels
First and foremost, Citi Premier is known as a travel rewards card. With that in mind, cardholders earn 3x ThankYou points for each dollar spent on air travel and hotels.
6. Points for All Other Purchases
Every purchase you make earns you points with Citi Premier. You'll get one point for any purchase on your card, excluding balance transfers and cash advances.
7. $100 Annual Hotel Savings
Citi Premier gives cardmembers a $100 annual hotel savings benefit that can help defray your travel costs. You might also consider that this annual benefit entirely offsets the $95 annual fee. If you don't use the benefit by December 31 of each year, it will not roll over. Also, the benefit is only good for hotel stays of $500 or more. To redeem your $100 savings, book your hotel through ThankYou.com or 1-800-THANK-YOU.
8. Transfer Points Between Accounts
Citi allows you to transfer points between your Citi Premier card and other Citi ThankYou cards in order to consolidate points to maximize your benefits. If you have authorized users on your Premier account, you can also transfer their points to your account.
9. Transfer Points To Travel Partners
If you are a frequent traveler that likes leveraging your points for the most value, you will love this benefit. Citi allows you to transfer ThankYou points to many travel partners, often at a rate of 1,000 points per 1,000 miles. Some of the popular travel partners include JetBlue TrueBlue, Virgin Atlantic Flying Club and Wyndham Rewards.
10. Redeem Points for Gift Cards
You can redeem ThankYou points for gift cards, typically at a rate of one cent per point.
11. Redeem Points for Travel
When you redeem your ThankYou points through the Citi ThankYou Travel Center using your Citi Premier card, you'll get a rate of 1.25 cents per point. That is the most bang for your buck you can get. You can use the strategy of transferring ThankYou points from other Citi cards to your Citi Premier to redeem points for flights, hotels, rental cars and cruises through the portal at the higher rate. You can even transfer points between accounts or from authorized users of your card.
12. Redeem Points for Charitable Contributions
You can also opt to redeem your ThankYou points for a contribution to your favorite charity.
13. Redeem Points for a Statement Credit
While Citi Premier doesn't offer cash back rewards, the next best thing is a statement credit. Keep in mind that you won't get the best return on your points this way, as each point is only worth half a penny. Statement credits also do not apply to your minimum monthly payment.
14. Use Points at Amazon and Other Online Retailers
Choose "Shop with Points" at Amazon and other online retailers to use your ThankYou points toward your purchase at a rate of roughly 0.80 cents each.
15. Use Points Through PayPal
If your favorite e-tailer doesn't have a Shop with Points option but the site does accept PayPal, you can use your ThankYou points to make payments through PayPal. This opens up a whole world of options to use your ThankYou points.
16. Use Points for Discounts on Gas
We can all use some savings at the gas pumps today. Choose "Shop with Points" at BP, Amoco or Shell and get up to 50 cents off per gallon, up to $10 per fill up.
17. Redeem Points To Pay Bills, Mortgage or Student Loans
If you pay your bills online through your Citi checking account, you can use your ThankYou points to cover anything from utilities to your mortgage payment, car loan or student loans. The redemption rate is 1 cent per point, so it offers a better return than taking a statement credit or paying with points online. Keep in mind you can't pay with points for recurring or express payments, but nearly anything else is fair game.
18. Points Never Expire With Citi Premier
Once you've earned ThankYou Points with your Citi Premier card, they never expire.
19. Citi Flex Plan Helps You Avoid Interest Charges
With an APR ranging from , it's best to ensure you can pay your balance when your bill comes due. But the Citi Flex Plan is one way to avoid interest charges on purchases. The Citi Flex Plan allows you to separate larger purchases into a fixed monthly fee so you can pay them off faster, without interest. As long as you make your required Citi Flex Plan Payment, plus any remaining balance that is not part of your Plan, by the due date, you won't accrue interest charges.
20. No Foreign Transaction Fees
Citi Premier is one of the best travel rewards credit cards you can carry for its generous rewards structure. But it also has no foreign transaction fees, so you'll want this card in your wallet when you travel abroad.
Bottom Line
Citi Premier is a flexible travel rewards credit card with a generous welcome offer and no foreign transaction fees. The modest annual fee is easily offset by the rewards you earn and the $100 annual hotel savings.
Citi Premier Card Benefits FAQ
What are the benefits of the Citi Premier card?

The Citi Premier card has many benefits, including access to Citi's ThankYou Points rewards program, which allows you to earn points to redeem for travel, gift cards and more.

Does Citi Premier card have lounge access?

The Citi Premier card does not offer airport lounge access. You will want to look into the World Elite Mastercard for those privileges, which includes certain cards in the Citi® / AAdvantage® line.

Does Citi Premier waive the annual fee?

Citi Premier has an annual fee of $95, which is not waived the first year. However, if you spend $4,000 in the first 3 months of opening your account, you'll earn bonus points which more than covers the annual fee.

Is the Citi Premier card hard to get?

According to the Mastercard website, you will need good to excellent credit to qualify for the Citi Premier card.
Rates are subject to change; unless otherwise noted, rates are updated periodically. All other information on accounts is accurate as of Sept. 30, 2022.
Editorial Note: This content is not provided by any entity covered in this article. Any opinions, analyses, reviews, ratings or recommendations expressed in this article are those of the author alone and have not been reviewed, approved or otherwise endorsed by any entity named in this article.