Don't Make These 6 Costly Mistakes When Redeeming Airline Miles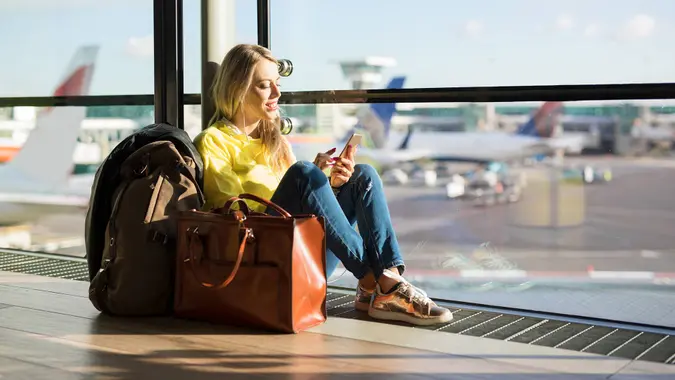 grinvalds / Getty Images/iStockphoto
Airline miles, or points, posted to your loyalty account don't seem like much when you accrue them in small batches, but after two or three cross-country flights combined with regional travel, they really start to add up. Depending on the program you're enrolled in, you could be on the cusp of cashing in your miles for a plane ticket to a sunny destination. However, you might want to think twice before you hit the "use miles" button to exchange them for a trip and consider this — Is that ticket really the best use for your hard-earned points?
Not maximizing airline rewards is one mistake people make when it comes to managing their travel loyalty plans. Read on to learn more about all the mistakes to avoid, and how to put your airline points to their best use instead.
Not Getting the Most Value for Your Points
Before redeeming your airline points, you need to set a strategy to maximize their value. That starts by knowing what they're worth.
"Each program has a baseline regarding what each point should be worth, although it's important to know these can and do change," said Kara Patterson, the founder and editor in chief of Destination: Live Life. "So it's important to always do the math and make sure you are redeeming for a value higher than the stated value."
The Points Guy website analyzed the worth of travel rewards points from airlines, Amtrak, hotel loyalty programs and travel rewards credit cards in January 2022 and assessed the value of the points from 2.5 cents each (Amtrak) to 0.4 cents (Radisson Rewards). So how do you use that information? Do the math.
Say you want to fly from Seattle to Columbus, Ohio, to attend your cousin's wedding in a few months and pay for your airfare using your American Airlines AAdvantage program miles. You'll need to redeem a minimum of 25,000 miles for the trip — 12,500 each way. The Points Guy put a value of 1.63 cents on each American Airlines point.
When you check the flight schedule, you see that the cheapest round trip fare for the days you want to travel is $284. Paying $284? Redeeming 25,000 miles? Which is the better deal? Use this formula to figure it out: cash price / award price x 100 = redemption value.
Applying the formula to our example of a $284 round trip at 25,000 miles puts the value of your reward at 1.13 cents — well below the Points Guy's evaluation of 1.68 cents per American Airlines point. In this case, you're better off paying for your trip and saving the points for a trip that would cost more out of your pocket.
"The biggest mistake when redeeming is not maximizing the value," Patterson said.
Not Being Flexible
Patterson is a shining example of just how far points can take you. In 2019, she and her partner spent nine months traveling the world, and she said they saved $20,000 by employing a smart points strategy for their airline, hotel and credit card points.
"This is best achieved by traveling during off-peak times and taking advantage of lower points redemptions for your route," she said. "One of our best redemptions was when we headed to Lima, Peru from the USA — during South America's winter. We were able to get our one-way flights for only 17,500 points each when they otherwise would have cost us almost $1,000 per ticket in cash."
To be exact, the pair's round-trip tickets would have cost $1,900. By being flexible and traveling during the Peruvian winter when American Airlines offered rewards travel for fewer points, the value of each point was a whopping 5.43 cents — well above the value of 1.4 cents at the time.
Not Recognizing Partnerships
Several airlines and hotels are "friends" when it comes to loyalty programs. American, for example, partners with about 20 domestic and international airlines on which you can earn and redeem points.
"Many people believe that a certain airline mileage program is only good for one specific airline," said Archie Utama, a travel blogger who runs the Seal the Deal Travels website. He offers Air Canada's Aeroplan loyalty program as an example. "That is entirely false. Since Air Canada is a part of the Star Alliance, its program Aeroplan allows you to redeem for Star Alliance flights and Aeroplan partner airlines outside of Star Alliance. Knowing about airline alliance and partnerships can save you tens of thousands of miles."
Not Using Alternate Airports
The most experienced travelers know all the tricks to make best use of their points, and Utama shared one of them: starting your reward travel from an airport different than your home base. This comes into play when airlines base the number of points you must redeem to travel on the number of miles you will fly instead of a flat rate per trip.
A business-class trip on a partner airline from San Francisco International Airport to Narita International Airport in Tokyo requires 75,000 Aeroplan miles, Utama said. From Seattle-Tacoma International Airport, however, it's just 55,000 Aeroplan miles because Seattle to Tokyo is a shorter distance.
"I would take a cheap short-haul flight in cash from San Francisco to Seattle to then fly to Tokyo on points," he said. "20,000 miles saving!"
The cost from San Francisco to Seattle? About $69 if you hit the sales. "This is called a sweet spot found in a mileage program, and there are many other examples across different programs and destinations," Utama said.
Not Using Points for Travel Other Than Airfare
Some airline loyalty programs allow you to redeem your points for travel other than airplane tickets. If you find that using your rewards for airfare doesn't make sense financially, or seats aren't available using points, think outside the box. That's what Patricia Palacios, the co-founder of España Guide, did.
"I, for example, have been collecting American Airlines points for over a decade. Although I consider myself an avid traveler, I always thought that the AA points could only be redeemed for AA flights," she said. "Every time I tried to use my points to book a flight, I was disappointed by the massive amount of blackout dates and extra charges to be paid in cash on top of the points. I always ended up feeling that I was wasting my points."
"However, not that long ago I finally took a step back and decided to spend some time finding out what to do with AA points," Palacios continued. "It was then that I discovered you can also book hotels and rental cars all over the world with your AA points using the website www.useaamiles.com. You get a way better conversion rate for your points. In addition, there are no blackout dates or extra fees."
Letting Points Expire
Keep track of when your points expire, and don't wait until the last minute to try to redeem them.
"One of the biggest mistakes people make when it comes to airline points is not using them or rushing to use them before they expire," said Jeremy Coleman, who runs the Texas Family Vacation website. "Points often expire if they're not used within a certain time frame, so it's important to keep track of your balance and use them when you can. If you are in a rush to use the points you will not have any flexibility about the destinations or dates you use them."
You've spent a long time accruing your airline miles or points. Using these tips can help you avoid not getting the most value for your reward.
More From GOBankingRates