Best Virtual Credit Cards for 2023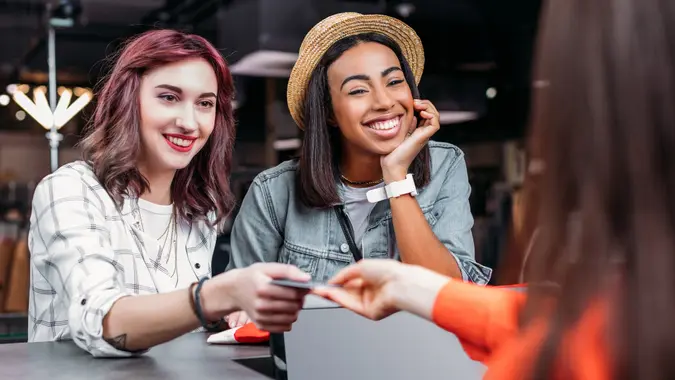 LightFieldStudios / iStock.com
Increased security concerns regarding credit cards have caused many users to switch to other options including virtual credit cards. So, if you frequently use credit cards for online transactions, virtual credit cards can be a good option.
Read: 3 Easy Tips To Turn Your Credit Woes Into Wows
What Is a Virtual Credit Card?
A virtual credit card or virtual account number is a set of disposable credit card details that are issued temporarily for one-time use. This helps you to keep your identity confidential while making online credit card transactions.
Features of Virtual Credit Cards
They are only available online and do not have a physical form.
They are highly secure.
They are issued for temporary and one-time usage.
They are issued through your physical credit card and the details are stored securely on the back end.
Best Virtual Credit Cards for 2023
There are several options in the market when it comes to virtual credit cards. You must know everything about these cards so that you can evaluate your options before you can come to a decision.
1. X1 Card
X1 is a physical credit card that allows users to have access to virtual credit card facilities. It charges a variable APR of 14.75% to 27.00% and has a very simple user interface in its mobile app. To access the virtual credit card facilities, users have to download the app and customize their options accordingly. There are three types of virtual credit cards provided by the X1 Card:
Standard Cards, which are cancellable at any time
Free Trial Cards, which are automatically canceled after 24 hours
Single-Use Cards, which are automatically canceled after one use.
Pros
A smart user interface where you can get intimated about the amount of interest for every transaction.
Suitable when you will be providing someone limited access to your virtual credit card.
Cons
X1 does not have any low-APR introductory offers which are found in almost all other credit cards.
What to Look Out For
The credit limit is significantly higher than other cards and users get 2x points on every purchase regardless of category, 3X points for the whole year on spending $15,000, and up to 10X points when an invited friend signs up for a card.
2.
Citi® Diamond Preferred® Card is a popular choice of credit card for all users. It offers attractive rewards and doubles up as a great virtual credit card. Users get to avail a 0% intro APR for 21 months on balance transfers and 12 months on purchases. Based on your creditworthiness, your APR after that would be .
Pros
All transactions made through the virtual account number will appear on the monthly statement along with the individual numbers used for every transaction.
No annual fees
Users get free access to their FICO® scores.
Cons
Late payment fees can be up to $41 and a penalty APR up to 29.99%.
What to Look Out For
As a bonus offer, you can get a $150 statement credit when you spend $500 on purchases in the first 3 months of account opening.
3.
Another credit card from Citi® that performs well as a virtual credit card, the Citi® Double Cash Card offers a 0% intro APR for 18 months on balance transfers. The subsequent APR ranges between . It is ideal for users who wish to maximize their rewards from points.
Pros
No annual fees
Like other eligible Citi® credit cards, the monthly statement shows details on virtual account number transactions.
Points redemption can be done through a statement of credit, direct deposit, or mailed check.
Cons
There is no cash back on balance transfers.
The intro APR does not apply to purchases.
What to Look Out For
You have the chance to earn a 2% cash back on purchases, which can be broken down as 1% when you buy and 1% as you pay with no categories, caps or annual fee.
4. Capital One Venture X Rewards Credit Card
This is a popular travel rewards card and has an APR of . This virtual credit card can be extremely helpful while on the move. Users don't need to provide their actual credit card details and generate virtual account numbers whenever necessary.
Pros
Chance to earn 10X Miles on hotels and rental cars, 5X miles on flights and 2X Miles on all other purchases
Easy access to Capital One Lounges
Cons
High annual fees of
Late fees can be up to $40.
Users need to have excellent credit to apply.
What to Look Out For
Users are eligible for up to $100 credit on Global Entry or TSA PreCheck® and up to $300 back as statement credits for bookings through Capital One Travel.
5. Apple Card
Apple Card is a very popular and useful credit card that works as a virtual credit card as well. The variable APR ranges between 13.99% to 24.99%. Apple is transparent about interest payments and encourages users to pay more so that they incur less interest.
Pros
No annual fees
Integration with features such as Face ID, Touch ID and Apple Pay makes it a versatile tool.
Cons
Limited to users of Apple devices only
No introductory APR
What to Look Out For
Users can get 3% daily cash back when they shop on Apple and 2% daily cash back when they use their iPhone or Apple Watch to pay with Apple Card.
Final Take
Virtual credit cards can be great tools for mitigating security risks. However, make sure you understand the basic premise of using virtual credit cards before you actually make a choice.
Irrespective of which card you choose, make sure that you are careful about security concerns to ensure a safe payment process for every transaction.
Virtual Credit Card FAQ
Here are the answers to some of the most frequently asked questions about virtual credit cards.
How do I get a virtual credit card?

To get a virtual credit card, you should first have a physical credit card that allows the usage of virtual account numbers.

Are virtual credit cards legal to use?

Virtual credit cards are secure and 100% legal to use in the USA.

Can I buy a virtual credit card?

You would not be able to gain access to a virtual credit card if your credit card provider does not have this service. Currently, it is not possible to buy a virtual credit card.

What banks give you an instant virtual card?

Currently, Citi, Bank of America, and Capital One provide instant virtual cards to users in the USA.
Editorial Note: This content is not provided by any entity covered in this article. Any opinions, analyses, reviews, ratings or recommendations expressed in this article are those of the author alone and have not been reviewed, approved or otherwise endorsed by any entity named in this article.
Rates are subject to change; unless otherwise noted, rates are updated periodically. All other information on accounts is accurate as of Dec. 29, 2022.