Ultimate Guide to American Express Membership Rewards 2022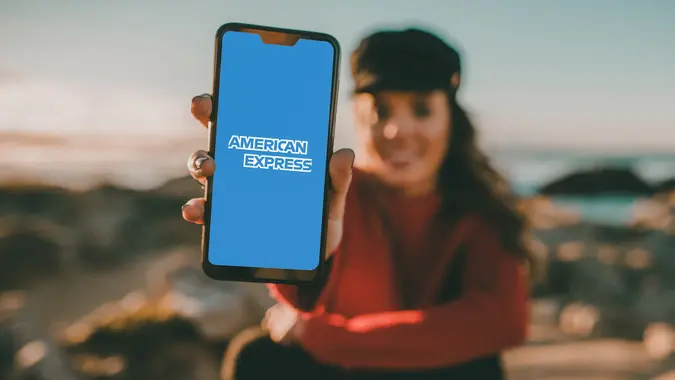 American Express/MarioGuti / Getty Images/iStockphoto
Update: Some offers mentioned may have changed or are no longer available. View current credit card offerings from our partners at CardCritics here on the issuer's website.
American Express, Member FDIC has one of the most well-known credit card rewards programs. That shouldn't be a surprise when you consider that American Express is a company known for financial milestones and "firsts" in the credit card industry.
But is their reward program one of the most lucrative? It can be if you understand how their point system works and how to redeem points for the highest value, and if you pay off your bill at the end of each month on those cards that permit you to carry a balance.
With APRs ranging from around 16.24% up to 27.24% on those American Express® credit cards that do permit you to carry a balance, you will quickly see your reward values dwindle away in the form of finance charges if you carry a balance.
However, if you know how to leverage your reward points, you can save money on travel, gift cards or merchandise, or even get cash back or a statement credit.
This article will break down:
What American Express® Membership Rewards points are really worth
How to use your reward points
Which American Express cards offer reward points
Introductory offers and bonus rewards
How to get an American Express card
History of the American Express Reward Program
American Express, as a company, has been around longer than most people probably know. It started as an express mail service in Buffalo, NY, in 1850. But let's jump ahead to 1891, when the company first issued American Express Travelers Cheques, an easy way for international travelers to spend money abroad without worrying about foreign exchanges.
In 1958, American Express started to look more like the company we know today, introducing its first Charge Card. For years, American Express set itself apart from Mastercard and Visa by positioning itself as a luxury brand for higher net worth individuals. The company's charge card required cardmembers to pay the entire balance in full when the bill came due, rather than rolling over charges and paying interest on the outstanding balance like revolving credit cards allow.
Today, some American Express cards allow cardmembers to carry a balance on certain eligible purchases while others, like Blue Cash Everyday, are regular credit cards that charge interest on your revolving debt.
American Express charge cards and credit cards both have exemplary rewards programs that can help members earn points to save money or get cash back. Those rewards programs were introduced in 1991 and American Express continues to lead the way with one of the most generous rewards programs.
Credit Cards That Offer American Express Membership Points
American Express has a variety of credit cards with varying annual fees and different benefits and rewards. It also has business cards with rewards specifically tailored for business owners. Finally, American Express partners with top travel brands like Hilton, Marriott Bonvoy and Delta, so cardmembers earn extra rewards and added perks when using these travel services.
Which American Express cards are part of the points rewards program? There are several that fit into this category. For a complete listing of APRs, introductory offers, and bonus rewards, refer to the table below.
The consumer American Express cards that offer Membership Rewards points, not including co-branded rewards cards, are:
American Express Green Card
American Express EveryDay Credit Card
American Express EveryDay Preferred Credit Card
| American Express Card | Welcome Offer | Bonus Rewards | Annual Fee | APR |
| --- | --- | --- | --- | --- |
| Green Card | 40K points after you spend $2,000 in the first 6 months | 3X points at U.S. restaurants, on transit and travel | $150 | |
| Gold Card | 60k points after you spend $6,000 in the first 6 months | 4X at U.S. supermarkets on the first $25,000 of eligible purchases per calendar year and 4X at U.S. restaurants | $250 | |
| Platinum Card | 80K points after you spend $8,000 in the first 6 months | 5X airline up to $500,000 in charges per calendar year and hotel | $695 | |
| EveryDay Credit Card | 10K membership points after you spend $2,000 in the first 6 months | 2X points at U.S. supermarkets on the first $6,000 of eligible purchases in a calendar year | $0 | 0% intro APR for 15 months, then |
| EveryDay Preferred Credit Card | 15K membership points after you spend $2,000 in the first 6 months | 3X points at U.S. supermarkets up to $6,000 in purchases per year, 2X points at U.S. gas stations | $95 | 0% intro APR for 12 months, then |
American Express also offers the Blue Cash Everyday card, which offers straightforward cash back, instead of Membership Rewards points.
The business American Express cards that offer Membership Rewards points are:
Business Gold Card
Business Platinum Card
Blue Business Plus Credit Card
Business Green Rewards Card
American Express also has partnerships with Amazon, Delta, Hilton, Marriott Bonvoy and Lowe's, so cardmembers can take advantage of special benefits and perks with co-branded cards.
How to Earn American Express Rewards Points
You can earn American Express® Membership Rewards just by using your American Express card for purchases. Depending on the category, each purchase will earn you a different number of points, so it's wise to make sure you know which purchases come with the highest point offerings and use your card accordingly.
You can also earn points as a welcome offer if you spend a certain amount within a certain time period, which varies depending on the card. These offers can be very generous — up to 80,000 points for the Platinum card if you meet the criteria. Timing your opening of the card with a large purchase that meets the requirements would be a smart way to maximize your earnings.
The table above outlines the welcome bonus offer points you can earn, depending on the American Express card you use.
How Much Are American Express Points Really Worth?
How much are 50,000 American Express points worth? American Express says that their rewards points are worth anywhere from 0.5 cents to 1 cent per point, so 50,000 points could be valued between $250 and $500, depending on where you choose to redeem your points.
The best value comes through redeeming points for flights or upgrades through the American Express portal. You can cash in your points for a full cent each, which means 50,000 points will buy you a $500 plane ticket.
How many American Express points is $100? That depends on how you choose to redeem them, but generally you'll get $100 value from 10,000 to 20,000 points.
How to Use Your American Express Rewards Points
If you're wondering, "How do I use my American Express Rewards points?", read on — you can use your points in many ways, some offering better value than others.
Retail
Currently, 16 online retailers allow you to use your Membership Rewards points to pay online by choosing the Pay with Points option. Simply link your American Express account to your account for that retailer, and you'll unlock a convenient way to pay.
Most points are valued between 0.5 cents and 1 cent when you pay with points online, according to the American Express website. You can also pay with points when you process a PayPal transaction, which means that you can use your points to pay at any online retailer that accepts PayPal.
American Express Portal
You can also pay with points online through the American Express portal, membershiprewards.com. Points redeemed through the site are worth half a cent per point.
You can cash in your American Express points through the American Express gift cards portal, again, getting roughly half a cent to one penny per point. U.S. restaurants and retail gift cards tend to offer the best value for your points.
Statement Credit
If you'd rather turn your rewards into cash, you can do so with a statement credit, but you'll only get 0.6 cents per point. That means 10,000 points will get you a $60 statement credit.
Statement credits do not count toward your monthly minimum payment, so you'll still need to pay your bill. But cashing in statement credits can be a great way to knock down your bill faster or even help get your balance back down to zero if you've overextended yourself one month and are short on cash to pay your bill in full.
Travel
American Express is renowned as a high-value travel rewards card, and this is where you'll find the greatest ROI for your points. Book flights through American Express® Travel and get a 1:1 deal for your points.
You can redeem points for hotel stays, cruises, and other travel experiences at a rate of 0.5 cents to 0.7 cents per point. You'd need roughly 20,000 rewards points for $100 worth of travel credit at the rate of 0.5 cents per point.  
Transferring Points to American Express Travel Partners
American Express has 16 travel partners where you can transfer your Membership Rewards points for flights or hotels. The Hilton Honors program offers a 2:1 exchange rate, where you can get 2 Hilton Honors points for every one American Express Rewards point. In most other cases, you'll make an even exchange.
To transfer the points, link your Membership Rewards account to the travel rewards program of your choice. Keep in mind that all transfers are final, so you'll want to be sure the room or flight you want is available before transferring points.
Once the points are transferred, you can cash them in per the rules and redemption values of the partner program.
Keeping Track of Your American Express Rewards Points
To see how many points you've already earned using your American Express rewards card, or to view how many points you have available right now, login to your account at AmericanExpress.com and then navigate to the Rewards Summary page.
You can also click the Rewards tab at the top of the page and select Points Summary. You'll see a breakdown of all your rewards activity — earnings and redemptions — for all your American Express cards. You can also choose a specific card and see your points activity for just that card.
It's a good idea to take a look at your rewards activity monthly and look for trends so you can leverage rewards in the most lucrative way. For instance, if most of your purchases are for travel, you'll want to make sure you're using your Platinum card for 5X rewards on travel. If you find you're spending the most at grocery stores, you may want to apply for an American Express® Gold card to earn 4X points at U.S. supermarkets or — if you'd prefer cash back in lieu of points — a Blue Cash Preferred Card.  
Other American Express Benefits
In addition to its generous rewards program, American Express cards provide a host of other great benefits to cardmembers. Benefits vary depending on the card you carry, but some cards offer benefits that include:
Uber Cash
Access to exclusive event tickets and Early Access to purchase event tickets
Access to virtual experiences
Flexible payment options
Statement credits you can use for dining or delivery/take-out
Hotel credits
No foreign transaction fees
Global Assist hotline
Baggage insurance
Car rental loss and damage insurance
How to Choose the Best American Express Rewards Card
To decide which American Express card is best for you, determine first if you are likely to pay your balance in full at the end of each month. If so, their conventional charge cards — the Green, Gold and Platinum cards — could be the best for you.
However, even the American Express charge cards now offer a "Pay Over Time" feature that offers more flexibility and can help you budget your money better. If an emergency comes up, you'll know you can carry a balance for a short time.
You can also choose the Plan It feature to pay for large purchases over time with fixed monthly payments.
If you want even more payment flexibility, consider one of the American Express® EveryDay credit cards.
Once you've decided if you want a conventional credit card or an American Express charge card, review your spending history on other credit cards or your bank statement.
What spending categories do you spend the most money on? Where would you earn the most if you were earning 5X rewards? Do you have other cards that already offer bonuses in these categories and, if so, are you maxing out the points you can earn each month? It might be time to add an American Express card to your wallet to start cashing in on even bigger rewards.
How to Apply for an American Express Card
You may be able to see if you're approved for an American Express card in minutes online with no impact to your credit score. Simply visit AmericanExpress.com, choose the card and click the blue "Apply Now" button to see if you're qualified.
If you accept the card, your credit score may drop by a few points due to the credit inquiry and opening a new line of credit. But these factors only affect a small part of your credit score. If you continue to make all your payments on time, your score should bounce back in just a few months.
Your payment history and credit utilization ratio have a much bigger affect on your credit score over the long term.
Final Take
A leader in credit cards and charge cards, American Express has cards to fit every lifestyle.  
Once you find the card that's right for you, apply online. To apply, you'll need your social security number, annual gross income, and non-taxable income if you choose to disclose that amount.
You may want to have your smartphone handy. If you're approved immediately, you will get a one-time text message to download the American Express App, where you can track your rewards activity, check your balance and pay bills easily.
Rates are subject to change; unless otherwise noted, rates are updated periodically. All other information on accounts is accurate as of June 21, 2022.
Editorial Note: This content is not provided by any entity that is mentioned. Any opinions, analyses, reviews, ratings or recommendations expressed in this article are those of the author alone and have not been reviewed, approved or otherwise endorsed by any entity mentioned.
All information about American Express card offers has been collected independently by GOBankingRates and has not been reviewed or approved by American Express. These offers are not available through GOBankingRates.
Our in-house research team and on-site financial experts work together to create content that's accurate, impartial, and up to date. We fact-check every single statistic, quote and fact using trusted primary resources to make sure the information we provide is correct. You can learn more about GOBankingRates' processes and standards in our editorial policy.