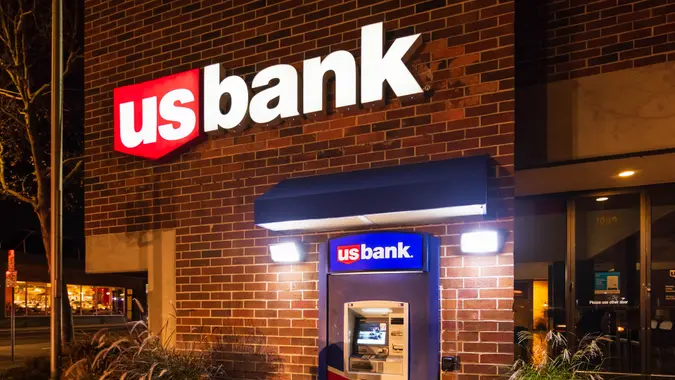 Andrei Stanescu / Getty Images
There's no arguing that drive-thru banking makes life easier. Bank members can pull up to an ATM at any time, day or night, to access the money they need. Today, the largest banks in the United States have networks of thousands of ATMs, which has led to a commonly asked banking question: "Where are drive-thru ATMs near me?" 
If this sounds like you, here's a guide to help you find your closest drive-thru banking options.
Drive-Thru ATMs Near Me
Bank customers typically have two easy ways to find drive-thru ATMs near them. Those include:
Branch Locator Search. Most big banks like Chase and Bank of America, Member FDIC, offer pages on their websites known as branch locators. Members can type their zip codes in the search bars on these pages to find the closest branch or ATM to them. 
Navigation App Search. If you have a smartphone, you probably use a navigation app. Bank members can type their bank names into these navigation apps to find the closest branch or drive-thru ATM near them. They can even type in a search like "drive-thru ATMs near me."
Which Banks Have the Most ATMs?
Consumers who work with banks that have large networks of ATMs can access their money at more locations, making it easier to find an option, no matter where they are. The banks with the largest ATM networks include:
Capital One. More than 70,000 ATMs
Citi®. More than 2,300 ATMs, plus access to 70,000+ more surcharge-free
Chase. More than 16,000 ATMs
Wells Fargo. More than 12,000 ATMs
Benefits of Drive-Thru ATMs
There are several reasons to consider using a drive-thru ATM. Here are some of the biggest advantages of using them:
Convenience
Customers can use ATMs to access their money 24/7
Deposit or withdraw at most major bank ATM locations
Drawbacks of Drive-Thru ATMs
Although drive-thru ATMs come with plenty of benefits, there are a couple of drawbacks to using them. 
No human interaction
Some ATMs don't accept deposits
ATMs typically impose daily withdrawal limits
Final Take
Drive-thru banking makes managing your finances easier. Consider working with a bank that offers a vast network of drive-thru ATMs to make your life easier.
FAQ
Here are answers to some of the questions people ask most often about ATMs.
Can I use another bank's ATM?

In most cases, bank members can use any ATM to access their money. However, if they use an out-of-network ATM, they may have to pay fees that their bank and the ATM service provider charge.

Where can I use an ATM without a fee?

In most cases, bank members can use branded in-network ATMs free of charge. For example, a member of Chase can use any of Chase's more than 16,000 ATMs without having to pay a fee to do so. Some banks also offer fee waivers up to a certain amount for their own customers, though that doesn't stop the ATM operator from charging a fee.