Where To Find Chase Drive-Thru ATMs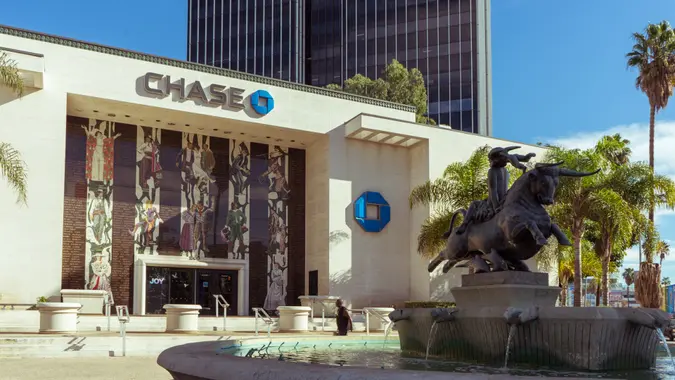 Sue Hwang / GOBankingRates
Chase is the largest bank in the U.S. and offers over 15,000 ATMs across the country, many of which are drive-thru locations. Here's a look at how to find the Chase drive-thru ATMs that are closest to you.
Chase Drive-Thru ATM Near Me
If you're looking for a Chase drive-thru ATM near you, there are two convenient ways to locate one.
Use a Maps App
A simple search on Google Maps, Apple Maps or any other navigation app will yield plenty of Chase drive-thru ATMs to choose from.
Chase Branch Locator
You can also use Chase's branch locator on its website to find the closest drive-thru ATM. The branch locator will show you the location, hours and services of each branch and ATM. To find drive-thru locations, select "Filters" and then select the "Drive Up" option.
You can also filter the results by distance from you, by branch or ATM and by which services you're looking for, such as Chase Private Client or ATMs that allow deposits.
About Chase
Here's what you need to know about Chase's operating hours and customer service options.
Chase Customer Service
Chase's customer service is available by phone 24 hours a day, seven days a week. Customers can use different phone numbers to contact the company, depending on the type of service they require.
Credit cards: 800-432-3117
Personal banking: 800-935-9935
Auto loans: 800-336-6675
Home lending: 800-848-9136
Hours of Operation
Chase ATM locations are available 24 hours a day, seven days a week. It also offers 24/7 self-service banking options online, as well as automated customer service.
Most Chase branches are open Monday through Friday, from 9 a.m. to 5 p.m., although some customers may find exceptions at local branches. Additionally, some Chase branches have limited hours on Saturday; those that do are typically open from 9 a.m. and 2 p.m.
FAQ
Where can I deposit money into my Chase account?

Customers can deposit cash and checks at any Chase ATM or in any Chase branch. Additionally, you can deposit checks with the Chase mobile app.

What ATMs can I use with a Chase account?

Chase offers a network of more than 15,000 fee-free ATMs across the country for members. You can also use non-Chase ATMs, but be aware that those are likely to come with extra fees.
Editorial Note: This content is not provided by Chase. Any opinions, analyses, reviews, ratings or recommendations expressed in this article are those of the author alone and have not been reviewed, approved or otherwise endorsed by Chase.