Best Capital One Rewards Credit Cards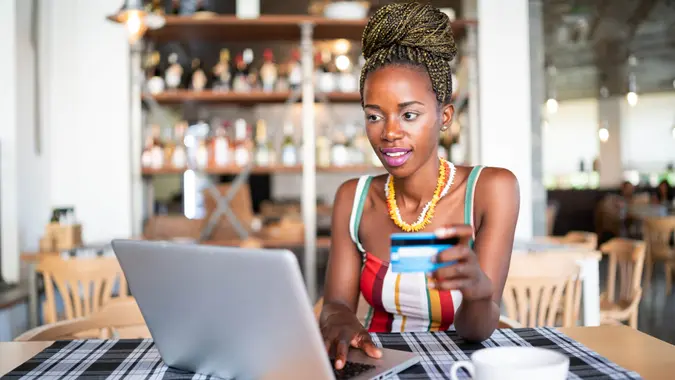 valentinrussanov / Getty Images
Update: Some offers mentioned below may have changed or are no longer available. View current credit card offerings from our partners at CardCritics Here or on the issuer's website.
Capital One offers a vast array of credit cards for customers of all backgrounds and lifestyles. This issuer's various reward-earning options are attractive for those looking to make the most out of their purchasing experience. Explore the best Capital One Rewards credit cards to choose from in 2022.
Best Capital One Rewards Credit Cards at a Glance
Here's a quick overlook of the top five Capital One credit cards for reward hunters.
Credit Card
Details
Venture X

Best for: Travel
Early spend bonus for 75,000 miles after $4,000 in purchases during the first three months
10,000 miles anniversary bonus or $100 towards travel every year
$300 annual travel credit when booking through Capital One Travel
Up to $100 towards Global Entry or TSA PreCheck
10 miles per dollar spent on hotels and rental cars through Capital One Travel
5 miles per dollar spent on air travel through Capital One Travel
2 miles per dollar spent on all other purchases

Journey Student

Best for: Building credit
$5 per month for a year on select streaming subscriptions upon timely payment — up to $60
Unlimited 1% cash back on every purchase
1.25% cash back boost for a month when paying on time

Spark Cash Select

Annual fee: $0
0% intro APR for a year

APR

Best for: Business spending
Unlimited 1.5% cash back on all purchases with no category restrictions
Low minimum payment at $15 or 1% of the amount owed plus new interest and late fees, if applicable

Quicksilver

Annual fee: $0
0% intro APR on purchases and balance transfers for 15 months
APR after introductory period
Best for: Everyday purchases
Unlimited 1.5% cash back on every purchase
$200 welcome bonus after spending $500 in the first three months

Savor

Annual fee: $95

purchase APR

transfer APR

Best for: Dining and entertainment
$300 cash bonus after spending $3,000 within the first three months
Unlimited 4% cash back on dining, entertainment, and select streaming services
3% cash back at grocery stores (excluding Walmart and Target)
1% cash back on any other purchases
10% cash back on purchases with Uber and Uber Eats
The Best Capital One Credit Cards for Each Type of Reward Enthusiast
Comparing options is a must when looking for top financial products. Those seeking to put their hands on one of the best Capital One rewards credit cards can use the guide below to make an educated decision. Assessing all relevant credit card features is crucial to ensure the final choice meets the customer's purchasing needs and helps them maximize their earnings.
Best Credit Card for Travel
Capital One Venture X is a brand new travel credit card. It's the youngest sibling of the Venture and the VentureOne. This product gives customers a bigger bang for their buck when booking flights, accommodations and car rentals through Capital One Travel. Additionally, it yields unlimited rewards on the things you buy every day.
This card's high annual fee is well worth it, considering the numerous benefits this rewards credit card offers cardmembers. However, some may get discouraged by the lack of booking alternatives and having to use the bank's travel portal to earn some serious miles.
Best Credit Card for Students
This option is excellent for those with no credit experience or who are trying to build their score. The Journey Student Rewards Card is full of surprises and sure knows how to incentivize young people to learn about responsible card usage and on-time payments.
The annual percentage rate on this card, however, is rather high. It's strongly advised that cardholders pay their balance in full each cycle. This is a credit best practice that helps debtors avoid hefty interests and fees that may cause them to fall behind on their payments.
Best Credit Card for Business
Unlike other business cards on the market, Capital One's Spark offers rewards on all corporate expenses, regardless of the category. Cardholders can take advantage of this product for purchases of all kinds for their companies.
The minimum monthly payment for this card is fairly low. This gives debtors some flexibility but has the potential to cause high interests in the long run. Although the Spark Cash Select offers a decent flat rate for business rewards, it's not the highest available for enterprises with specific monthly expenses.
Best Credit Card for Everyday Purchases
Quicksilver Rewards from Capital One offers an uncomplicated way to make everyday rewards. This credit card gives 1.5% cash back on everything — no tracking intricate calendars or keeping tabs on reward limits required.
The Quicksilver Rewards card offers a 0% introductory APR while you have the card in the first 15 months, then APR, which makes it an excellent choice for balance transfers. On the downside, it does have a 3% fee on all transfers after the initial 15 months and a high regular APR for those with fair to good credit.
Best Credit Card for Dining and Entertainment
Savor Rewards from Capital One is an excellent option for those who are into having a good time. Savor makes earning rewards a lot more fun by giving unlimited cash back on dining, streaming services and more.
The card does come with a $95 annual fee. Users can opt for the no-fee version of it — the SavorOne — to bypass the yearly payment, although the SavorOne yields slightly lower rewards.
Choosing the Best Capital One Rewards Credit Card
Some of the most relevant aspects a potential cardholder should consider before selecting the right rewards.
Consider the Following:
Final Take
With the many options available, picking the best Capital One rewards credit card can seem overwhelming. However, it's essential to go through all the offers, terms and conditions to avoid surprises down the road. The Capital One credit cards listed above are some of their top products at the moment, and they all offer competitive rewards that help customers boost their savings.
Good To Know

Capital One allows potential and existing customers to learn whether they prequalify for certain credit card options. This tool allows customers to avoid a hard inquiry on their credit that could possibly harm their score.
Which Is the Best Capital One Rewards Card for You?
The best card for you is the one that makes it easy to earn the rewards you'll use most. The more expensive cards in terms of annual fees and comparatively high APRs might be worth the cost if you use them enough to accumulate a lot of rewards — and you pay your balance in full each month to avoid interest charges. Otherwise, consider a card with lower rates, no fees and a simpler approach to awarding cash, points or miles.
Daria Uhlig contributed to the reporting for this article.
Methodology: GOBankingRates identified the best rewards credit cards by analyzing the following factors: (1) annual fees; (2) APR for purchases; (3) promotional APR; (4) sign-up bonuses; (5) rewards and features. All fees and rates are subject to change at the credit card issuers' discretion. Some bonus offers may or might no longer be available on the credit card issuers' websites, depending on how one accesses the webpage. Data was sourced from each financial institution's website or promotional material on March 22, 2022. Please verify terms and conditions before opening an account.
Editorial Note: This content is not provided by Capital One. Any opinions, analyses, reviews or recommendations expressed in this article are those of the author alone and have not been reviewed, approved or otherwise endorsed by Capital One.