7 Best Travel Credit Cards for Free Checked Bags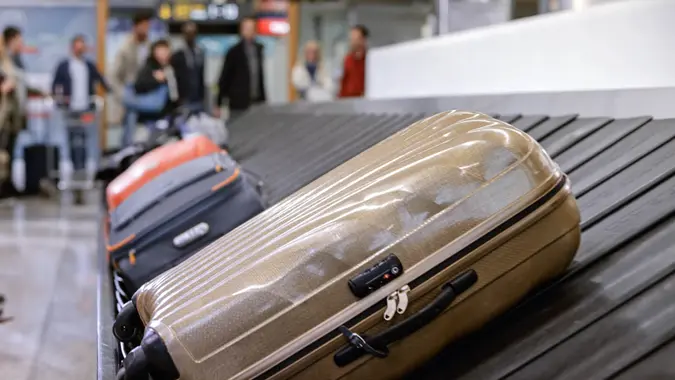 simonkr / Getty Images
When you take that vacation you've been daydreaming about for months, you want to be prepared. If your trip is a week or more, that prep could mean you aren't exactly packing light. The problem is that most airlines charge you to check a bag (and more for a second bag). So, you might think your best bet is to carry on a single pair of pants and hope they miraculously don't get stained during your trip.
Fortunately, you have other options. One of the simplest ways to avoid baggage fees is by flying with Southwest Airlines. That's because Southwest lets you check two bags completely free, regardless of your booking method. But if Southwest isn't your preferred airline, or doesn't have flights that will work for you, another option is to use a travel credit card that includes free checked bags.
Keep in mind that these credit cards generally have annual fees. However, some of them allow one free checked bag for multiple travel companions, so the fees quickly become worth it.
Alaska Airlines Visa Business Card
If you are a business traveler who frequently flies on Alaska Airlines, this card is a natural choice. It includes the same benefits as the consumer card, which means you and up to six companions get your first bag free. According to Alaska Air, that's up to $60 in savings per person, per round trip. The annual fee is just $50 for this card.
Alaska Airlines Visa Signature Card
The Alaska Airlines Visa Signature card has several benefits, one of which is the possibility to check bags for free. It also has a low annual fee of $75. Not only can you check your first bag free with this card, but up to six travel companions can get the same benefit. Just be sure to enter your Alaska Air Mileage Plan number when booking your reservation.
Citi AAdvantage Platinum Select
The Citi AAdvantage Platinum Select card is a branded credit card from Citibank for American Airlines passengers. The card has a $99 annual fee, but you and up to four travel companions can get free checked bags with this card. Plus, the annual fee is waived for the first year.
Hawaiian Airlines World Elite Mastercard
If you frequently fly Hawaiian Airlines, this credit card could be the right choice. It's not as generous as some of the other cards on this list, though, because it doesn't let travel companions check bags for free.
However, it does let the primary cardholder check their first bag for free when booking travel directly through Hawaiian. Plus, it includes some nice companion benefits, such as a one-time 50% companion ticket discount. Note that this travel credit card has a $99 annual fee.
JetBlue Plus Mastercard
The JetBlue Plus Mastercard from Barclays comes with several perks, including a free checked bag. Up to three travel companions on your reservation can check their first bag free, too. The card includes other perks, such as a 50% discount on in-flight purchases. There is an annual fee of $99 for this travel credit card.
If you're a business traveler, the JetBlue Business Card includes the same benefits for the same annual fee.
United Club Business Card
If you are a frequent business traveler, this premium credit card could be worth the $450 annual fee. While the other credit cards on this list only include one free checked bag, the United Business Card lets you check two bags free. According to United, that could save you as much as $320 per round trip. The card also includes priority check-in, security screening, baggage handling and boarding.
United Explorer Card
The United Explorer Card from Chase is one of the best travel cards for free checked bags. Not only do you get your first bag free, but your travel companion can do the same. "The best legacy airline credit card for getting a free checked bag worldwide is United's through Chase because it covers domestic and international flights," says Tim Leffel, editor and author at Al Centro Media.
Leffel notes that other airlines, such as American and Delta, have similar options, but they are more restrictive than what you get from United. The card has no annual fee the first year, then $95.
Other Options
While the above credit cards include checked bag credits, they aren't the only way to have these fees reimbursed. Here are a few other choices to consider:
American Express Platinum Card: While this credit card is pricey — the annual fee is — it does have a lot of benefits. One of those benefits is up to $200 in airline fee credits in the form of statement credits from one selected airline.
Chase Sapphire Reserve: This travel credit card includes up to $300 in statement credits each year for travel expenses. The annual fee is $550.
Hilton Honors Aspire American Express Card: This premium travel credit card has a $450 annual fee. One of the perks it comes with is up to $250 in airline fee credits.
Travel safe!
More From GOBankingRates
All information about American Express card offers have been collected independently by GOBankingRates and have not been reviewed or approved by American Express. These offers are not available through GOBankingRates.