Do Hybrid Rewards Cards Make Any Difference in Total Rewards Saved?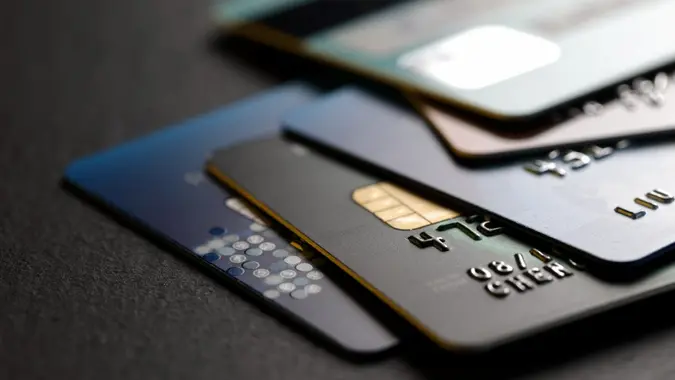 bernie_photo / iStock.com
Update: Some offers mentioned below may have changed or are no longer available. View current credit card offerings from our partners at CardCritics here or on the issuer's website.
When it comes to opening a credit card, there's almost a mind-boggling array of choices, including no annual fee, cash back, balance transfer, rewards, hotel, airline, store, student and business. And because a credit card is a financial tool, it's important to be judicious when opening a new account. If you're looking for a card that's more flexible when it comes to rewards, you may want to consider a hybrid rewards credit card. Learn what it is, how it can help you and whether it's something you should make space for in your wallet.
GOBankingRates' Best Credit Cards: See the Top Cards and Get Helpful Tips
Learn: The Top Purchases You Should Always Make With a Credit Card
What Is a Hybrid Rewards Credit Card?
Hybrid rewards credit cards are a bit different from typical rewards credit cards. You can use them on their own to earn cash back with multiple options for redemption, or you can pair them with other eligible cards to convert the cash to more valuable points. 
See: 4 Credit Cards That Are Great for Day-to-Day Errands

Are Hybrid Rewards Cards a Smart Financial Move?
"Picking up a hybrid rewards card that offers multiple options for redeeming your cash back can be an excellent financial move," said Laura Adams, MBA, a credit card and personal finance expert with Finder. "It gives you the most flexibility for how you use your rewards, including a statement credit, direct deposit or points to spend on a merchandise portal.
"Additionally, if you have other accounts with a card issuer, such as a mortgage, auto loan or student loan, your hybrid card rewards can even be used to pay down your outstanding balance."
Read More: The Quickest Ways To Pay Off Your Credit Card Debt
You can also pair the cards as follows: 
For example, Chase Freedom Unlimited is a hybrid rewards card. It earns cash back on its own, but when you pair it with another Chase card, such as the Chase Sapphire Preferred, your rewards can be converted to Chase Ultimate Rewards points, which can help you unlock higher-level rewards, such as free travel, more quickly than if you did not pair the cards.
Another example of a hybrid rewards card is the Citi Double Cash Card. If you use it by itself, you can redeem points for various rewards, such as statement credits, gift cards and a limited number of travel partners. But if you pair the card with another Citi card, such as the Citi Premier Card, you can transfer points to many more travel partners and the points will also increase in value. 
See: Why It's Still Better To Use Your Credit Card Over Your Debit Card
How Do Hybrid Cards Compare in Terms of Other Credit Cards Rewards Options?
"Many rewards credit cards only offer one reward scheme, such as paying cash back or points for category purchases, which doesn't give you as much redemption flexibility as a hybrid rewards card," Adams said. 
Additionally, using a rewards credit card on its own may not be as lucrative when it comes to maximizing point value. 
Check Out: 90-Second Moves To Raise Your Credit Score 200 Points
In Which Situations Would a Hybrid Rewards Card Be Most Valuable?
"Credit cards with a hybrid rewards structure like the Chase Freedom Unlimited can be valuable spending tools for people who use a card that the hybrid card can pair with for enhanced rewards," said Jason Vissers, credit card analyst for Merchant Maverick. 
However, it's also important to understand how the rewards scheme of your particular hybrid credit card works, so you can get the most out of it. 
"A hybrid reward card is most beneficial when you maximize the available rewards category, such as travel," Adams said. "For instance, if you convert rewards to points, spending them on a partner airline may be more valuable than getting a statement credit."
See: What Happens When You Get Denied for a Credit Card — And What To Do Next
Are Hybrid Cards Worth It When It Comes To Rewards?
"For those who have varied spending needs and who stand to benefit from being able to shift their rewards earnings from category to category, these cards can be beneficial," Visser said.
However, if your spending is mostly concentrated on one category or if you really don't need to be using a second credit card for pairing purposes, these cards may not be the best fit."
More From GOBankingRates
Last updated: Nov. 2, 2021