7 Best Credit Repair Companies for 2023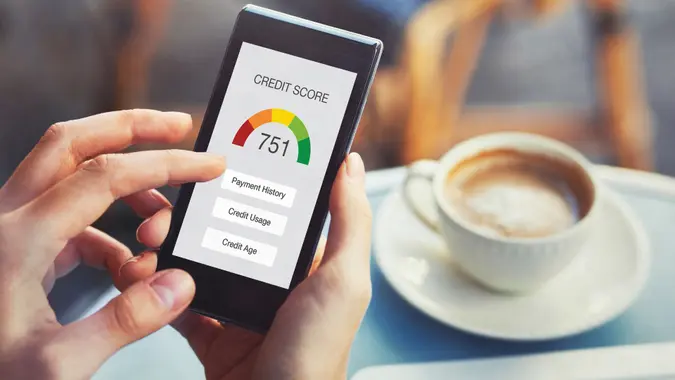 anyaberkut / Getty Images/iStockphoto
Many people have spotty credit history — or bad credit. Even if it's not your fault, having bad credit can limit your options when it comes to getting a loan, credit card or even certain jobs. It can also lead to higher insurance premiums and deposits on leasing agreements. That's why it's important to start building or rebuilding your credit as soon as you can.
But building credit can be time-consuming and potentially confusing, especially if you're not sure how to do it. One way to make things easier is to work with an experienced credit repair company.
7 Best Credit Repair Companies
GOBankingRates has compared multiple companies based on their services, cost and speed of results. Here are seven of the best credit repair companies.
Keep reading to learn more about each of these companies so you can pick the one that best suits your needs.
1. Lexington Law
Lexington Law helps people fix their credit by identifying and removing inaccurate, duplicate or obsolete information from their credit reports. The company's pricing and service structure is separated into three tiers:
Concord Standard: This option includes credit bureau challenges and disputes, creditor interventions, identity theft insurance and more for $99.95 a month.
Concord Premier: This option includes all of the above plus credit score tracking and analysis. It also offers hands-on advice for addressing changes to your credit report. This tier costs $119.95 a month.
Lexington Law offers a free initial consultation to help you determine the best service for you. They claim that most of their clients see a 40-point credit score increase within six months.
2. Credit Saint
Credit Saint is another well-established credit repair company. They have a free consultation with a credit repair expert, as well as a 90-day money-back guarantee. Here are their service tiers:
Credit Polish: For $79.99 a month, you'll get up to five credit agency challenges and disputes per cycle. You'll also get credit score tracking.
Credit Remodel: For $99.99 a month, you'll get all of the above plus an additional five item disputes and credit score analysis.
Each package comes with an initial setup fee of $99 to $195. The company doesn't specify how long the process will take.
3. The Credit Pros
The Credit Pros state that the credit repair process can take up to 6 months, on average. The more errors on your credit report, the longer it can take. They offer three credit repair tiers:
Money Management: This basic package includes one credit report and score, TransUnion alerts, bill reminders and a budgeting system. It costs $69 a month.
Prosperity: Along with the previous features, this option comes with cease and desist letters, creditor interventions, letters of references and error disputes with all three bureaus. It costs $119 a month.
Success Plus: For $149 a month, you'll gain access to a credit builder loan and reports from all three bureaus.
Each package comes with a one-time setup fee ranging from $119 to $149.
4. Sky Blue Credit
Since 1989, Sky Blue Credit has been helping people repair their credit. They have two simple pricing plans:
Individuals: There's a $79 one-time setup fee, and a monthly fee of $79 thereafter.
Couples: There's a one-time setup fee of $119 and a monthly fee of $119.
When you work with this credit repair company, you'll get clear instructions on how to obtain your credit report from each credit bureau. Sky Blue Credit will then go through your reports, identify errors and prepare challenges to file with the appropriate credit bureau.
Sky Blue offers a full 90-day refund if you're not satisfied with the results. They also claim that you'll start seeing results within 35 days — much faster than other competitors.
5. Credit Versio
Credit Versio is an AI software that gives you the necessary tools to repair your credit yourself. The company manages your credit reports, identifies inaccurate information and develops a dispute resolution strategy you can use to improve your credit. Throughout the process, you can track your results through your online account.
Although this is a do-it-yourself option, Credit Versio has a library of resources online that can answer your questions. This includes a wide array of videos from credit repair experts.
Here are Credit Versio's plans:
Smartcredit Basic: For $19.95 a month, you'll receive unlimited disputes and monthly credit reports and score updates from all three credit bureaus.
With Credit Versio, you'll receive monthly updates on your progress. If you're not satisfied with the results, you can cancel your plan at any time.
6. CreditRepair.com
CreditRepair.com is another company that's committed to helping you build a better relationship with your credit. To that end, they offer error identification and disputes, credit report monitoring and educational materials to help you keep good credit in the future.
Once you sign up, the company will review your credit reports for any suspicious or inaccurate information. Then, they'll challenge that information with the reporting bureau. As they do this, they'll also work with you to improve your credit habits.
This company has three main packages, each of which comes with a one-time account setup fee:
Direct: For $69.95 a month, you'll get credit bureau challenges, goodwill intervention, credit inquiry help and quarterly credit score updates.
Standard: For $99.95 a month, you'll also be able to dispute errors bringing down your FICO score.
Like other credit repair companies, CreditRepair.com makes no guarantees. However, they claim you could start seeing results in as few as 30 days. They also state that the entire process typically takes three to six months.
7. The Credit People
The Credit People has a streamlined credit repair process and a simple pricing structure. The average client's credit score increases by 50 to 100 points in 60 days.
Here are the main plans:
Standard: For $79 a month, you get unlimited challenges with all three major credit bureaus.
Premium: For $99 a month, you also receive monthly credit score and report updates, as well as creditor interventions and advanced dispute resolution.
Premium Flat Rate: This is essentially the Premium plan, but it costs $499 for six months — roughly $83 a month. It comes with a six-month satisfaction guarantee.
How Does Credit Repair Work?
Credit repair involves reviewing your credit report for errors — like duplicate accounts or incorrectly reported late payments — and disputing them. You can only legally remove inaccurate or incomplete information from your credit report, according to the Federal Trade Commission.
Credit repair can help with negative items that are inaccurate like:
Late payments
Charge-offs
Accounts in collections
Old judgments
Bankruptcies
Liens
Hard credit inquiries
Contact information like misspelled names or inaccurate addresses
Technically, you can do this yourself by getting a free copy of your credit report from all three major credit bureaus — Experian, Equifax and TransUnion. But if you don't know the ins and outs of identity and disputing errors, you might not be as successful in repairing your credit.
As an alternative, you can hire a company to fix your credit. The best credit repair companies can find and dispute any errors, as well as eliminate any red flags bringing down your score.
How Long Does Credit Repair Take?

The credit repair process can take some time, depending on your individual situation, the company you choose and the information on your credit report. The company you work with might give you an estimate of how long it will take to see the initial results. But be wary of any company that guarantees specific or immediate results.
Is It Worth Paying a Credit Repair Company To Fix Your Credit?
Hiring someone to repair your credit might be worthwhile if you know or suspect there are errors on your credit report, but don't know how to get rid of them. It might also be worth it if you find a reputable company with reasonable fees and excellent support throughout the process.
Many credit repair companies offer the same types of services. However, it's still a good idea to compare several options before choosing one.
FAQ
Here are the answers to some of the most frequently asked questions regarding credit repair companies.
What is the fastest way to repair your credit?

The fastest way to repair your credit is by paying your bills on time and paying as much as you can on any credit card balances you hold.

Can you hire a company to fix your credit?

Yes, there are many companies that you can pay to fix your credit. Here are seven of the best credit repair companies:

-Lexington Law
-Credit Saint
-The Credit Pros
-Sky Blue Credit
-Credit Versio
-CreditRepair.com
-The Credit People
Michael Keenan contributed to the reporting for this article.
Data is accurate as of May 26, 2023, and is subject to change.
Our in-house research team and on-site financial experts work together to create content that's accurate, impartial, and up to date. We fact-check every single statistic, quote and fact using trusted primary resources to make sure the information we provide is correct. You can learn more about GOBankingRates' processes and standards in our editorial policy.