Crypto.com Coin: What It Is, What It's Worth and Should You Buy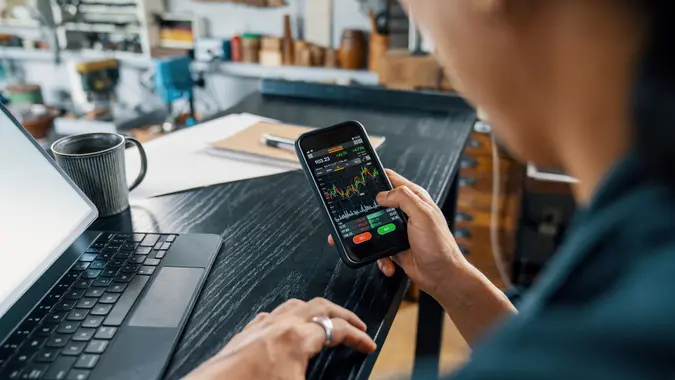 tdub303 / iStock.com
As cryptocurrency approaches a bear market in what is being called a crypto winter, it's important to identify which tokens are here to stay and which have their best days behind them. Crypto.com coin might be one of the better ones.
Cronos, or CRO, is a crypto with strong recognition due to its relationship with Crypto.com, which opens up options and rewards for buyers that could be reinforced as adoption grows.
What Is Cronos Crypto?
CRO is the native proof-of-stake token of the Cronos blockchain. This blockchain is a decentralized open-source network developed by Crypto.com, hence the affiliation. The Cronos blockchain is compatible with both the Ethereum and Cosmos ecosystems, allowing users to transact and move digital assets quickly and at a relatively low cost.
In its current state, the total supply of CRO is 30 billion, which gives it an element of scarcity. The majority of this, roughly 25 billion, is in circulation. The remaining supply has been dedicated to distributing staking rewards as well as for ecosystem development. 
CRO is also connected with the Crypto.org chain, a separate stand-alone network.
What's the Difference Between Cronos and Crypto.org Blockchains?
The main purpose of the Crypto.org blockchain is to make transactions quick and cost-efficient to encourage adoption. The Cronos blockchain goes a step further by integrating with Ethereum and Cosmos. It's the bridge to non-fungible tokens and a way for developers to build decentralized applications to enhance the network's value.
Is the Crypto.com Coin a Good Investment?
As a PoS token, CRO's utility is derived from securing the network. Right now, CRO is primarily used to transact between assets — for example, exchanging Bitcoin to buy CRO or vice versa. However, in the future, the Crypto.com team hopes that it will play a role in decentralized finance, Web 3.0 and the Metaverse as well as increase merchants' acceptance of crypto in general.
There are several additional benefits for holders of CRO, on Crypto.com in particular. These include cash back and staking rewards. Crypto.com's ecosystem makes these rewards available across different applications and varying returns. Some examples of this are:
10% cash back on online merchant payments and peer-to-peer transfers
5% cash back with Crypto.com's Visa card
Up to 8% staking rewards with Crypto.com's Visa card
Up to 14.5% annual percentage yield with Crypto.com Earn
Credit services at an 8% annual percentage rate
10% staking rewards on the Crypto.com Exchange
Boosted rewards with Crypto.com's DeFi Wallet
Cronos Crypto Price Prediction
Several firms that specialize in forecasting the price of cryptocurrencies have weighed in on CRO. Cryptopolitan has the most up-to-date estimates — made in June 2022 — which also reflect current bear market conditions.
| Price Prediction Year | Cryptopolitan Price Estimate |
| --- | --- |
| 2022 | $0.24 |
| 2023 | $0.35 |
| 2024 | $0.51 |
| 2025 | $0.75 |
| 2026 | $1.09 |
| 2027 | $1.55 |
| 2028 | $2.24 |
| 2029 | $3.22 |
| 2030 | $4.50 |
| 2031 | $6.66 |
Where Can I Buy Cronos Crypto?
Despite its association with Crypto.com, CRO can be bought and sold from a number of centralized and decentralized exchanges. These include but are not limited to:
CRO is not currently available on Binance.
Final Take
CRO is among the cryptos that appear to demonstrate some degree of utility or value to the buyer. That said, the current state of the crypto markets is rocky at best as macroeconomic conditions test the faith of long-term holders. For this relatively new crypto token, any investor should temper their expectations regarding price appreciation. 
FAQ
Here are some questions people ask about Cronos, Crypto.com's native token.
Is the Crypto.com coin a good buy?

Crypto.com coin, also known as CRO, is considered to be undervalued by some crypto price predictors. It is one of the largest cryptos by market capitalization and has a strong affiliation with one of the largest exchanges in the world, Crypto.com, which gives it credibility.

What will the CRO coin be worth?

Cryptopolitan forecasts CRO will be worth $0.24 in 2022, $0.75 in 2025 and $4.50 in 2030.

What is the Crypto.com coin?

Crypto.com coin, also known as CRO, is the native token of the Cronos blockchain. It has cross-functionality with DeFi systems and NFTs. Additionally, it provides utility through scarcity and holders can earn rewards through

staking crypto

.

Is the Crypto.com coin safe?

Crypto.com coin, or CRO, has integrations with the Ethereum blockchain and the backing of Crypto.com. Even for one of the more credible tokens, though, investing in any crypto carries extreme risk.
Information is accurate as of June 27, 2022.
Editorial Note: This content is not provided by Crypto.com. Any opinions, analyses, reviews, ratings or recommendations expressed in this article are those of the author alone and have not been reviewed, approved or otherwise endorsed by Crypto.com.