How To Buy SafeMoon on BitMart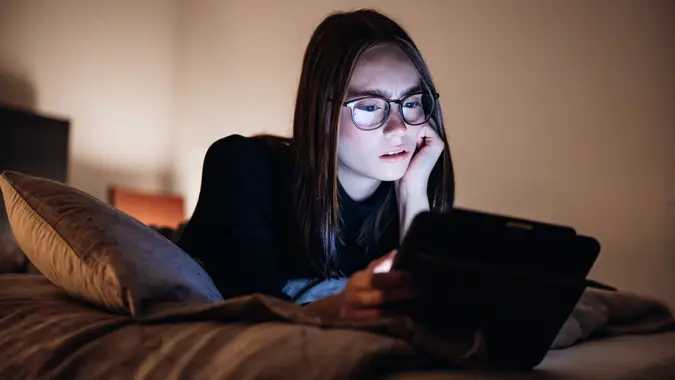 Finn Hafemann / iStock.com
BitMart is one of the few larger exchanges that lets users buy SafeMoon. Users can only buy SafeMoon on BitMart with Tether (USDT). The process will take longer than buying widely available cryptos such as Bitcoin, but it is still relatively simple.
What Is SafeMoon Crypto?
SafeMoon is a decentralized finance token on the Binance Smart Chain. The value for holders is derived from depreciating supply.
This is accomplished by incorporating a 10% penalty fee, or tax, for any sellers of the SafeMoon token. This penalty disincentives selling and it rewards those who continue to hold SafeMoon. 
SafeMoon V1 vs. SafeMoon V2
SafeMoon V1 is "no longer supported," according to the SafeMoon website. Right now, migration to SafeMoon V2 is underway. To encourage migration, a 100% transaction tax has been implemented for SafeMoon V1. There are no fees or charges for swapping SafeMoon V1 tokens for SafeMoon V2.
On top of the migration, changes have also been made to the allocation of the 10% fee. Previously, for SafeMoon V1, 5% went to liquidity pools — a collection of funds that make decentralized trading possible. The other 5% was redistributed to token holders. For SafeMoon V2, the 10% tax distribution has been updated to the following:
4% is redistributed to all existing token holders
3% goes to the liquidity pool
2% of tokens are burned — removed from circulation
1% goes towards the SafeMoon Ecosystem Growth Fund.
Is SafeMoon Legit?
SafeMoon has received heavy criticism from media outlets and crypto influencers. Even diehard SafeMoon advocates have voiced dismay due to not receiving promised redistribution payments for holding the token. 
More worrying, however, is the fact that SafeMoon is facing a class-action lawsuit for defrauding and misleading investors. Many experts have come to the conclusion that SafeMoon shows all the hallmark traits of a Ponzi scheme and argue that the token has no real use.
What Is BitMart?
BitMart is a centralized exchange that began in 2018 and is based out of the Cayman Islands. BitMart supports crypto trading in more than 180 countries and services 9 million customers. 
In addition to its web platform, BitMart has an app available to download on both the Apple App Store and the Google Play Store which are rated 4.6 stars and 3.0 stars, respectively. Users can trade more than 1,000 cryptos, take advantage of its staking services and buy and sell NFTs.
Is BitMart Safe?
CoinMarketCap gives BitMart a score of 5.5 out of 10 based on web traffic, liquidity, transaction volume and legitimacy. In comparison, FTX and Binance rank among the best crypto exchanges, with scores above 8.5 and 9.9, respectively. 
BitMart states its core priorities are trustworthiness, accessibility and professionalism. While it is one of the largest exchanges in the world, there have been a couple of issues. 
BitMart self-proclaims that it is the "most trusted cryptocurrency trading platform." Yet, it was hacked in late 2021, and many customer complaints ensued. The core problems highlighted by its users were promised funds not being returned and a lack of communication from BitMart.
How To Buy SafeMoon on Bitmart
There are a number of steps to take to buy SafeMoon on BitMart. These include:
Downloading the app or going to the BitMart website
Setting up an account
Using fiat currency or transferring crypto to buy USDT
Buying SafeMoon with USDT.
Here is the complete step-by-step breakdown for buying SafeMoon on BitMart. 
Download the BitMart App or Go to the BitMart Website
The BitMart app is available for download on both the Apple App Store and the Google Play Store. As an alternative, people can access BitMart's online platform at bitmart.com.
Set Up a BitMart Account
Simply input a phone number or email address, create a password and verify the account. Further details relating to residency and identification will need to be filled out for full verification. BitMart will then prompt users to make a deposit. 
Make a Deposit
Fiat currency deposits cannot be made to a BitMart account. Users can only buy crypto with fiat currency or transfer crypto from another exchange. 
One of the most efficient ways to buy SafeMoon on BitMart is by directly buying USDT with U.S. dollars or another acceptable currency. Bear in mind that fees do apply. MoonPay is the most popular option, with a 3.5% fee.
Alternatively, if a new or existing user holds cryptocurrency on another exchange, they can transfer holdings to BitMart to complete the process. Transfer fees will depend on the exchange. As detailed above, USDT is required to buy SafeMoon on BitMart, so users may need to convert their deposited crypto.
Buy SafeMoon With USDT
Once the initial purchase of USDT has settled, users can search SafeMoon or SFM and select the buy option. The USDT tokens will be exchanged for SafeMoon once the user accepts the transaction, and their new holdings will appear in the Assets tab.
How To Convert SafeMoon V1 to V2 on BitMart
BitMart is handling the migration from SafeMoon V1 to SafeMoon V2 for its customers. The process will be completed automatically — no intervention from the token holder is required.
Where Else Can I Buy SafeMoon?
In addition to BitMart, the full list of exchanges where SafeMoon can be purchased includes:
PancakeSwap
Decoin
Gate.io
ZBG
BiKi
LBank
Hoo
Hotbit
MEXC
Bitbns
Bitrue
WhiteBIT
KickEx
BitForex
BHEX
Jubi
Biswap
It is not currently possible to buy SafeMoon on popular finance apps such as Coinbase, Binance, Crypto.com, WeBull, Robinhood or Kraken.
SafeMoon Price Prediction
Telegaon, a blockchain solutions company that provides analysis and educational content for crypto, has made the following price predictions for SafeMoon. Given the extreme risk associated with SafeMoon, these forecasts should be taken with a pinch of salt.
SafeMoon Price Prediction 2022
The average estimate for the SafeMoon price in 2022 is $0.0015.
SafeMoon Price Prediction 2025
The average estimate for the SafeMoon price in 2025 is $0.0084.
SafeMoon Price Prediction 2030
The average estimate for the SafeMoon price in 2030 is $0.24.
Final Take
The process for acquiring SafeMoon tokens is more difficult than buying or selling well-known cryptos such as Bitcoin and Ethereum, but there aren't a whole lot of alternatives. 
To some extent, its lack of availability on reputable exchanges brings the legitimacy of SafeMoon into question. Consumers should always research crypto before buying, but, for those willing to buy SafeMoon, BitMart is as good an option as any. 
FAQ
Here are some questions people ask about buying SafeMoon.
Where can I buy SafeMoon BitMart?

People can buy SafeMoon on BitMart with USDT. BitMart is available in over 180 countries worldwide.

How do you buy SafeMoon?

SafeMoon can be bought using BitMart, PancakeSwap and Gate.io, along with others. However, buyers may not be able to directly purchase SafeMoon with fiat currency. Initially, purchasing a crypto token that is paired with SafeMoon could be required to buy the token outright.

How do I get SafeMoon V2 on BitMart?

Simply search SFM to find SafeMoon V2 on BitMart.

What platforms can I use to buy SafeMoon?

There are a number of platforms where people can buy SafeMoon. Some of the top exchanges to buy SafeMoon are BitMart, Gate.io, MEXC, LBank and WhiteBIT.
Information is accurate as of June 13, 2022.
Our in-house research team and on-site financial experts work together to create content that's accurate, impartial, and up to date. We fact-check every single statistic, quote and fact using trusted primary resources to make sure the information we provide is correct. You can learn more about GOBankingRates' processes and standards in our editorial policy.