Crypto Crackdown: How Gemini and Genesis Charges Affect Industry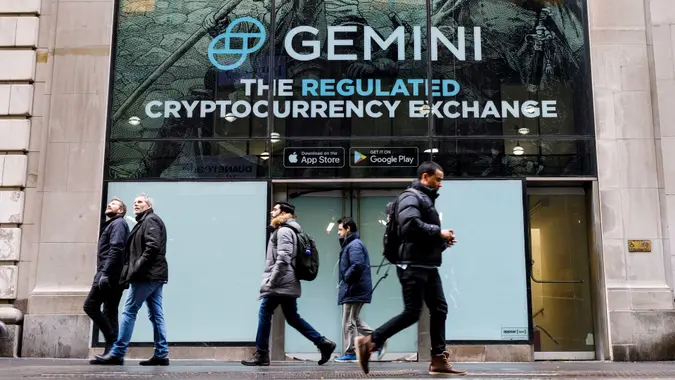 Another one bites the FTX dust. The Securities and Exchange Commission (SEC) announced this week that it had charged Genesis and Winklevoss twins-founded Gemini for "the unregistered offer and sale of securities to retail investors through the Gemini Earn crypto asset lending program."
The Future of Finances: Gen Z & How They Relate to Money
Check Out: 3 Things You Must Do When Your Savings Reach $50,000
See Our List: 100 Most Influential Money Experts
"Through this unregistered offering, Genesis and Gemini raised billions of dollars' worth of crypto assets from hundreds of thousands of investors. Investigations into other securities law violations and into other entities and persons relating to the alleged misconduct are ongoing," the SEC said in a Jan. 12 statement.
Industry CEO: This Is Not a Crypto Problem
Genesis Global had announced on Nov. 16 that it was halting withdrawals at its lending business, due to the "unprecedented market turmoil" FTX had created. In turn, Gemini's yield program, Gemini Earn — whose lending partner is Genesis — also announced that it would not be able to meet customer redemptions within the service-level agreement of five business days, according to a statement at the time.
Brent Xu, CEO and co-founder of Umee, emphasized the importance of noting that both Genesis and Gemini are centralized operators and that DeFi should not be lumped into the same category as these two players.
"DeFi has inherent transparency and auditability that should be fostered to defend against these kinds of centralized failings," Xu said.
Take Our Poll: If Elon Musk Offered You a Job Paying You More Than You Make Today, Would You Work for Him?
Tyler Winklevoss Calls Charges 'Counterproductive'
The SEC complaint alleges that Genesis held approximately $900 million in investor assets from 340,000 Gemini Earn investors — a program that was terminated earlier this month — and that Gemini Earn retail investors have still not been able to withdraw their crypto assets.
"We allege that Genesis and Gemini offered unregistered securities to the public, bypassing disclosure requirements designed to protect investors," SEC Chair Gary Gensler said in the Jan. 12 statement. "Today's charges build on previous actions to make clear to the marketplace and the investing public that crypto lending platforms and other intermediaries need to comply with our time-tested securities laws. Doing so best protects investors. It promotes trust in markets. It's not optional. It's the law."
Tyler Winklevoss called the SEC move "disappointing," as he said Gemini and other creditors are "working hard together to recover funds."
"This action does nothing to further our efforts and help Earn users get their assets back," he added in a Jan. 12 tweet. "Their behavior is totally counterproductive."
How Does This Affect Crypto Industry?
Some experts agree with that premise, arguing that this move doesn't change anything for the industry.
"These were niche products offered by these companies, and they knew these products would draw regulatory scrutiny," said David Maria, head of litigation and regulatory affairs at crypto exchange Bittrex. "Offering a lending product with guaranteed yield to all retail customers was undoubtedly going to lead the SEC to conclude that these amounted to notes and investment contracts. That said, this doesn't mean that the SEC is right in this situation; but, again, these companies obviously knew the SEC would take the position it has taken now."
Other experts argue that the regulators' actions are continued clear indications of the application of the federal securities laws to all crypto-related financial services.
Prometheum CEO Aaron Kaplan said, "The crypto financial services infrastructure is failing — think of the failures of FTX, Celsius, Three Arrows Capital and, possibly, DCG — and is going to be replaced by brokerage firms that are licensed and regulated under the federal securities laws."
According to Kaplan, the crypto industry needs to repair its relationship with the retail-investing public, and ensuring investors' assets are properly protected under a clear and established regulatory framework — the federal securities laws — will allow for investor confidence to be rebuilt.
"Existing crypto financial service providers are going to have to evolve, or die, as they will need to ensure that their technology, operations and regulatory licensing and procedures are compliant with securities laws," Kaplan said. "Going forward, those who provide fintech-related crypto services and products will have to pay much more attention to the regulatory components and requirements associated with such activities."
More From GOBankingRates