5 Best Crypto Hardware Wallets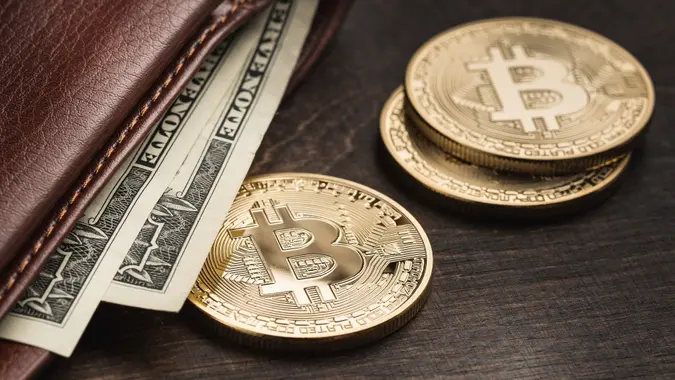 D-Keine / iStock.com
A crypto hardware wallet makes it easy to store your cryptocurrency securely. Sometimes called "cold storage," since your hardware wallet is not stored on any network, a hardware crypto wallet is virtually unhackable, giving you the greatest peace of mind about your crypto investment. Keep reading to learn about some of the best hardware wallets and safety considerations you should take into account so you can choose the right option for you.
Are Crypto Hardware Wallets Actually Safe?
Most hardware wallets resemble USB flash drives or external hard drives. They are not connected to the internet unless you connect them to an internet-connected computer in order to transfer funds in or out of your wallet. As long as you remember to disconnect the wallet when you're done, hackers cannot access your crypto investment remotely online.
Some crypto hardware wallets don't connect to the internet at all. Instead, you access your investments through QR codes or a touch screen on the device.
Of course, there is still the risk of losing your crypto wallet or having it stolen, so it's always important to keep it in a safe place.
To provide the peace of mind you need, you'll want a wallet that:  
Will stand the test of time and not break or wear out
Has a reliable, secure backup system
Is impervious to fires, floods or shock damage so that you can always access your investment
What Are the Best Crypto Hardware Wallets?
To help you choose the best crypto hardware wallet for your needs, here's a look at the features offered by five of the best options.
Best Overall Crypto Wallet: Ledger Nano X
On its Amazon product page, Ledger calls the Nano X crypto hardware wallet "the best way to securely buy, manage and grow all your digital assets."
Does the cold wallet live up to the hype? Retailing for $149, the Nano X is not the cheapest hardware wallet — but it's not the most expensive, either. (Keep reading to see which cold wallet earns that honor.)
The Nano X connects to any smartphone via Bluetooth technology and is small and convenient to carry, about the size of a USB thumb drive. The Nano X lets you manage up to 100 different types of crypto at one time. It is compatible with more than 5,500 coins and tokens.
If Ledger Live doesn't support your preferred coins or NFTs, you can use an approved third-party wallet to invest and trade. These features make Ledger Nano X the perfect crypto wallet for beginners and advanced investors alike.
Pros
Competitively priced
Supports 5,500+ coins and tokens
Small in size
Supports iPhone and Android
Cons
Smaller touch screen than some wallets
Cannot purchase crypto using USD through the wallet
Best Low-Cost Crypto Wallet: Ledger Nano S Plus
If you're looking for a high-quality, secure, streamlined, easy-to-use crypto wallet for under $100, the Ledger Nano S Plus would be GOBankingRates' top pick. That's because the Nano S Plus has many of the same features as its big brother, the Nano X, including USB drive styling and a 4.5-star Amazon rating, for a price of just $79.
Like the Nano X, you can install more than 100 apps at the same time and manage more than 5,500 digital assets. Both drives use the same sophisticated security and are independently certified by ANSSI. The main difference is that the Nano X has greater storage capacity, a battery life of up to eight hours in standby mode, and is Bluetooth compatible to work with both Android and iOS mobile devices. The Nano S Plus can only work when plugged in to receive power. Because of this, it is also slightly lighter in weight.
Pros
Affordable alternative to Ledger Nano X
Manage more than 5,500 digital assets
Less than $80 in price
Cons
Not Bluetooth compatible
No battery storage
Small touch screen may be hard to use for some people
Best Mobile-Compatible Cold Storage Wallet: Arculus Key Card
When you search Amazon for "the best cold storage wallets," the Arculus Key Card pops up as an alternative to hard drive storage. Retailing for $99, this sleek metal card, which features the Arculus logo embossed in black, is hailed as the next generation in cold storage technology.
Keys aren't stored online anywhere but instead are embedded in the card and protected by three-factor authentication. The card also uses the same best-in-class CC EAL6+ Secure Element Hardware Classification as Ledger hardware wallets.
Rather than using a Bluetooth connection or USB-C interface, the Arculus Key Card uses NFC technology to communicate with your Android or Apple mobile device. You can also access blockchain apps through WalletConnect using your Arculus.
There is no power source or battery storage required for Arculus, making it the most streamlined and lightweight offline crypto storage solution you can find. It's no wonder the key card earned 4.5 stars from Amazon reviewers.
However, it's worth realizing that Arculus only supports a few dozen cryptocurrencies to store, send or receive, and less than 10, including Bitcoin and Ethereum, that you can buy and swap, compared to the vast variety supported by Ledger hardware wallets.
Pros
Sleek and streamlined
Low cost
Completely offline solution
No power source required
Cons
Requires the Arculus Wallet App to operate
Supports limited number of cryptocurrencies compared to some other options
Best Touch-Screen Cold Wallet: Ngrave Zero
One of the major user complaints about some of the best cold wallets is that their small touch screen can be difficult to operate. The Ngrave Zero solves this issue with a large, full-color touch screen that is 4 inches long, compared to the 1 or 2 inches offered by other brands.
The Ngrave Zero also uses biometric security via your fingerprint to establish your key, unlock the device and sign transactions. All transactions are executed via QR codes, so your wallet never actually connects to the internet.
The Ngrave Zero doesn't support as many cryptocurrencies as Trezor or Ledger drives, but the innovative security sets it apart. The Ngrave Zero supports more than a dozen cryptos, including Bitcoin and Ethereum, plus many ERC20 tokens and NFTs. Designed for advanced crypto traders with large investments to protect, it costs $462, putting it in a class by itself when it comes to pricing.
Pros
Extra-large, 4-inch, full-color LCD touch screen
Fully offline operation through QR codes
Mobile compatible
Biometric security
Cons
Only supports limited types of cryptocurrencies
Much more expensive than competitors
Best for Trading and Purchasing Crypto: Trezor Model T
The Trezor Model T crypto hardware wallet isn't cheap at $255, but its capabilities and advanced security make it well worth the investment.
First, the Model T allows you to purchase, sell or trade crypto, including Bitcoin, directly through the wallet without connecting to a third-party crypto trading app. Your investment is always safe and is backed up offline by a 12- to 24-word long recovery seed. You can also choose to store your seed on the Cryptotag Zeus metal seed plate.
The Model T connects to your device via USB-C and includes an LCD touch screen for operation. You can also opt to install Bitcoin-only firmware or use your Trezor for two-factor authorization for added security.
There is one drawback worth mentioning: The Trezor Model T is not compatible with iOS for iPhone users, but you can connect through the Firefox and Chrome browsers.
Pros
Offline backup options available
Allows you to trade crypto through the wallet
Supports Windows, macOS, Linux, Firefox, Chrome and Android (via USB-C)
Cons
More expensive than some alternatives
Not directly compatible with iOS
Final Take
A hardware wallet is the most secure way to store your crypto investment. However, it's still important to remember that investing in cryptocurrency is highly speculative, and even if your investment is securely stored, you can still lose your money due to downturns in the market. The stability of various NFTs and cryptocurrencies varies widely. How much you invest in crypto — and if you invest at all — will depend on your personal risk tolerance.
With that in mind, if you decide to put some of your fiat money into cryptocurrencies, you'll want to make sure to protect that investment by storing it in one of the best cold wallets available and making sure to disconnect that device from the internet when you aren't making a transaction.
FAQ
What is the best hardware wallet?

Based on GOBankingRates' research, the Ledger Nano X is the best crypto hardware wallet for your money. With a 4.5-star rating on Amazon and over 5,800 user ratings, the Ledger Nano X connects to your phone via Bluetooth, is easy to use and is more affordable than some competitors. You can buy, sell and trade crypto through the company's proprietary app. Depending on your needs and budget, there are also many other great options for hardware wallets to store crypto offline.

What does a hardware wallet do?

A hardware crypto wallet stores your cryptocurrency investment as well as passwords and DeFi (decentralized finance) apps. Because it is not connected to the internet (except when you connect it), it is impervious to hackers when it's online. It is widely touted as the most secure way to store your crypto investments.

Is a hardware wallet a good idea?

If you have more than a few dollars invested in any cryptocurrency, it's a good idea to store your crypto in a hardware wallet. Storing your crypto in whatever investment app you use, or in a software-based wallet online, is not considered secure. On the other hand, you can be assured that your investment is safe from theft, loss or hackers in a cold storage wallet.

Can you put any crypto on a hardware wallet?

Most hardware wallets allow you to store Bitcoin as well as

the most popular altcoins

, including Ethereum, Cardano, Polygon, Binance and others. Many will also let you store non-fungible tokens, or NFTs. If you have more obscure altcoins, NFTs or metaverse investments, read the fine print or contact the manufacturer before you purchase a hardware wallet to ensure that it is compatible with the coins, tokens or NFTs you want to store.
Information is accurate as of Aug. 30, 2022.