Mark Cuban Called This Investment 'Dumb': Do Other Experts Agree?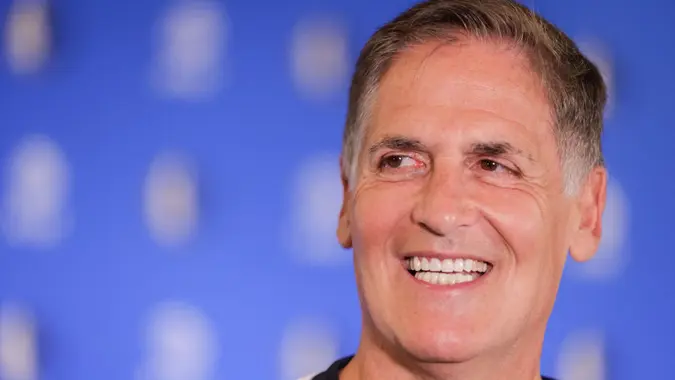 Luka Dakskobler/SOPA Images/Shutterstock / Luka Dakskobler/SOPA Images/Shutterstock
Billionaire entrepreneur Mark Cuban has long touted the viability of bitcoin, and despite the cryptocurrency's volatility, he believes it's a better investment than gold.
"If you have gold you're dumb," Cuban said on the "Club Random with Bill Maher" podcast. "It's not a hedge against anything. Gold is a store of value and so is bitcoin. You don't own the gold bar, and if everything went to hell in a handbasket and you had a gold bar, you know what would happen? Someone would beat […] you or kill you and take your gold bar. It's useless."
$2,000 Quarter? Check Your Pockets Before You Use This 2004 Coin
Tips: 3 Things You Must Do When Your Savings Reach $50,000
While it's clear where Cuban stands on the bitcoin versus gold debate, GOBankingRates wanted to hear from other financial experts to get their take on which is the better investment asset.
Team Bitcoin
Some of the financial experts we spoke to agreed with Cuban, including Fraser Matthews, president of Netcoins, a Canada-based crypto trading platform.
"Bitcoin has a limited supply, which makes it more scarce than gold," he said. "The fact that bitcoin is decentralized, meaning it is not controlled by any government or central bank, has the potential to offer a secure, low-cost and efficient way to transfer money around the world. Bitcoin has a high level of volatility and can be used as a hedge against inflation, which is not the case with gold.
"Although both bitcoin and gold are considered to be a smart long-term investment decision and gold is a tangible asset that has been a reliable store of value for centuries, the cryptocurrency seems to have a better potential to generate substantial returns over time," he concluded.
Team Gold
Not everyone was sold on Cuban's line of thinking.
"The biggest problem with Mark Cuban's commentary is that he assumes all investors have the same goals and risk tolerance," said Richard Gardner, cryptocurrency expert and CEO of Modulus. "Gold has historically been known for its ability to store value and tamp down volatility to a minimum."
Take Our Poll: What Are Your Financial Priorities in 2023?
Gardner notes that bitcoin may be a good investment for some, but not all.
"It is easy to say that bitcoin is a better investment than gold if you're a billionaire," he said. "For somebody who is near retirement and may not have a large investment portfolio, they may well find comfort in gold, given the current historic inflation. If Cuban is saying that bitcoin has more upside than gold, then he's probably right. However, that upside could completely disappear if regulatory bodies make moves against cryptocurrencies. The bottom line is that the 'right' investment depends as much on the investor as on its upside."
Robert R. Johnson, Ph.D., CFA, professor at the Heider College of Business at Creighton University, also said he would choose gold over bitcoin — though he doesn't recommend investing in either asset.
"From an investment standpoint, choosing between gold and bitcoin involves selecting the lesser of two evils," he said. "From that standpoint, there is no question that I would select gold. It has a long history as a store of value and has industrial uses as well as uses for jewelry. But, as a long-term investment, gold is simply no match for the stock market."
Sam Boughedda, equities trader and lead stock market news writer at AskTraders.com, also would invest in gold over bitcoin.
"While there is the possibility of significant profits in a short space of time for bitcoin investors, there is the possibility of significant losses as well," he said. "Gold is a less volatile asset, but it is a good way of diversifying a portfolio and is used as a hedge against inflation. It is probably very old-fashioned of me, but I prefer the asset that has some use in products made today, although I do acknowledge that bitcoin has some interesting aspects."
Team Neither
Josh Answers, host of the YouTube channel "The Trading Fraternity," doesn't believe that one asset is inherently better than the other.
"Gold has been a good investment for many people since 2002, but it is not as profitable as bitcoin," he said. "The smart move is to invest in a variety of sectors and not have too much money in one sector. This is especially true for sectors that can fluctuate by $2,000 in value overnight! Stay patient and research every investment thoroughly before making a decision."
More From GOBankingRates