ProShares Bitcoin Strategy ETF (BITO): What Is It and Should You Invest?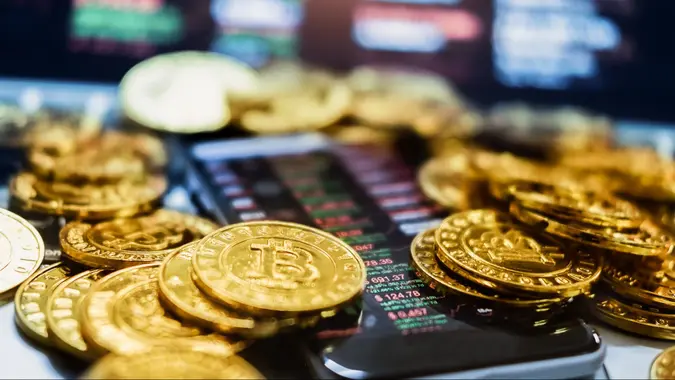 Jirapong Manustrong / Getty Images/iStockphoto
Bitcoin had meager beginnings when it first appeared in 2009. Fewer understood the technology behind it. However, the cryptocurrency became more noticed over time and began gaining value as more people became interested.
More than a decade later, the cryptocurrency continues to set new value records and attract more attention. On Oct. 19, 2021, ProShares — an exchange-traded fund issuer — became the first to issue and list a Bitcoin-linked ETF on an exchange.
Here's a brief rundown of this history-making ETF, how it is traded and what it means for Bitcoin and investors.
What Is ProShares Bitcoin ETF (BITO)?
BITO is an exchange-traded fund that is linked to the price of Bitcoin futures contracts. It's important to understand that while BITO mentions Bitcoin and is loosely based on its price, it is not cryptocurrency.
The fund is not entirely made up of bitcoin futures contracts. It can also use money market instruments such as U.S. Treasury bills and repurchase agreements to minimize risk and raise capital to buy more futures contracts.
What Are the Pros and Cons of BITO Pros?
Historically, Bitcoin has been relatively volatile in price. However, as financial institutions and investors keep looking for ways to gain exposure to cryptocurrency, it has become increasingly more popular and valuable.
Pros
Investors can gain exposure to Bitcoin without buying expensive equipment to mine or needing to buy it.
Investors can buy ETF shares at a brokerage or on ProShare's website.
There is a possibility of huge returns if Bitcoin prices continue to surge
Cons
The fund is actively managed with high operating expenses of 0.95%.
There are excessive risks when compared to ETFs linked to stocks.
Investors can lose big if Bitcoin prices drop.
The managers can use leverage to finance future contract purchases.
Is Bito a Safe Investment? Risks Involved
BITO is linked to an underlying asset, so it inherits many of the risks that Bitcoin has. Alongside the market, liquidity and management risks, this ETF brings significant risks in the form of:
Leverage risk: The fund is allowed to borrow to purchase Bitcoins if needed.
Bitcoin risk: There are many risks that Bitcoin itself brings to the fund, such as network changes, fraud, theft, manipulation and security breaches.
Diversity risk: BITO is classified by the U.S. Securities and Exchange Commission as non-diversified, which means it can concentrate its holdings in one or a few types of assets or companies. Since the fund only invests in Bitcoin futures contracts, investors take a huge gamble when buying shares of BITO.
How Does BITO Affect Bitcoin's Price?
Initially, the ProShares Bitcoin Strategy ETF was met with investor exuberance. BITO was listed on the exchange on Oct. 19, 2021. Prices had already risen in anticipation of the ETF's listing, but by the end of the day on Oct. 20, 2021, Bitcoin prices had surged to $66,021 — an increase of nearly $2,000 in one day. BITO itself brought in more than $1 billion in two days, setting a new record for initial offerings.
As word spread throughout the market, Bitcoin's price continued to climb, spiking to $69,000 on Nov. 9, 2021. Then, in mid-November, Bitcoin's price dropped back down to previous levels. Bitcoin's price currently stands at $45,733.89, as of March 31, 2022. There is not nearly enough information yet to say how Bitcoin's price will be affected by BITO in the long run, but it might be safe to say that investor exuberance caused prices to initially spike and then drop.
Should You Invest in ProShares Bitcoin ETF?
By now, it should be understood that buying shares of this Bitcoin EFT is not so much investing as it is speculating. BITO is linked to a speculative type of investment — futures contracts. A retail investor with limited assets and capital looking for a growth strategy to build a nest egg for retirement, or increase their net worth might not find this to be the best purchase. However, an investor might have some extra capital they could put into a Bitcoin-linked ETF if they believed that it was a good investment.
Takeaway

BITO's price per share is relatively low at this point; purchasing a few shares might not be a bad thing for average retail or other investors who want to get involved in the Bitcoin craze; as long as it doesn't affect the rest of their portfolio.
It's too early to tell where BITO's price will go. Bitcoin is still relatively new to the markets — BITO is even newer. Thus, would be pure speculation to predict where it might end up.
Our in-house research team and on-site financial experts work together to create content that's accurate, impartial, and up to date. We fact-check every single statistic, quote and fact using trusted primary resources to make sure the information we provide is correct. You can learn more about GOBankingRates' processes and standards in our editorial policy.