10 Best ETFs To Buy for Long-Term Growth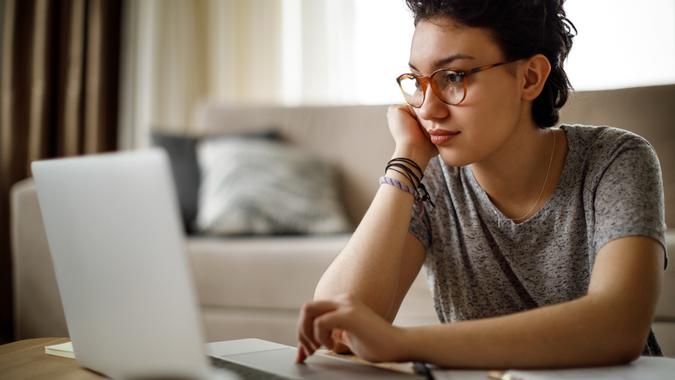 damircudic / Getty Images
If you're a long-term investor looking to diversify your growth portfolio, there are a number of exchange-traded funds that can help you reach your goals. Exchange-traded funds, or ETFs, are like mutual funds in that they hold multiple securities, but they trade on an exchange like a stock. This makes them very easy to buy and sell, and they generally have low internal expenses as well.
Top 10 Long-Term ETFs To Consider Right Now
With a single purchase, you can track any number of different sectors or market indices, from international small-cap or dividend stocks to the entire U.S. stock market. While there are literally thousands of ETF options, here are 10 that do a great job of covering various areas of the stock market.
Invesco Solar ETF (TAN)
Price as of June 16: $69.55
The Invesco Solar ETF is one of the few that has both recent gains and a 10-year track record of excellent performance. It tracks the MAC Global Solar Energy index, which weighs companies by revenue. The ETF has $2.45 billion in assets under management, 42 holdings in its portfolio and a low 0.69% expense ratio. Over the last 10 years, TAN has delivered average annual returns of 16.75%.
iShares Core S&P U.S. Growth ETF (IUSG)
Price as of June 16: $80.61
The iShares Core S&P U.S. Growth ETF is another popular market-tracking ETF, with $298.91 billion in assets under management. The ETF tracks U.S. mid- and large-cap growth stocks, selecting equities based on sales growth, price-to-earnings ratio changes and momentum. This fund has a low 0.03% expense ratio, and its 10-year average annual returns are 13.11%.
Invesco S&P 500 GARP ETF (SPGP)
Price as of June 16: $77.45
The Invesco S&P 500 GARP ETF tracks S&P 500 stocks and makes selections according to growth, quality and value, weighted by growth. This is a smaller fund, with just 75 holdings and $841.28 million in assets under management. However, it was established in 2011, which means it has a solid track record, and it has returned an average of 15.40% per year over the last 10 years.
Invesco KBW Property & Casualty Insurance ETF (KBWP)
Price as of June 16: $77.31
The Invesco KBW Property & Casualty Insurance ETF tracks the KBW Nasdaq Property & Casualty Index, which consists solely of property and casualty insurance companies, weighted by market cap. The fund has gained 0.24% year to date and over 6% in the last year, whereas most top-performing broad ETFs have steep losses for the same periods. KBWP is a small fund, with $132.81 million in assets under management, but its 10-year average annual return is an impressive 13.51%.
iShares U.S. Healthcare ETF (IYH)
Price as of June 16: $249.77
The $2.64 billion iShares U.S. Healthcare ETF has shown more modest losses over the past year than many broad funds, and its long-term returns are highly competitive. It tracks the Russell 1000 Health Care RIC 22.5/45 Capped Index and has 116 holdings that include the largest pharmaceutical, healthcare and biotechnology companies in the U.S. The fund has a low 0.41% expense rations. Over the last 10 years, it has produced average annual returns of 14.20%.
The Technology Select Sector SPDR Fund (XLK)
Price as of June 16: $123.49
If you're looking for a little more punch in your growth stock portfolio, take a look at the Technology Select Sector SPDR Fund. This ETF is dedicated to specific sectors of the market rather than tracking a broad market index. As a more narrowly focused ETF, this fund can be more volatile than the broader index funds, but it may also offer the potential for greater returns.
Over the past 10 years, the performance of the Technology Select Sector SPDR Fund has been nothing short of spectacular, posting an annualized return of 18.09% over 10 years. However, investors should note that the fund is top-heavy, with just two stocks, Apple and Microsoft, now comprising over 40% of the ETF's portfolio.
iShares MSCI EAFE ETF (EFG)
Price as of June 16: $78.35
For a little more diversification to your growth portfolio, consider an international ETF. The iShares MSCI EAFE ETF owns large- and mid-cap stocks from developed nations spanning Europe, Australia, Asia and the Far East, with Japanese equities making up over 20% of holdings. Since it can be hard for American investors to get enough information to make qualified judgments on individual foreign stocks, owning an ETF can be a great way to get some international exposure without having to make blind guesses about specific companies.
The MSCI EAFE ETF has returned an average of 6.27% per year for the last 10 years. It owns over 400 stocks, including many names that are familiar to Americans, from Nestle and AstraZeneca to Unilever and LVMH, which is the world's largest luxury goods conglomerate and the parent company of Louis Vuitton, Givenchy, Dior and Tiffany.
ProShares Ultra Utilities (UPW)
Price as of June 16: $60.89
The ProShares Ultra Utilities ETF tracks the price-weighted Dow Jones U.S. Utilities Index. It's a leveraged fund typically providing 2X exposure and rebalancing daily. The prospectus notes that it's best considered a short-term investment because results don't correlate to the index to the same degree those of an unleveraged fund might. That said, UPW has returned an average 14.60% per year for the last 10 years and has performed comparatively well over the last year compared to broad index funds.
Vanguard High Dividend Yield ETF (VYM)
Price as of June 16: $99.86
The Vanguard High Dividend Yield ETF tracks the FTSE High Dividend Yield Index, which looks at the performance of stocks from companies that pay high dividend yields. Among its holdings are dividend aristocrats like Johnson & Johnson, Procter & Gamble and ExxonMobil. Over the last 10 years, the ETF has produced annualized returns of 11.40%.
Invesco QQQ Trust (QQQ)
Price as of June 16: $271.39
The Invesco QQQ Trust EFT is among the best-known. Tracking the Nasdaq-100 Index, the ETF's 101 holdings include a diverse selection of non-financial stocks listed on Nasdaq. Holdings are weighted toward tech but also include non-tech growth and large-cap holdings. Although the price has dipped 16.97% over the last year, the fund still has a 10-year average annual return of 17.34%.
Daria Uhlig contributed to the reporting for this article.
GOBankingRates is a personal finance and consumer interest rate website owned by ConsumerTrack Inc., an online marketing company serving top-tier banks, credit unions and other financial services organizations. Some companies mentioned in this article might be clients of ConsumerTrack Inc., which serves more than 100 national, local and online financial institutions. Rankings and roundups are completely objective, and no institution, client or otherwise, paid for inclusion or specific placement. Any opinions, analyses, reviews or recommendations expressed in this article are those of the author alone and have not been reviewed, approved or otherwise endorsed by the companies included in the article. All fees and rates are subject to change at the issuers' discretion. Some interest rates might be short-term or promotional offers only, and it is possible additional terms and conditions must be met to obtain the interest rates listed. Rates and availability might vary by region. Verify terms and conditions before opening an account.
GOBankingRates bases its assessment of "best" and "top" products on the above-stated parameters to create a baseline for comparison. This assessment is an approximation of "best" and "top" designed to help consumers find products that might be appropriate for them. There could be other options available as well. Consumers should consider various options appropriate for their circumstances.
Data is accurate as of June 17, 2022, and is subject to change.
Our in-house research team and on-site financial experts work together to create content that's accurate, impartial, and up to date. We fact-check every single statistic, quote and fact using trusted primary resources to make sure the information we provide is correct. You can learn more about GOBankingRates' processes and standards in our editorial policy.