State of Crypto: What's Driving Its Meteoric Rise and Who's Really Investing in Crypto Now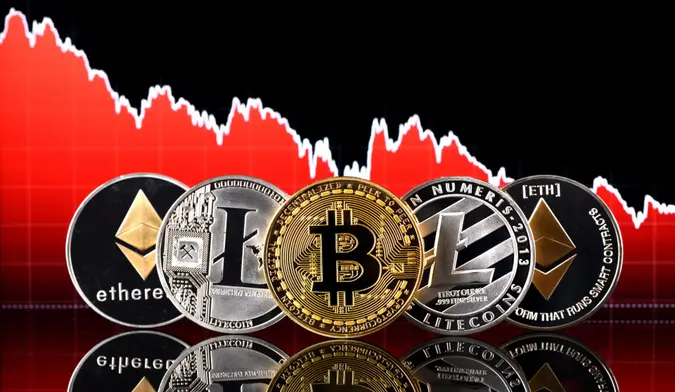 hocus-focus / Getty Images
It seems like the world has been in a crypto state of mind in the past few months, and cryptocurrencies have become easier to access for the average investor via sleek trading apps. A new GOBankingRates survey found some unique insights into who is jumping into crypto, but first let's look at some of the factors driving adoption.
See: 10 Cheap Cryptocurrencies To Check Out
Find: How Does Cryptocurrency Work — and Is It Safe?
One of the most notable events in the space is the meteoric rise of Bitcoin, which broke the "emotional stage" of $50,000 in February and saw its valuation reaching $1 trillion. Quite a different place from where the coin kicked off 2020 at just over $7,000. While the crypto has been extremely volatile, its adoption has accelerated. Tesla, for example, announced in February that it had purchased $1.5 billion of Bitcoin and after waffling on their stance, it still looks like they may start accepting the crypto as a form of payment in the near future.
See: How to Invest in Cryptocurrency: What You Should Know Before Investing
There is also increasing institutional interest, as several investment banks expressed their Bitcoin engagement, including Morgan Stanley and Goldman Sachs. Morgan Stanley said in March it would offer Bitcoin to its wealthier clients, and Goldman Sachs announced the formation of a cryptocurrency trading team.
See: 10 Best Cryptocurrencies to Invest in for 2021
Find: Morgan Stanley Will Offer Wealthy Clients Access to Bitcoin Funds
Going even further, in a note to clients, Goldman Sachs Global Head of Digital Assets Mathew McDermott called Bitcoin an "investable asset class."
"Bitcoin doesn't behave as one would intuitively expect relative to other assets given the analogy to digital gold; to date, it's tended to be more aligned with risk-on assets. But clients and beyond are largely treating it as a new asset class, which is notable-it's not often that we get to witness the emergence of a new asset class."
Counterpoint: Is it Too Late to Invest in Crypto?
Another watershed moment was the blockbuster Coinbase IPO, one of the most anticipated IPOs of the year so far. The stock appeals to investors who want to get involved in crypto, but without holding the assets and its wild swings. Upcoming IPOs for Robinhood and eToro are driving similar anticipation.
Read: The Best Trading Apps for New Investors: Robinhood and Beyond
But how do these factors translate in crypto adoption for retail investors?
The new GOBankingRates survey finds that 41% of Americans who invest in the stock market are also investing in cryptocurrency. Another 25%  wish they could but feel like they don't know enough, and 16% wish they could invest in crypto, but don't have the funds. Remarkably, only 14% of current investors say they  have no desire to invest in cryptocurrency.
Beginner's Guide: Cryptocurrency Jargon: A Guide for the Crypto-Curious
In terms of age groups, the survey found that the age group investing the most in cryptos is the 35- to 44-year-old group, with 50.55% of respondents saying they have money in cryptocurrency.
According to Nishank Khanna, Clarify Capital CFO, it makes sense that we see individuals from ages 35 to 44 investing in cryptocurrency at higher-than-average rates than other age groups. "If you think about it, individuals 35-44 are generally earning high incomes, where they may have larger amounts of disposable income than they had in their 20s or early 30s," Khanna tells GOBankingRates.
Dogecoin (DOGE): What It Is, What It's Worth and Should You Be Investing?
"As a result, they may feel more comfortable investing in a speculative asset, knowing that the future of that asset is uncertain. Their specific age range also indicates that if the speculative assets end up imploding, they should still have enough time to recover financially."
This finding is in line with crypto exchange Gemini's recent 2021 State of Crypto in the US report, which notes that the average crypto investor is a 38-year-old male.
Breaking down the age groups further, the GOBankingRates survey notes that the second largest group of crypto investors is the 25- to 34-year-old, with 47.84% investing in cryptocurrencies; followed by 18- to 24-year-olds, with 38.91% putting money in the coins.
Get Started: How to Invest in Cryptocurrency With Just $1
Marie Tatibouet, CMO at global blockchain asset exchange platform Gate.io, says that these figures are a "testament to how much the crypto space has grown and matured since at least 40% of the folks in the 25-34 and 35-44 age range own crypto."
"It is no surprise that nearly 48% of the 25-34 bracket own crypto. These guys were teenagers when bitcoin entered the scene. Most of these people have seen their peers get wealthy beyond measure due to crypto and now they want their slice of the pie," Tatibouet tells GOBankingRates.
See: Millennials Own More Crypto Than Any Other Generation
Finally, another key finding of the survey is that there are more male investors than female in cryptocurrencies, with 47.2% of men saying they are investing in crypto versus only 32.55% of women.
Andrew Murray, GOBankingRates content data researcher, says that this was "a bit surprising."
"I expected that number to be closer between the sexes and there may be a multitude of reasons why it is so large, from the still ever-present wage gap between men and women in the workforce to general attitudes towards risk," Murray says.
More: 10 of the Most Private Crypto to Invest In
Ben Weiss, CEO of CoinFlip, the largest bitcoin ATM in the US, says that women are underrepresented in crypto, much like how they are in both finance and tech.
Read: Bitcoin (BTC): Learn the Basics Behind the Coin
"Many view cryptocurrency as complicated and overwhelming. This is especially true for women brought up in a more traditional setting where men make all financial decisions," Weiss says. "We take pride in playing our part to lessen the gender disparity in crypto by making bitcoin as accessible as possible and providing an easy way to obtain the financial freedom that cryptocurrency offers. The key to expanding this inclusivity across the industry will be through more education targeted at women that demystifies cryptocurrency."
More on Crypto From GOBankingRates
Methodology: GOBankingRates surveyed 999 Americans aged 18 and older from across the country on May 10, 2021, asking six different questions: (1) Where are you currently investing and/or saving your money? Select all that apply; (2) Which of the following most closely matches your investing goals?; (3) If you received an extra $1,000, which ONE of the following do you think is the best way to invest it?; (4) Do any of the following statements about investing in cryptocurrencies apply to you? Select all that apply; (5) When did you first start investing your money in the stock market (not including retirement accounts like an IRA or 401(k)) and/or cryptocurrencies?; and (6) How much money do you currently have invested in stocks or cryptocurrency?. All respondents had to pass a screener question of: Are you currently investing/have money in the stock market?, with an answer of "Yes." GOBankingRates used PureSpectrum's survey platform to conduct the poll.