Bitcoin's Highs and Lows — And More From Cryptocurrency's Wild 2021

6 min Read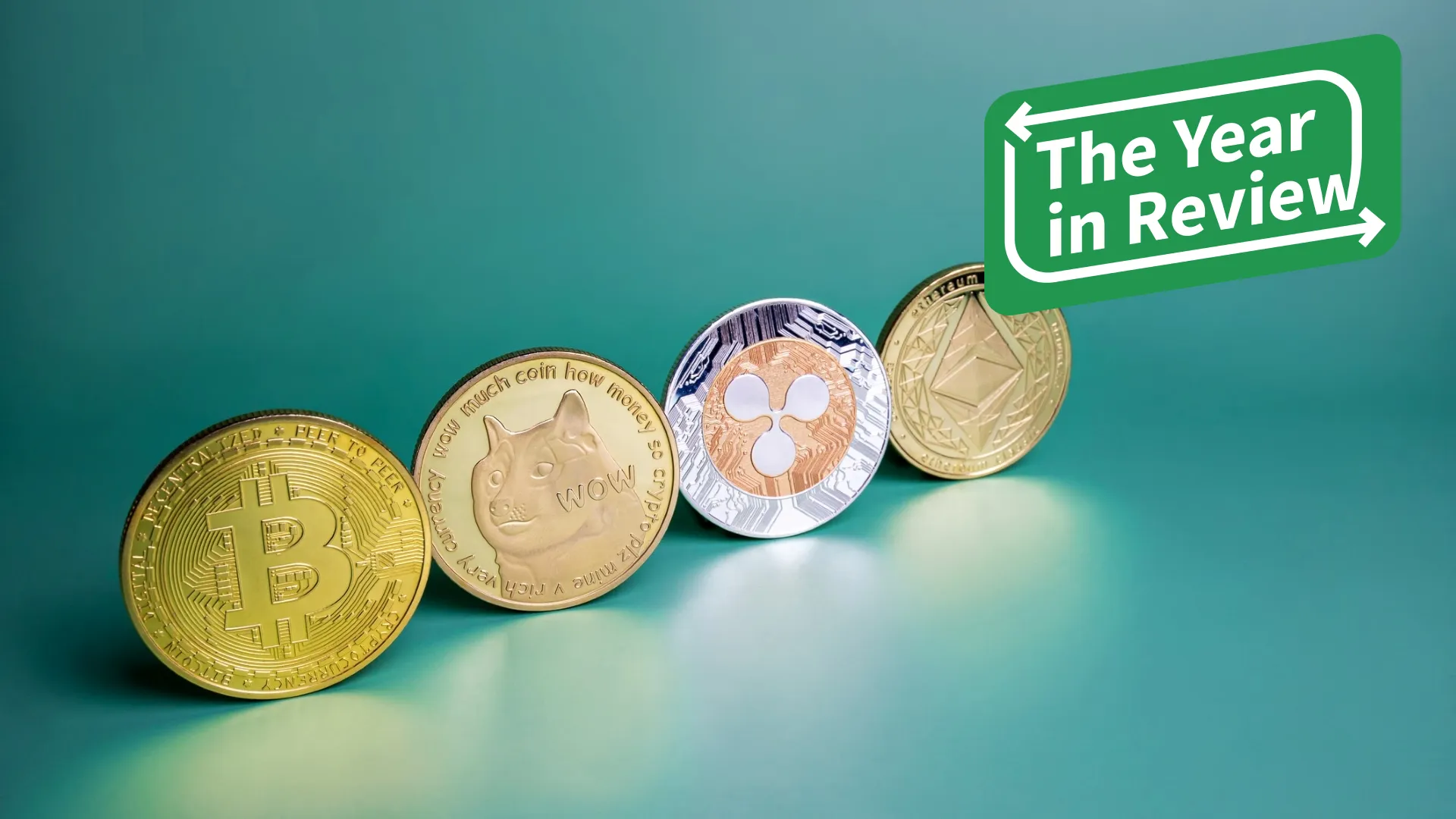 Musk Tweets 'Doge' in February 2021
Elon Musk, the colorful CEO of Tesla and SpaceX, has been able to move markets throughout the years with his tweets. In 2021, some of his most infamous quotes have targeted cryptocurrencies. In February 2021, Musk tweeted out the simple word "Doge," referring to the whimsical cryptocurrency that started out as a joke, Dogecoin. He later followed up that tweet with two others: "Dogecoin is the people's crypto" and "I am become meme, Destroyer of shorts." Those simple tweets were enough to send the price of Dogecoin through the roof, up 60%.
Do You Know? Where Does Cryptocurrency Come From?
China Announces Real-World Trials of Its Own Government-Sponsored Digital Currency in March 2021
China has been working on a national digital currency since 2014, and in 2021, it began its first real-world trials of the digital yuan in circulation. Fan Yifei, deputy governor of the PBOC, has been quoted as saying that cash and coins are expensive to produce and harder to use than digital currencies, and its widespread use should help reduce systemic risk in the country's payment systems. The country also no doubt wants to take control of the digital currency space rather than relegating it to decentralized and uncontrolled cryptos like Bitcoin.
Beyond Bitcoin: Looking at Some Crypto Financial Jargon

Coinbase Goes Public in April 2021
Coinbase is the largest cryptocurrency trading platform in the world. When it went public in April 2021, it brought major publicity to the crypto market and legitimized the trading platform in the eyes of some investors. Trading under the symbol COIN, the company's direct listing reference price was $250, but it ended its first day on the market at about $328, giving it a valuation approximating $86 billion.
Find Out: Why Some Money Experts Believe In Bitcoin and Others Don't
Bitcoin Falls Below $30,000 in July 2021
After shooting up above $64,000 in April 2021, which was an all-time high at the time, Bitcoin reversed course and trended viciously downward. By July 2021, the price of one Bitcoin had fallen below $30,000, marking a loss of more than 50% in just a few months. A combination of a stock market selloff, a reduction in the risk appetite of investors overall and the crackdown on a crypto services firm in New Jersey were among the headlines dragging the crypto's price down.
Read: How To Invest In Cryptocurrency: What You Should Know Before Investing
El Salvador Makes Bitcoin Legal Tender in September 2021
In a move that cryptocurrency owners around the globe had long awaited, El Salvador became the first country to accept Bitcoin as legal tender in September 2021. Those with a vested interest in the broader adoption of Bitcoin, such as crypto trading platform Bitmex's CEO Alex Hoeptner, believe that as many as five countries in the developing world will adopt crypto as legal tender by the end of 2022. This may indeed be possible if El Salvador's Bitcoin adoption works out smoothly over time. 
Binance Coin (BNB): Why It's So Interesting to the Cryptocurrency World
China Bans Cryptocurrency Mining and Transactions in September 2021
Just when it seemed as if countries around the globe might ride El Salvador's coattails and make cryptocurrency legal tender, China clamped down and did the exact opposite. In late September, just weeks after El Salvador made its historic announcement, China banned cryptocurrency mining and all crypto transactions within the country. This doesn't mean that China is completely out of the crypto game, however. In fact, the ban seemed to pave the way for the expansion and acceptance of China's own government-sponsored digital currency, the digital yuan.
First Bitcoin ETF Goes Public in October 2021
Investors have long clamored for a Bitcoin ETF, and on Oct. 18, the first publicly traded Bitcoin ETF became available. Issued by ProShares, the Bitcoin Strategy ETF trades under the symbol BITO and allows investors to gain access to the Bitcoin market via a security that trades like a stock. As many major brokerages still don't allow Bitcoin trading, this ETF greatly expanded access to Bitcoin trading to general investors, marking a significant development in cryptocurrency trading.
Take a Look: The 10 Wildest Things Selling as NFTs
Shiba Inu Goes Parabolic in October 2021
Shiba Inu is another dog-related meme cryptocurrency in the fashion of Dogecoin, and its price movements have been even more spectacular. As of Dec. 3, the price of Shiba Inu is a minuscule $0.00004149, which seemingly makes it valueless. However, the crypto started the year at just $0.000000000074, making its YTD gain an incomprehensible 56 million percent, even after a massive selloff or more than 50% since its high of $0.00008845 in October.
$120K Bananas and $69M Digital Collages: Strange and Expensive Art Sales
Bitcoin Hits All-Time High of $68,778.48 in November 2021
After hitting its summer low below $30,000, Bitcoin reversed course and began rallying strongly into November 2021. Although trading was volatile along the way, investors began plowing back into the crypto and pushed it to its most-recent all-time high of $68,778.48. For investors who bought in at the summer lows, this represented a return of about 130% in four months. A combination of inflation fears and general stock market exuberance, with investors taking a "risk-on" approach, helped fuel Bitcoin's gains.
Cryptocurrency Market Hits $3 Trillion in Market Capitalization in November 2021
On the back of the rally in Bitcoin and other cryptos, the cryptocurrency market as a whole reached a combined market cap of $3 trillion for the first time on Nov. 8. Given that cryptocurrencies have no intrinsic value, and that speculation has played a major role in these lofty price levels, a $3 trillion market cap is astonishing, especially when factoring in that the total crypto market cap was $2 trillion just a few short months prior, in August 2021. By way of comparison, the world's most valuable company, Apple, has a market cap of about $2.6 trillion.
More From GOBankingRates
About the Author